Late Rally Falls Short in Chattanooga
Miller's Six Scoreless Frames Not Enough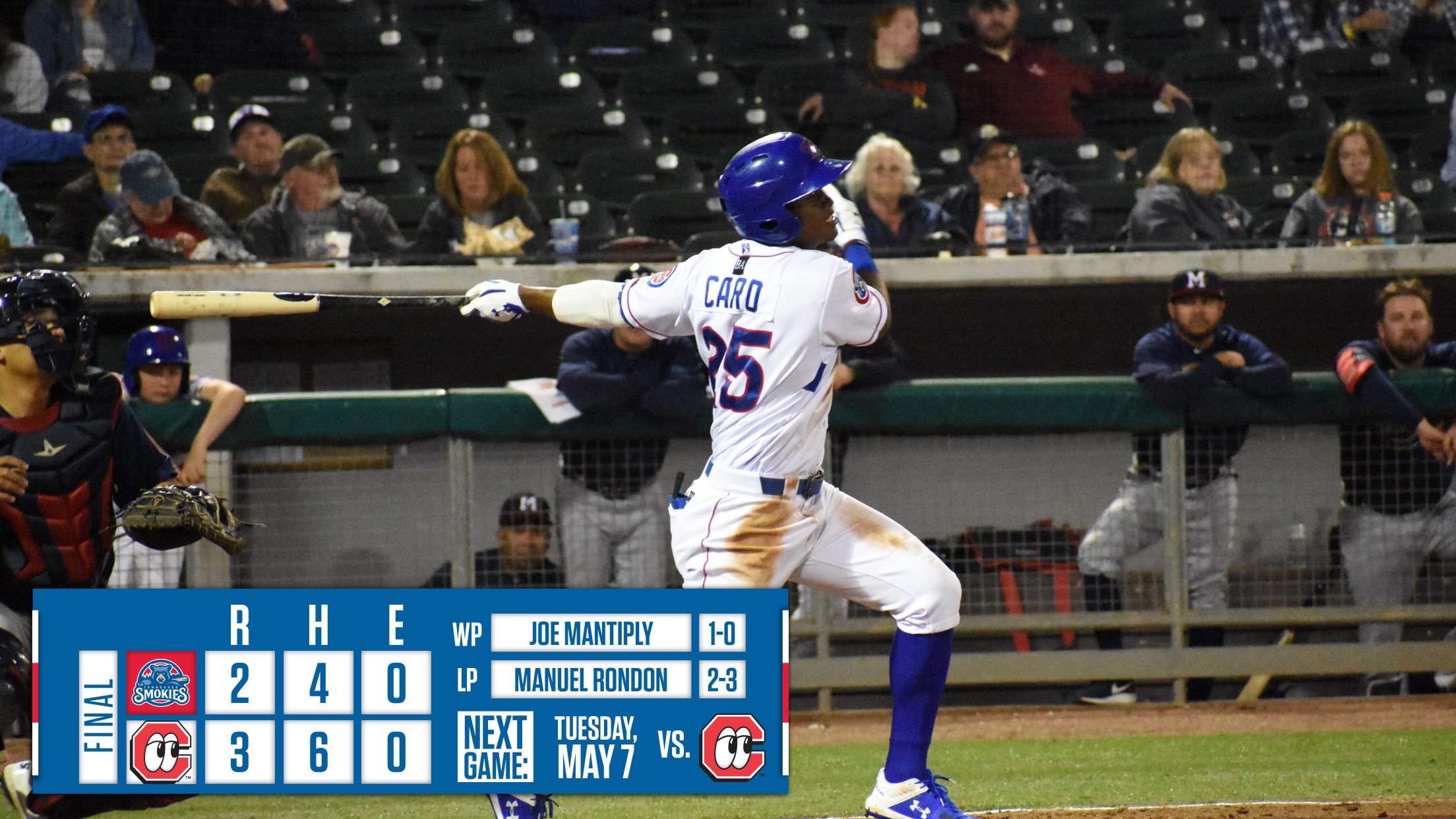 CHATTANOOGA, TN - The Tennessee Smokies (15-15) fell to the Chattanooga Lookouts (16-13) in the series opener at AT&T Field, 3-2 on Monday night. RHP Tyson Miller dazzled once again with six scoreless innings.Both starting pitchers kept the game scoreless through the first six innings. Miller twirled his second consecutive
CHATTANOOGA, TN - The Tennessee Smokies (15-15) fell to the Chattanooga Lookouts (16-13) in the series opener at AT&T Field, 3-2 on Monday night. RHP Tyson Miller dazzled once again with six scoreless innings.
Both starting pitchers kept the game scoreless through the first six innings. Miller twirled his second consecutive quality start. After retiring the first 18 batters he faced last Wednesday against Jackson, the 2016 fourth round pick set down the first nine he saw in Chattanooga. Miller allowed just three hits while striking out five.
LHP Scott Moss was equally up to the task for the Lookouts. He matched Miller's six scoreless innings with six of his own and nine strikeouts, including seven in a row at one point. LHP Joe Mantiply (W, 1-0) earned the win in relief, pitching for the first time since 2017.
The Lookouts struck first in the seventh inning against LHP Manuel Rondon (L, 2-3). Ibandel Isabel launched a triple to left field, scoring Taylor Trammell. After a Tyler Stephenson RBI-single, Gavin LaValley added another run-scoring triple to make it 3-0.
The Smokies countered in the top of the eighth with a pair of runs thanks in part to a Roberto Caro RBI-single. With the tying run on base, PJ Higgins sent a ball to centerfield, where Jose Siri made a potential game-saving diving catch to end the inning. RHP Joel Kuhnel (S, 4) got the final five outs of the game as the Smokies went quietly in the ninth.
Tennessee sends LHP Justin Steele (0-1, 6.00) to the mound on Tuesday night, while the Lookouts counter with RHP Jordan Johnson (0-3, 8.24). First pitch is slated for 7:15 PM ET.