Late Rally Helps C's Serve Hops Their Own Medicine
Vancouver survives frustrating fifth to beat Hillsboro 4-3, even series one game apiece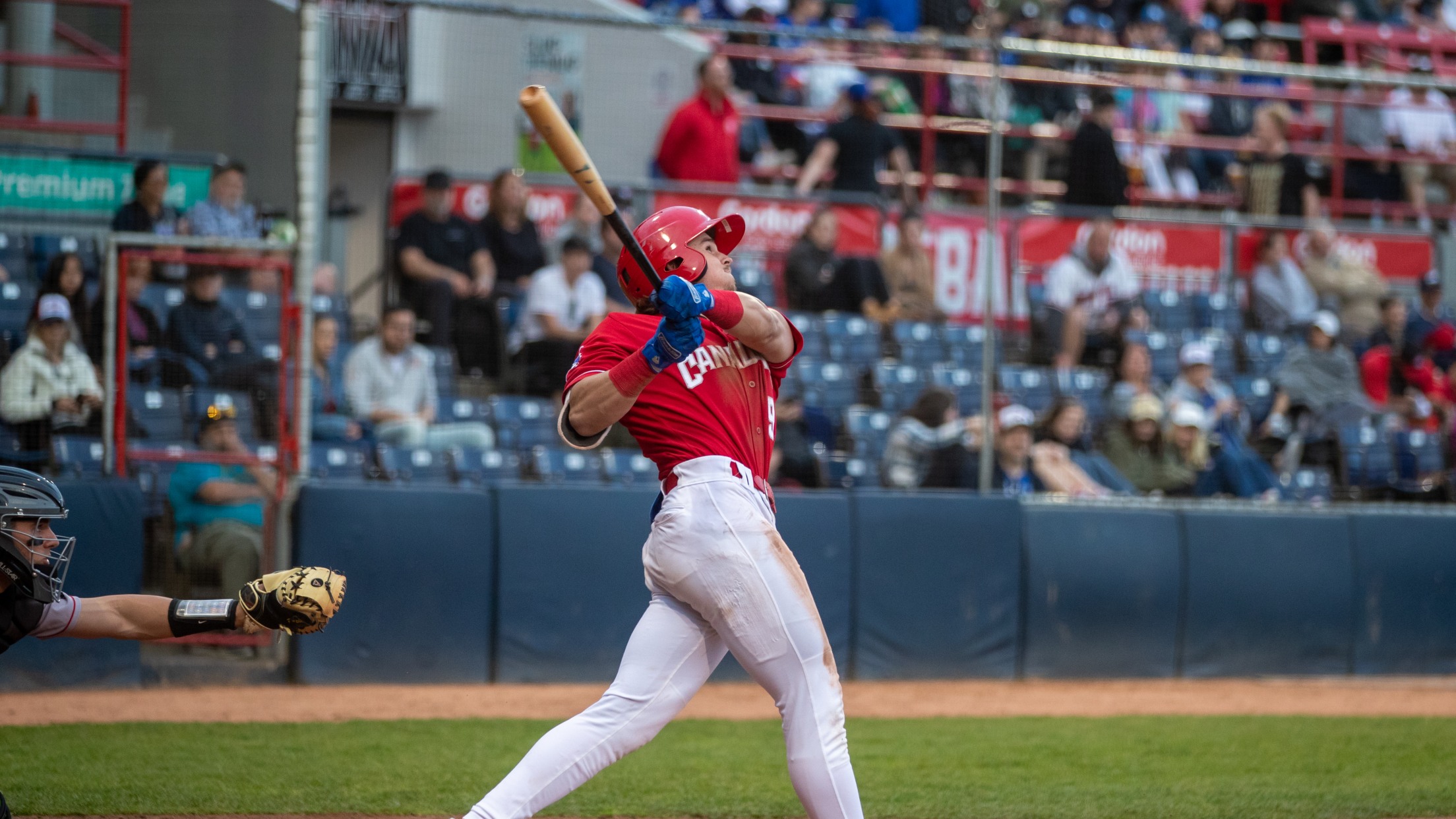 (Mark Steffens - Fotoguy)
HILLSBORO, OR – A ninth inning RBI single from Addison Barger broke a 3-3 tie to put the Vancouver Canadians on top of the Hillsboro Hops (Diamondbacks) 4-3 at Ron Tonkin Field Wednesday night to even the six-game series at one win apiece. Barger's go-ahead knock was set up by
HILLSBORO, OR – A ninth inning RBI single from Addison Barger broke a 3-3 tie to put the Vancouver Canadians on top of the Hillsboro Hops (Diamondbacks) 4-3 at Ron Tonkin Field Wednesday night to even the six-game series at one win apiece.
Barger's go-ahead knock was set up by a lead-off triple from Mack Mueller. The C's loaded the bases before Vancouver's top hitter came through after going hitless in his first four at-bats; the single plated his league-best 45th RBI and extended his hitting streak to nine consecutive games.
The Everett, WA native was playing in his team-high 58th game, but it was the newest Canadian who might have come up with the biggest hit of the night. With the C's down 3-2 to start the sixth, Damiano Palmegiani – promoted from Single-A Dunedin yesterday and making his C's debut tonight – clubbed a game-tying homer to left field with two outs in the inning for his first High-A hit. He would add a double later to finish with two hits and a walk.
Vancouver built an early 2-0 lead with a Davis Schneider lead-off homer in the first and a Garrett Spain triple plus Andres Sosa sacrifice fly in the second for #22 Blue Jays prospect Chad Dallas, who surrendered a pair of two-out infield singles in the first then proceeded to set down the next ten consecutive batters to complete four scoreless innings. The Orange, TX native seemed destined to finish five frames before running into trouble in the fifth. In that inning, the right-hander allowed a lead-off bloop single then walked the next man on four pitches before a ground ball towards first that was originally scored an error and later changed to a hit loaded the bases. Dallas walked in a run by issuing a second four-pitch free pass before handing out another base on balls to the next batter to tie the game 2-2.
On came Abdiel Mendoza, who got the first two batters via line out and strikeout to keep it tied but threw a wild pitch to his third batter to allow the Hops to take the lead. The Panamanian right-hander finished the inning with no further damage done and went on to log three scoreless innings of relief.
Sean Wymer (W, 1-0) put up a zero in the eighth and Ryan Boyer (S, 1) proved to be the antidote to Hillsboro's late inning magic this year with a 1-2-3 ninth to shut the door and secure a 4-3 win.
19 Blue Jays prospect Yosver Zulueta gets the ball in game three of the series tomorrow night opposite right-hander Jamison Hill. First pitch is at 7:05 p.m. with coverage on CanadiansBaseball.com, MiLB.TV and the Sportsnet Radio Network.