Rivera paces Dash with career night
White Sox infielder sets professional bests with five hits, five runs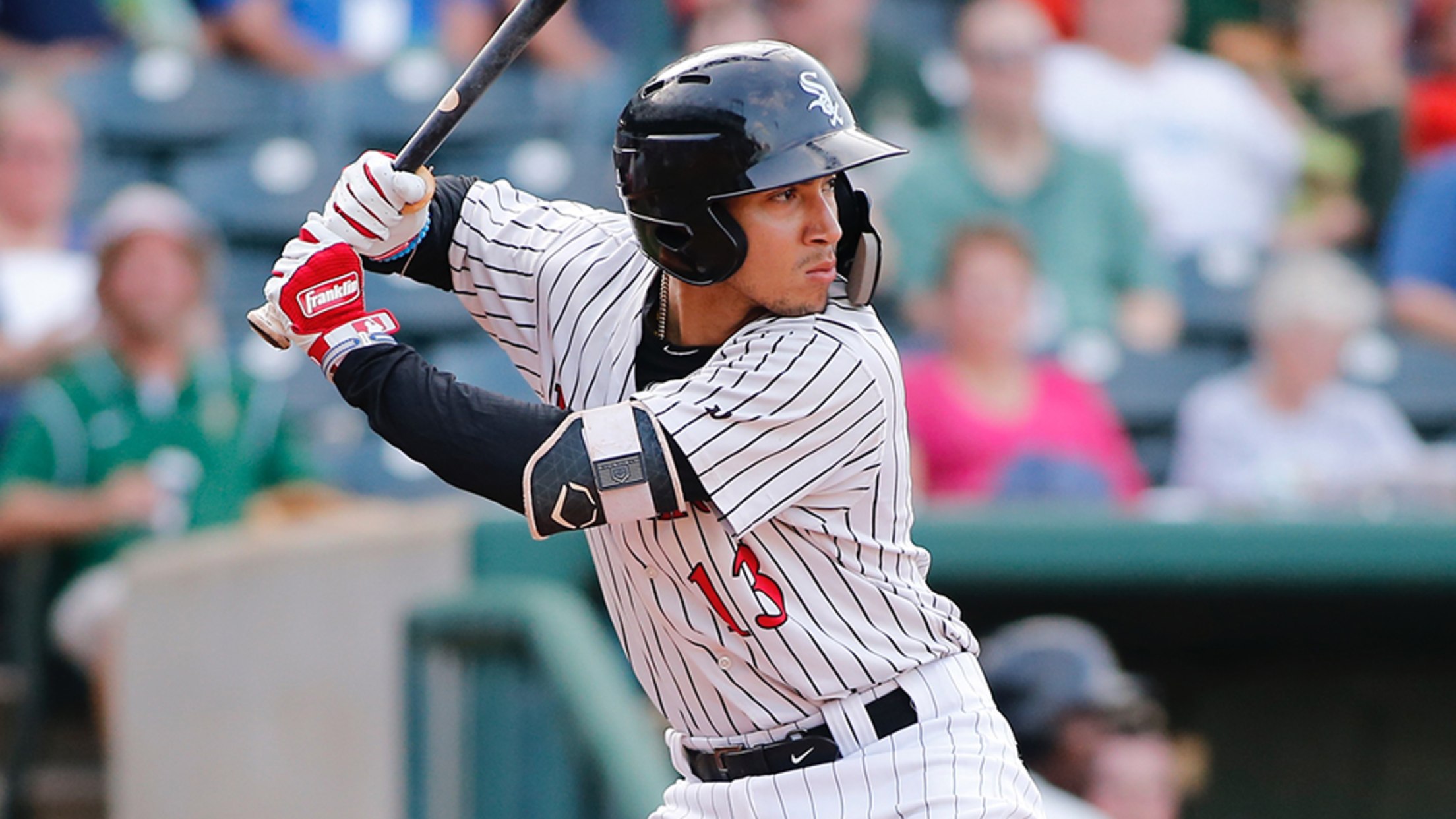 Laz Rivera is batting .349 through 63 games with Class A Kannapolis and four with Winston-Salem. (Chris Robertson/MiLB.com)
On a Class A Advanced Winston-Salem team overflowing with ranked up-and-coming White Sox hitters, Laz Rivera's name may not be the first to jump out.He was second to none Monday night.
On a Class A Advanced Winston-Salem team overflowing with ranked up-and-coming White Sox hitters, Laz Rivera's name may not be the first to jump out.
He was second to none Monday night.
Gameday box score
Rivera was perfect at the plate in his fourth Carolina League game, setting career highs with five hits -- including a two-run homer -- and five runs as the Dash set a club record for runs scored in a single game in a 19-2 win over the Keys at Nymeo Field.
The 2017 28th-round pick earned a callup affter hitting .346 over 63 games this season with Class A Kannnapolis by utilizing an aggressive mind-set at the plate. After his first three games with the Dash in which he went a combined 2-for-13 at the plate, Rivera felt he needed a switch.
"I had a conversation with our manager [Omar Vizquel] and realized I was being too aggressive early in the count," he said. "I needed to work on slowing the game down more and waiting for my pitch. There's an opportunity here to take more pitches because the umpires are better. It came down to swinging at my pitch and not a pitcher's pitch."
In the third inning, Rivera laid down a sacrifice bunt to the mound, moving Nate Nolan to third base.
Winston-Salem put its first run on the board in the fifth. The 23-year-old led off the frame by dropping a soft line drive into left field for a single. After No. 18 White Sox prospect Luis González reached on catcher interference and third-ranked prospect Luis Robert advanced the runners with a sacrifice bunt, No. 7 prospect Blake Rutherford delivered a two-RBI double.
Rivera kicked off another hit parade in the following inning, lining a one-out double to left. No. 10 White Sox prospect Micker Adolfo gave the Dash their second straight three-run frame with a bases-clearing double to right.
Playing with guys such as Adolfo and the other four top-20 White Sox prospects on the club gives Rivera a boost, even in the flow of the game, he said. The team's veterans will break down pitchers for Rivera, helping make up for his lack of familiarity with the Carolina League.
"I talk with those guys and sit down after each at bat. We go over the pitch sequence he's thrown to them or me to get a feel and that helps a lot," he said. "They've been here longer and have seen all these pitchers, so that's big."
In the seventh, Rivera loaded the bases with a one-out single to left. He scored on Robert's infield groundout as part of the four-run frame.
After scoring 10 times in three frames, the Dash plated nine more in the ninth with an outburst bookended by hits from Rivera. He led off with a double to center and scored on Zach Remillard's double to right. After Yeyson Yrizarri's grand slam, the Miami native knocked his first Class A Advanced homer and seventh of the year -- a two-run jack that capped Winston-Salem's romp. It was his fifth hit of the night, tying the Dash's record for hits in a single game with Eloy Jiménez. The top White Sox prospect set the mark on July 23, 2017 against Salem.
Rivera said he didn't go up to the plate looking for first homer since May 23, but as he trotted around the bases, the achievement crossed his mind.
"It's just exciting. Any time you can get five hits in a game and top it off with a homer, I'm just lost for words," he said. "But it's like I was telling them, tomorrow is a new day to get five at bats. I'm going to try and carry this into the next day."
Gonzalez tied career highs in runs scored with four and hits on a 3-for-6 night while Adolfo plated four, going 3-for-4 with two walks.
Blake Battenfield (1-0) earned the win in his Carolina League debut, allowing two runs on four hits and a pair of walks while striking out seven over eight innings.
Nathan Brown is a contributor to MiLB.com. Follow him on Twitter @NathanBrownNYC.