Left-hander Conner Menez on path to one day pitch for hometown San Francisco Giants
Armed with a "sneaky" fastball, Menez has gone from childhood Barry Bonds fan to star southpaw for Flying Squirrels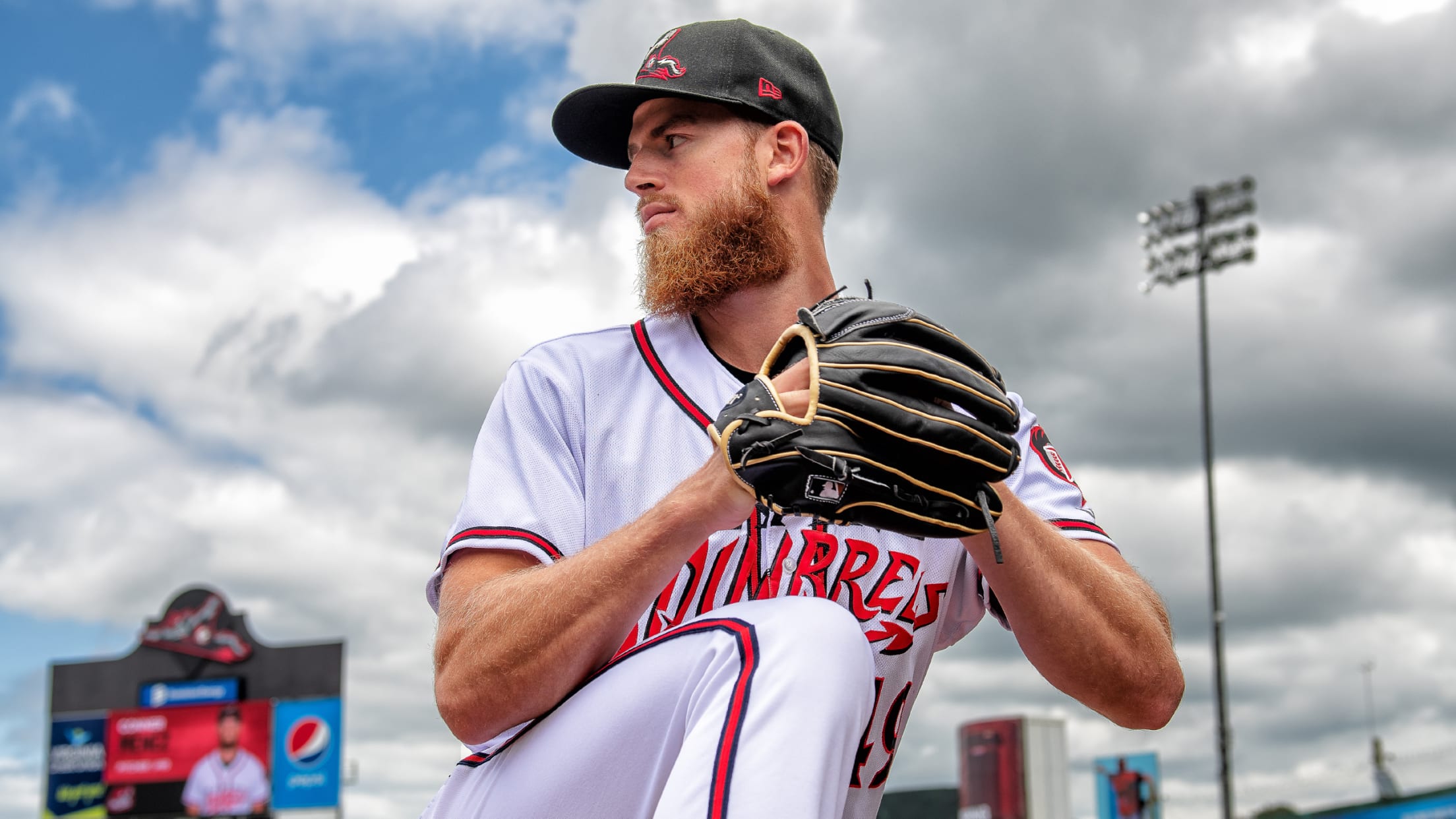 Left-hander Conner Menez -- a Hollister, Calif. native -- leads the Flying Squirrels and ranks among the Eastern League's best in ERA (2.27), strikeouts (42) and opponent's batting average (.184) through seven starts in 2019. (James Loving Photo)
Originally published in Issue No. 4 of The NutshellIf Conner Menez ever had the chance to face his childhood hero Barry Bonds, he knows what his game plan would be."Definitely wouldn't give him the heater inside because I know he likes that," Menez said. "He'd get a handful of sliders, that's
Originally published in Issue No. 4 of The Nutshell
If Conner Menez ever had the chance to face his childhood hero Barry Bonds, he knows what his game plan would be.
"Definitely wouldn't give him the heater inside because I know he likes that," Menez said. "He'd get a handful of sliders, that's for sure. I'd probably mix in a curve but hopefully try to strike him out on a slider."
Menez grew up in Hollister, Calif., just under two hours south of Oracle Park in San Francisco, and he's always been a San Francisco Giants fan. He was six years old when Bonds broke the single-season record for home runs with 73 in 2001 and 12 years old when Bonds hit his 756th to break the all-time record.
"When I was little, I collected Barry Bonds cards," Menez said. "Like, I tried to collect every Barry Bonds card that I could. I probably had close to 50 Barry Bonds cards."
Menez was 15 years old in 2010 when the Giants won their first World Series in over 50 years and then watched former Flying Squirrels Brandon Crawford and Brandon Belt win two more championships over the next four seasons.
As a pitcher, his role models were two-time World Series champion Ryan Vogelsong - now a roving pitching instructor in the Giants organization - and World Series MVP and fellow left-hander Madison Bumgarner.
It's not too difficult to spot the influence that Bumgarner has had on Menez. They're both left-handed, have a similar mix of pitches and a similar motion. Menez uses his sweeping slider similarly to how Bumgarner employs his cutter. Most importantly, their similar arm slot also gives them a distinct and often unrecognized advantage over hitters.
"The deception, I think that's where it would start (in terms of similarities)," pitching coach Glenn Dishman said. "Both of them kind of throw across their body a little bit, and they have really good arm extension so their ball jumps on people."
Earlier this year, Dishman told Baseball America that Menez is "one of the sneakiest lefties (he's) seen in a while." Because of his long stride and arm extension, it appears to hitters as though Menez is throwing from approximately 53 feet, six inches from the plate instead of 60 feet, six inches. Effectively, it makes his fastball seem much faster than it may show on a radar gun.
"I know he's had times where he's up there (at 93, 94 mph), but it plays harder than that," Dishman said. "He'll get a lot swings and misses on fastballs that a guy throwing 92 doesn't normally get. Even though it's not 96, it plays like it's 96."
It's worked well so far this season. Through seven starts, Menez is tied for third in the Eastern League with 42 strikeouts and is eighth in the league with a 2.27 ERA. The southpaw is also holding opposing hitters to a .184 average, tied for sixth-best in the league.
Flying Squirrels infielder Brandon Van Horn has seen it first-hand, both playing defense behind Menez and also at the plate. Van Horn and Menez were teammates at The Master's College (now The Master's University), where they faced each other during intrasquad play.
"Guys ask me why he's so successful and I say, 'well, "Money Menez" is up there,'" Van Horn said. "You think it's going to be something, but then it's something else, you blink and it's 0-2. (It's) uncomfortable. When he comes from that three-quarters arm slot, it's something you have to take into account. It's just different."
Getting drafted by the team he grew up rooting for was a "dream come true" for Menez. He was with his parents as well as other family and friends when he learned his name was called by the Giants in the 14th round of the 2016 MLB Draft.
"It just kind of popped up on the screen," Menez said. "And of course, everyone went crazy when it popped up on there saying, 'The Giants! No way! That's your team!'"
This past spring, Menez was a non-roster invitee to major league spring training, giving him a chance to compete for a spot on the 40-man roster. While Menez didn't ultimately earn a spot this year, the experience alone was special.
"It was definitely a great honor," Menez said. "It was cool being able to talk with all of the older guys there and learn from them and talk to (Giants' pitching coach Curt Young). Especially getting to spend time with the guys I grew up watching, that was a pretty cool moment."
During his time in big-league camp, Menez had the chance to pitch to former National League Most Valuable Player and six-time All-Star catcher Buster Posey. And, while it'd be cool to test his talents against a premier hitter like Posey -- same as he might against Bonds -- having Posey as a teammate would be even better.
"That'd be the dream," Menez said. "To throw to (Posey) in the big leagues someday."