Lefty Luzardo headlines A's All-Stars
Southpaw climbed to Minor Leagues' highest level at age 20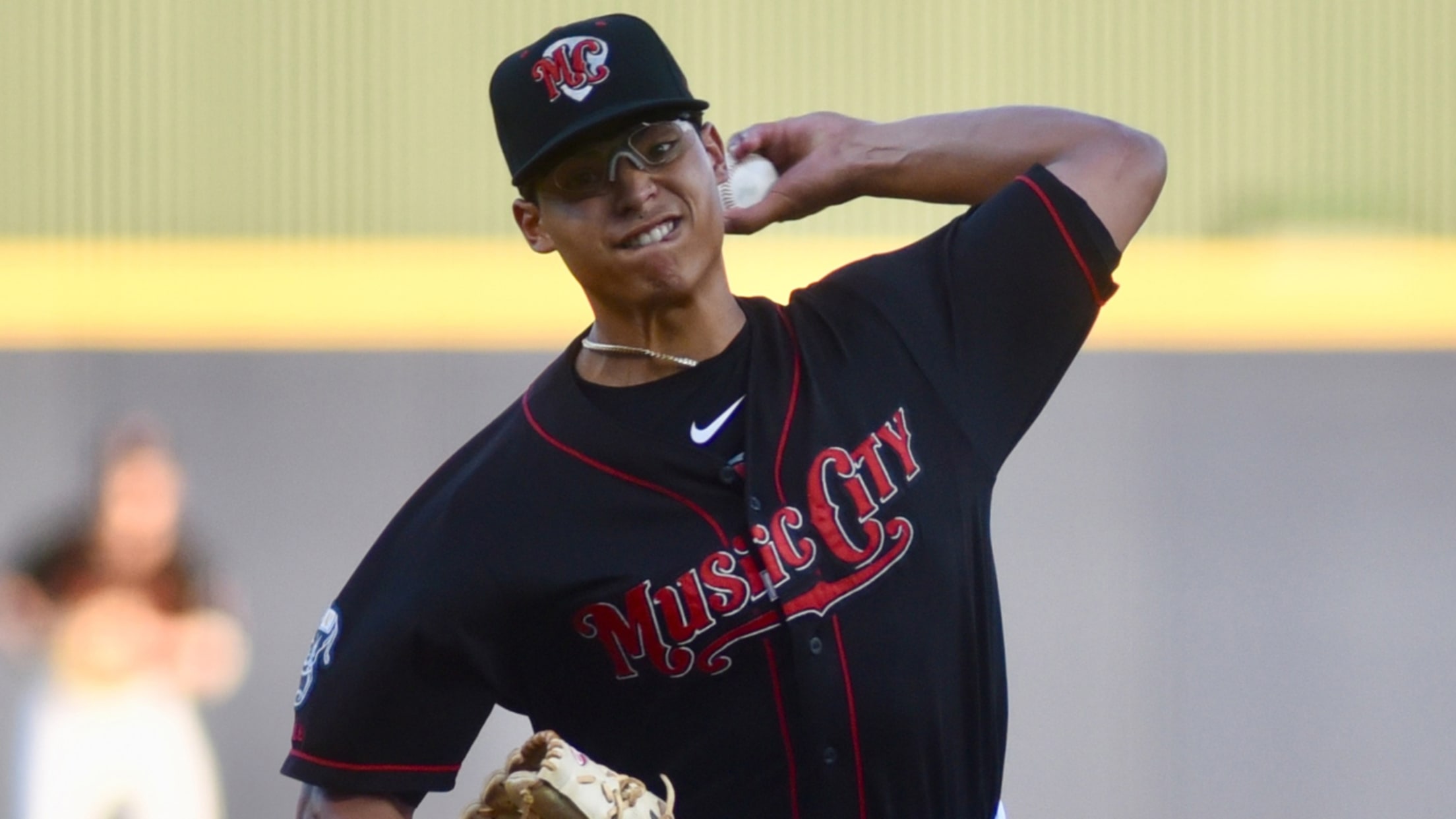 Jesus Luzardo held opponents to a .220 batting average while climbing to Triple-A in his first full season. (Mike Strasinger/Nashville Sounds)
Each offseason, MiLB.com goes position by position across each system and honors the players -- regardless of age or prospect status -- who had the best seasons in their organization. Click here to locate your favorite club.The American League West was full of storylines going into 2018. The Astros were coming
Each offseason, MiLB.com goes position by position across each system and honors the players -- regardless of age or prospect status -- who had the best seasons in their organization. Click here to locate your favorite club.
The American League West was full of storylines going into 2018. The Astros were coming off the first World Series win in franchise history. The Angels made the biggest splash of the offseason by landing two-way phenom Shohei Ohtani from Japan. The Mariners, with their deal-happy front office, looked positioned to make a run at their first playoff appearance in more than 15 years.
The Athletics were quietly at work beneath the din, and by the end of the season Oakland had won 97 games -- its most since the "Moneyball" campaign of 2002. Perhaps most unnerving for division foes, some of the A's best talent is still on the way. Even with No. 2 prospectA.J. Puk missing the entire season due to Tommy John surgery and new fourth-ranked prospect Kyler Murray returning to Oklahoma for one more college football campaign before joining the organization, a promising group progressed steadily toward the Bay Area in 2018, soon to be ready to help the team take the next step in its pursuit of a World Series title.
Athletics Organization All-Stars
Catcher -- Sean Murphy, Midland (68 games), Nashville (three games), AZL Athletics (two games): Murphy has been hampered by injuries through his first three seasons, dealing with a broken left hamate bone at the end of his college career and suffering a broken right hamate this year. Still, the 2016 third-rounder stepped forward with a .288/.358/.498 line, eight homers and 43 RBIs at Double-A while continuing to play stellar defense.
"He came in with a great defensive skill," A's coordinator of instruction Ed Sprague said. "His arm strength is off the charts. He's got an 80-arm, if not better, if that's possible.
"He got a little bit of a slow start his first year offensively and played well the rest of the way. I think this year coming into Spring Training, he got a chance to really work on some things."
Murphy opened with 65 games in Midland before his second hamate injury. Upon returning, promotions and reassignments in the organization opened a door for the Wright State product's brief Triple-A cameo. Murphy's experience at the Minors' highest level could be a preview of his 2019.
"He gets at times where he feels like he has to pull the ball and elevate it to be valuable, but he doesn't. He just needs to use the whole field," Sprague said. "When he does that, he's a really good hitter. Defense is going to carry him, I think. He's going to be defense-first, not to knock his offensive skills because they have improved so fast.
"I suspect Sean will start the season in Triple-A and go from there."
First baseman -- Seth Brown, Midland (131 games): After a prolific 2017 as an outfielder for Class A Advanced Stockton, Brown took on a change in 2018.
"He hit 30 home runs in Stockton, went to Midland and learned a new position," Sprague said. "We were a little light at that first base position, so he really worked hard. He'd played it a little bit in the past but not a ton. His power numbers took a little bit of a hit, but we've seen that before. [Major League first baseman] Matt Olson took a little bit of a hit when he went to Midland with that wind blowing in from right. 'Brownie' played much better defense throughout the season."
He batted .283/.342/.454 with 14 homers and 90 RBIs as Midland's primary first baseman, finishing with a .988 fielding percentage.
"It's a huge difference," Sprague said of Brown's development during the year. "I wouldn't call him a plus defender, but he's probably right around average. He works at it. That's the way he attacks everything. He just puts in the work. Every time I was in Midland, he's just taking ground ball after ground ball.
"He'll just continue to work at it. I don't think he'll ever be a Gold Glove-type guy, but he's certainly an average to adequate defender even in his ability to play the outfield, too. That's certainly a plus in today's game, to have the ability to do both of those."
Organization All-Stars by MLB affiliate »
Second baseman -- Nate Mondou, Stockton (88 games), Midland (48 games): Though his numbers dropped after a promotion to Double-A, Mondou put himself on the map with a solid second pro season. The Wake Forest product posted a .291/.361/.448 line with eight homers and 61 RBIs for Stockton and was named a California League midseason All-Star. After a .203/.278/.250 showing in 17 July contests following his promotion to the RockHounds, Mondou was much improved in August, batting .308/.405/.341.
Third baseman -- Jonah Bride, Vermont (54 games), AZL Athletics (two games): Selected out of South Carolina in the 23rd round of this year's Draft, Bride took off after a sluggish first week at Vermont.
"Sometimes you see that, playing a long college season and then having a little bit of a layoff and going into your first pro deal. It's just a little bit different," Sprague explained. "I saw him early and he wasn't great, and then I saw him again in instructional league and he was like a different guy. He's driving balls all around the yard, playing outstanding defense. I think it just took a little bit of time for him to get his feet wet in Vermont and get comfortable with his teammates and everything else."
The 22-year-old batted .287/.376/.421 for the Lake Monsters, posting an .824 OPS in August.
Shortstop -- Richie Martin, Midland (118 games): Oakland's 2015 first-round pick turned an offensive corner this year.
"He got his eyes checked in the offseason and was able to get some contacts to help him see the ball better," Sprague said. "He became a more aggressive hitter and started attacking."
Martin had posted OPS marks of .649 and .643 in his first two full seasons but busted out in 2018 with a .300/.368/.439 line.
"Everything was kind of so easy defensively for him, he didn't have quite that transition at the plate," Sprague said. "This year he wanted to put that aggressive mentality [to use]. He was tired of getting beat by pitchers, overmatched. He went up there and attacked the zone. He's a really strong kid, and when he puts the bat on the ball, it comes off extremely hard.
"This year, he got to show off his athleticism and play a few other positions, too. He played second and third and was really good. We know he can play short, and he's got tremendous versatility because of his athleticism."
Outfielders
Skye Bolt, Midland (78 games), Stockton (46 games): Bolt finally put together a season befitting his electric name, batting .260/.374/.474 at Class A Advanced and Double-A.
"I think he had a little bit of a wakeup call when he first went to Double-A, maybe realized he had to shrink his strike zone a little bit," Sprague said. "He came back down and really worked on some things back [with Stockton] before going back to Midland. I think for him, it's really about pitch recognition, the ability to stay in his zone. He's got quick hands and he's a super-athletic player."
Bolt finished his breakout year by earning a trip to the Arizona Fall League, where he registered an .846 OPS in 19 games.
"He has the ability to hit the ball with a little bit of power. He can drive it the other way, lay down a bunt, use his speed. He's all-around," Sprague said. "He plays good defense. I think the big thing for him will be to cut down that chase a little bit, cut down those strikeouts and up the walks. I think if he can get that little bit of strike zone control ... I think you're going to see all of his numbers continue to go up."
Ramón Laureano, Nashville (64 games), Oakland (48 games): After batting.227/.298/.369 in 123 games with Double-A Corpus Christi in 2017, Laureano was traded from Houston to Oakland. The 24-year-old broke out with an impressive showing in 64 Pacific Coast League games this year, batting .297/.380/.524 with 14 homers -- three more than he hit in all of 2017 -- before becoming an impact player at the Major League level in the A's unexpected run to the AL Wild Card Game.
Lazaro Armenteros, Beloit (79 games): In his first full season, Armenteros more than held his own in the Midwest League. The Havana native turned 19 in May yet batted .277/.374/.401 and belted eight homers, doubling his total from 47 games between the Rookie-level Dominican Summer and Arizona leagues a year before. The outfielder has four potential above-average tools, according to MLB Pipeline, and he spent all his defensive time this season in left.
Utility player -- Eli White, Midland (130 games): White played all over the infield and got some action in the outfield. No matter where he was, the RockHounds could count on him to hit. The Clemson product batted .306/.388/.450, primarily out of the top two spots in the lineup. He excelled in key moments, hitting .322/.408/.478 in 90 at-bats with runners on base and two outs.
Left-handed starter -- Jesus Luzardo, Stockton (three starts), Midland (16 starts), Nashville (four starts): Luzardo has it all. A seemingly aggressive Opening Day assignment to Class A Advanced Stockton wasn't enough of a challenge, and the southpaw was in Double-A by the end of April.
"He's got a maturity level," Sprague said. "He's got poise on the mound but, obviously, he's aggressive in the strike zone with all his pitches. He's got three plus pitches and he's just been impressive from the first time we saw him. The organization loves him not only for his ability, but he's very passionate, involved in the community. We really think this kid's going to be something special."
Luzardo, who didn't turn 21 until Sept. 30, reached Triple-A in August after going 7-3 with a 2.29 ERA and 86 punchouts over 78 2/3 innings in 16 Double-A starts.
"He's got great command with his fastball," Sprague noted. "He'll pitch anywhere 91-94 [mph], but he can touch 97. He can rear back a little bit. He spins the breaking ball really good and he's got a plus changeup. When he's on, he's going to be very difficult to hit, moving in and out of the zone."
The A's were careful with Luzardo, who underwent Tommy John surgery in March 2016 and entered the year with 12 professional appearances under his belt. He'd only worked more than five innings in a pro start once.
"I think we haven't even seen the best of him yet," Sprague said. "He was held back a little bit this year just because of the Tommy John progression, coming off of that. He had limited innings. If he wasn't at that limit with innings, I think you would've seen him in September in Oakland.
"I think this kid's got a chance maybe to break the rotation out of Spring Training. It just depends on how fast they want to push him."
Right-handed starter -- Parker Dunshee, Stockton (12 games, 10 starts), Midland (12 starts): Dunshee was quietly effective in 24 outings, going 13-6 with a 2.33 ERA over 150 2/3 innings.
"From a stuff standpoint, you wouldn't think, 'Oh, this guy's got electric, electric stuff,'" Sprague said. "But he has a swing-and-miss ability. Guys just miss his fastball for whatever reason. You stand behind it, it's 90-91, and he gets a lot of swings and misses with that fastball. He's got a good little slider. I don't think he's got the upside stuff maybe that Luzardo has, but he's a gamer. He knows how to pitch."
Relief pitcher -- Angel Duno, Stockton (48 games): Converted to a full-time relief role for the first time, the 24-year-old right-hander became one of the Ports' most reliable arms. Duno struck out 66 over 65 1/3 frames, converted 15 of 21 save opportunities and held opponents to a .250 average. He was especially dominant in 10 June outings, when he posted a 0.73 ERA, four saves in five chances and 15 strikeouts over 12 1/3 innings.
Tyler Maun is a contributor to MiLB.com. Follow him on Twitter @TylerMaun.