Hoskins homers on emotional Mother's Day
Phillies' No. 13 prospect helps propel IronPigs to twinbill sweep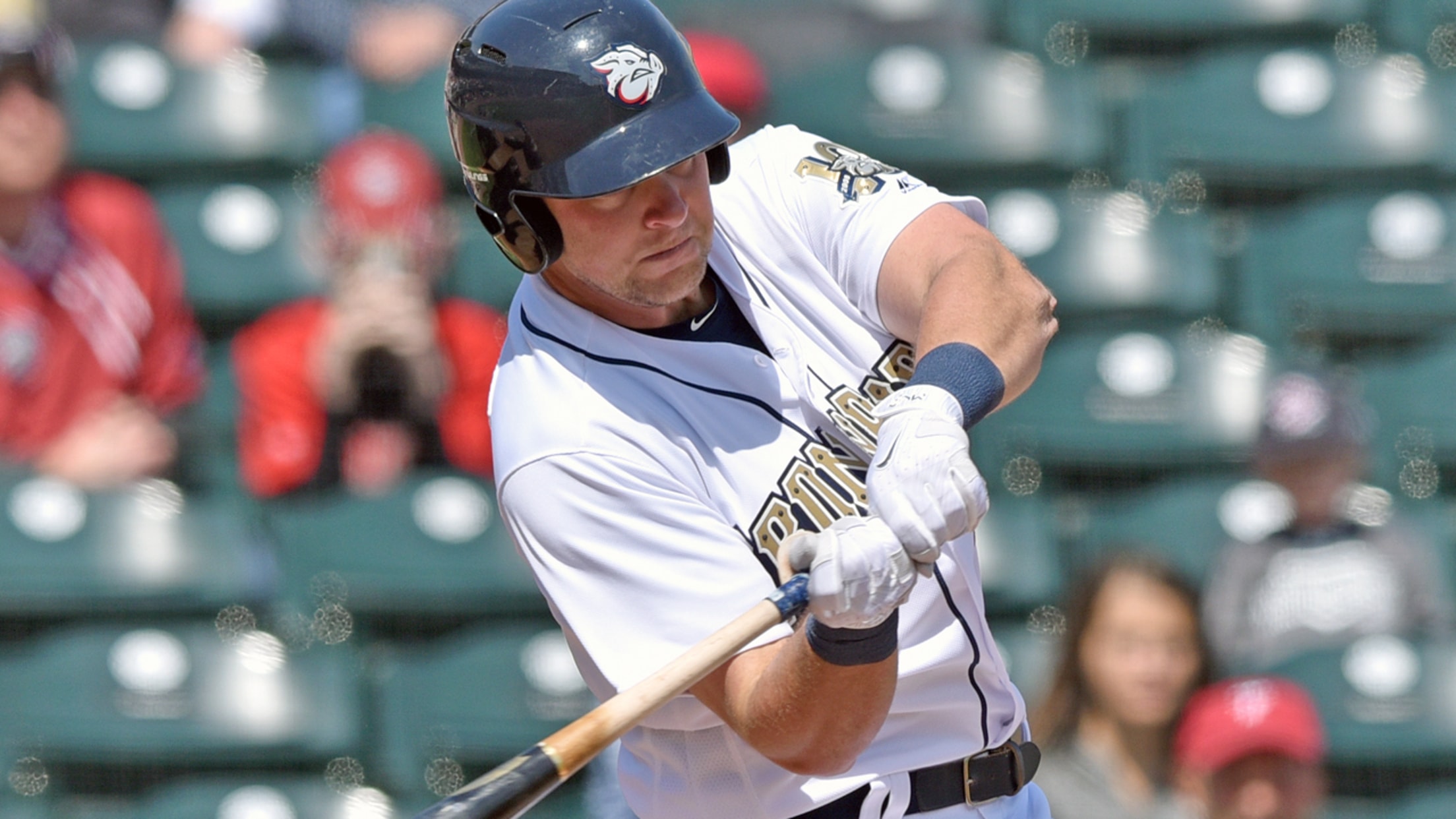 Rhys Hoskins leads the International League in slugging percentage and is tied for first in homers and RBIs. (Ken Inness/MiLB.com)
Eight years ago, Rhys Hoskins lost his mother. On Sunday at Coca-Cola Park, he knew she was there."I'm not sure that they knew," the Phillies' 13th-ranked prospect said, "but I guess I had a little bit of a secret weapon going into the game."Hoskins belted a first-inning homer and added an
Eight years ago, Rhys Hoskins lost his mother. On Sunday at Coca-Cola Park, he knew she was there.
"I'm not sure that they knew," the Phillies' 13th-ranked prospect said, "but I guess I had a little bit of a secret weapon going into the game."
Hoskins belted a first-inning homer and added an RBI single and a walk in the opener, then walked again in the nightcap as Triple-A Lehigh Valley completed a doubleheader sweep of Buffalo. The IronPigs took the first game, 7-2, and blanked the Bisons, 1-0, in the second game.
"It's an emotional day to be able to do something that I get to love on a day like this," Hoskins said as his team left embarked on a seven-game road trip to Rochester and Syracuse. "It's something I know my mom would love for me to be able to do and get to be able to live my dream out under her watch. Every one of these days is pretty memorable."
Hoskins' mother, Cathy Reynolds, lost a 14-year battle with breast cancer in 2009 -- when Hoskins was 16 -- but was always her son's biggest supporter. She was in the Sacramento native's mind when he stepped to the plate in the first inning and connected on a two-out solo blast to left field off Buffalo starter Mat Latos.
"I think it's the first thing that popped into my head," he said of the moment the ball left his bat. "I kind of had to chuckle to myself like, 'Of course, the watchful eye of a mother, she's watching over her children.' It's kind of indescribable but definitely something I'll always remember."
Game 1 box score
Hoskins' long ball propelled the IronPigs' in the opener. Lehigh Valley added single runs in the second and third and put together a four-run fifth, highlighted by a majestic homer from Phillies No. 9 prospect Dylan Cozens. His three-run shot to center off Latos traveled 469 feet, according to the team, making it the longest in IronPigs history.
"It was one of those balls that was hit and the first thing you do is say, 'Wow,'" said Hoskins, who hit 38 homers last year at Double-A, two shy of Cozens for the Minor League lead. "You kind of make sure that you saw what you thought you saw. The guy's got huge raw power and he's starting to gain a little confidence at the plate. Hopefully, there's more where that came from."
For his own confidence, Hoskins is batting .345/.432/.655 with nine homers and 28 RBIs through his first 36 Triple-A games.
"I think the biggest thing has been patience at the plate and really taking each game and each pitcher that we face, formulating some sort of plan and trying to stick with that in each at-bat," he said. "I think to start the season, I've been pretty good at being stubborn with that plan and hitting pitches that I want to hit instead of pitches that the pitcher wants you to hit."
It wasn't just Lehigh Valley's bats making noise in Game 1. IronPigs starter Tom Eshelman took a no-hitter into the sixth before Shane Opitz led off with a single to center. Although the righty was charged with two unearned runs in the seventh, he recorded his second win in as many Triple-A starts and established a franchise mark with 14 scoreless innings to begin his International League career.
Game 2 box score
"That's his thing. He relies on command of all three or four of his pitches," Hoskins said. "It's a testament to him and the catchers going into the game with a game plan and really executing each pitch. It's paid off for him. It's been pretty fun to watch."
After cruising in the opener, Lehigh Valley eked out a victory in the finale. Phillies No. 4 prospect Nick Williams doubled to left to open the bottom of the fifth and scored one batter later when Cameron Perkins singled to right.
Back from the Majors, right-hander Jake Thompson allowed two hits and a walk while fanning four over five innings to help complete the four-game series sweep.
"We've been pretty good in doubleheaders this year, which I think is a testament to the focus this team has," Hoskins said. "The pitching was outstanding today. In the first game, Eshelman had just great tempo and really kept those hitters wanting to get back up to the plate. The second game, Jake did the same thing, good tempo, getting us fielders some work, and the bullpen comes in and shuts it down. It's fun to play behind those guys."
The sweep pushed the IronPigs' winning streak to a franchise-record nine games.
Tyler Maun is a contributor to MiLB.com. Follow him on Twitter @TylerMaun.