Brinson, Burnes lead solid Brewers system
As parent club improves, Milwaukee developing top-tier talent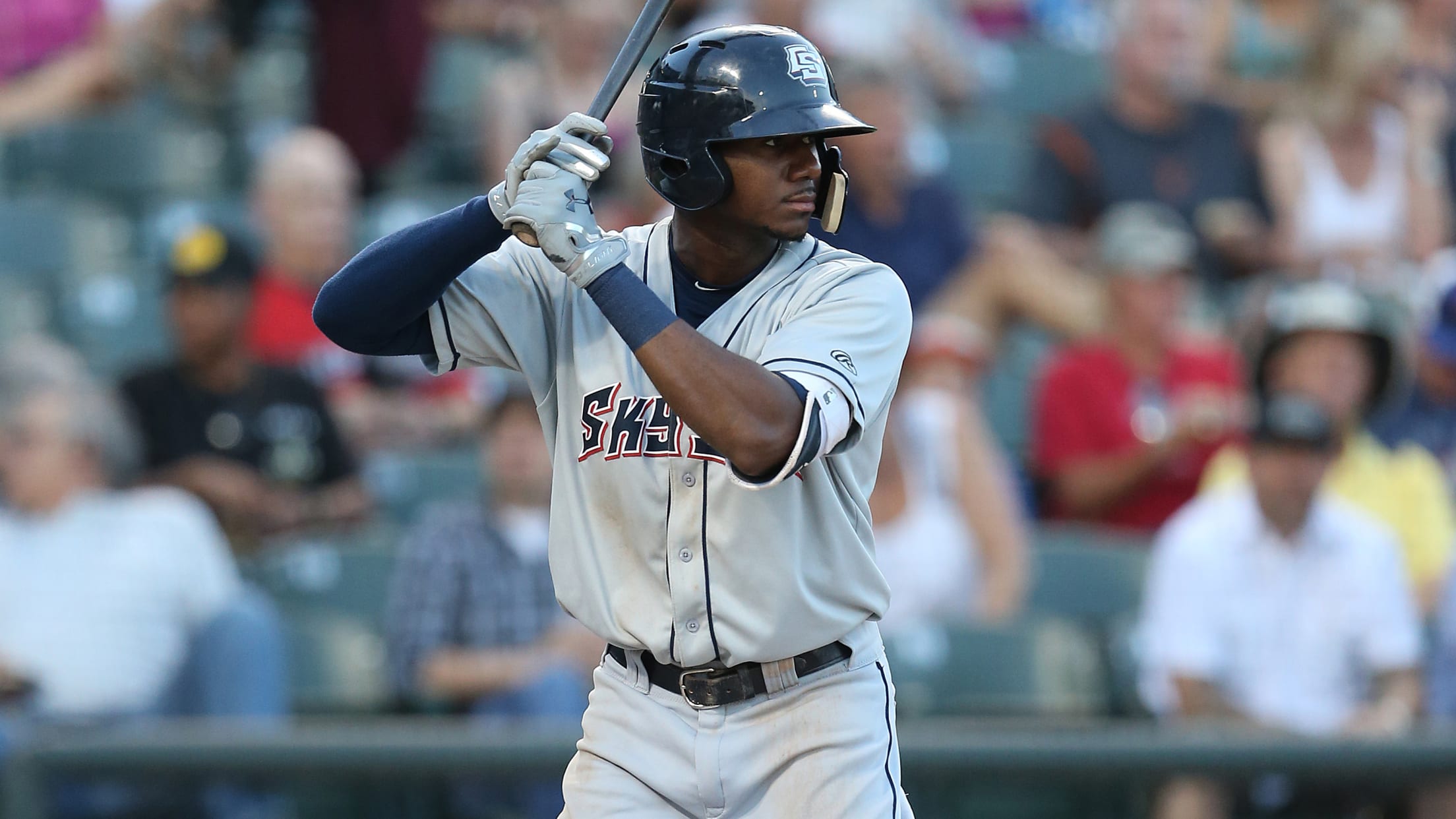 Lewis Brinson, who made his big league debut on June 11, compiled a .962 OPS in 76 games at Triple-A. (Jamie Harms)
This offseason, MiLB.com is taking a look at the most outstanding campaigns by players in each system across Minor League Baseball and honoring the players -- regardless of age or prospect status -- who had the best seasons in their organization.The Milwaukee Brewers were a big surprise in 2017, leading
This offseason, MiLB.com is taking a look at the most outstanding campaigns by players in each system across Minor League Baseball and honoring the players -- regardless of age or prospect status -- who had the best seasons in their organization.
The Milwaukee Brewers were a big surprise in 2017, leading the National League Central for much of the summer before trailing off and finishing one game short of the Wild Card. Beyond that, reinforcements are on the way in the pipeline, including five-tool outfielder Lewis Brinson and breakout right-hander Corbin Burnes.
Boasting no fewer than seven Top-100 prospects, Milwaukee affiliates finished with a collective .494 winning percentage (15th-best among the 30 farm systems), but three of the four full-season clubs finished above .500. Triple-A Colorado Springs, which fed the big club with talent like Brinson, left-hander Josh Hader and outfielder Brett Phillips, won the Pacific Coast League American Northern Division by 10 games with an 80-57 mark.
Brewers Organization All-Stars
Catcher -- Mario Feliciano, Wisconsin (104 games):
Feliciano enjoyed a solid full-season debut at age 18. Ranked as the
No. 25 prospect
in the system, he was selected as a Midwest League All-Star and finished the year with a .251 average, four homers and 36 RBIs in 104 games. The Puerto Rico native showed his athleticism with 10 stolen bases in 12 attempts as well as some solid defense, posting a .988 fielding percentage while throwing out 26 of 95 potential base stealers.
First baseman -- Jake Gatewood, Carolina (111 games), Biloxi (23 games): Gatewood took a major step forward at the plate in 2017. The 22-year-old improved every part of his slash line in 2017 -- .264/.333/.441 vs. .240/.268/.391 in 2016 -- and clubbed a career-high 15 homers. However, it was Gatewood's advanced plate discipline, thanks in part to wearing contacts for the first time, that really turned heads. After recording just 18 walks in 2016, the club's No. 18 prospect drew 51 free passes in 134 contests this year. The California native has always been a free swinger, and his strikeout total remained high in '17, but that's a chance the Brewers will take given his improvements in all the other areas.
Second baseman -- Keston Hiura, AZL Brewers (15 games), Wisconsin (27 games): Hiura's reputation as a hitter was so sparkling coming out of UC Irvine that an elbow injury that kept him from playing the field for most of 2017 didn't scare the Brewers when it came time for them to make their first-round pick in June. The 21-year-old repaid the club's faith by blowing through the complex-level Arizona League with a .435 average, and the Brewers' fifth-ranked prospect didn't slow down much after his promotion to Class A Wisconsin, where he posted a .333/.374/.476 slash line in 105 at-bats.
Third baseman -- Lucas Erceg, Carolina (127 games), Colorado Springs (three games): Everything about Erceg's game seems to pop. The 22-year-old hit 15 homers, a triple and 35 doubles in 130 games last year and regularly showed off his impressive arm at the hot corner -- not to mention his successful hidden-ball trick back in May. The 2016 second-rounder, ranked No. 10 in the system, ended the year with three games at Triple-A and should get the chance to man the hot corner at Miller Park sooner rather than later.
Shortstop -- Mauricio Dubón, Biloxi (71 games), Colorado Springs (58 games): Dubon is the type of player who makes things happen. Not only can the Honduras native hit -- Milwaukee's No. 9 prospect is a smooth fielder up the middle and has the speed to wreak havoc on the basepaths. In total, Dubon posted a .274/.330/.382 slash line with eight homers, 57 RBIs and 74 runs scored in 129 games between Double-A and Triple-A.
"Mauricio just needs to continue to get reps," Brewers farm director Tom Flanagan said. "He has excellent instincts and really loves to play. So we feel very good about the chance of him continuing to improve."
Utility player -- Nate Orf, Colorado Springs (125 games): Orf has always shown a good feel for the strike zone and 2017 was no exception. Signed by the Brewers as a nondrafted free agent in 2013 out of Baylor University, the 27-year-old batted .320/.397/.507 with a career-high nine homers, walking in more than 10 percent of his plate appearances while 30 percent of his hits went for extra bases.
Outfielders -- Lewis Brinson, Colorado Springs (76 games), Milwaukee (21 games): Through his first five games of the season, Brinson was hitting .273. After that, his average didn't dip below .300 with the Triple-A Sky Sox. The 2012 first-round pick finished the year with a .962 OPS, 13 homers, four triples, 22 doubles and 66 runs scored in 76 games for Colorado Springs. Brinson had the type of season an organization would love from its top prospect and earned 21 games with the big club.
"Lewis is such an exciting player to watch," Flanagan added. "He is a very skilled guy and he really works hard. That combo has allowed him to put it all together."
Iván De Jesús Jr., Colorado Springs (112 games): With more than 220 Major League games under his belt, De Jesus Jr. provided a veteran presence in a Sky Sox outfield that featured two of Milwaukee's most prized prospects -- Brinson and Brett Phillips. He also produced in a big way. The Puerto Rico native finished second in the Pacific Coast League with a .345 average and added 65 RBIs in 112 games.
Monte Harrison, Wisconsin (63 games), Carolina (59 games): Like Brinson, Harrison had already shown power and raw athletic ability -- he just needed the rest of his game to catch up. In 2017, that began to happen. The 2014 second-round pick slugged his way through the first half with Wisconsin, posting an .834 OPS with 11 roundtrippers and 32 RBIs in 63 contests. A midseason promotion to Class A Advanced Carolina didn't slow the 14th-ranked prospect down. In fact, Harrison improved his average with the Mudcats, hitting .278 and adding 10 homers in 59 games.
"There are some similarities between [Brinson] and [Harrison]," Flanagan explained. "They're both extremely athletic players and they can beat you in a number of different ways. Their combo of speed and power is what you look for."
The 22-year-old has carried that momentum into the Arizona Fall League, where he's hitting .286 with five homers in 11 contests.
Honorable mention -- Brett Phillips: The Brewers' No. 12 prospect opened the year at Triple-A and quickly showed he wasn't punching above his weight. The 23-year-old finished with the fifth-highest OPS (.944) on the circuit and enjoyed more than just a cup of coffee with the big club after making his debut in June.
Right-handed starting pitcher -- Corbin Burnes, Carolina (10 games), Biloxi (16 games): Burnes' first full season of professional baseball was storybook. The 2016 fourth-round pick dominated with Carolina, going 5-0 with a 1.05 ERA and an 0.88 WHIP in 60 innings. With nothing else to prove with the Mudcats, the Brewers promoted him to Biloxi at the end of May. The club's No. 7 prospect continued to impress with the Shuckers and finished the year with a 3-3 record, a 2.10 ERA and a 1.00 WHIP in 16 Southern League starts.


"I never say 'surprising' as we believe in our players and want them to do very well. Corbin was locked in from Spring Training through season's end and was really someone to watch," Flanagan said.
Left-handed starting pitcher -- Kodi Medeiros, Carolina (27 games): Medeiros' season may not have gone exactly how he wanted, but the 2014 first-round pick was able to hold his own as a 21-year-old in the Carolina League. The Hawaii native, ranked No. 23 in the system, went 8-9 with a 4.98 ERA but showed his potential with 121 strikeouts in 128 1/3 frames for the Mudcats.
Relief pitcher -- Nate Griep, Carolina (45 games): For the second straight season, Griep excelled in a closing role. An eighth-round pick in 2015 out of Kansas State, the 24-year-old notched 30 saves in 33 opportunities and posted a 2.37 ERA and a 1.11 WHIP in 49 1/3 innings for Carolina.
Michael Leboff is a contributor to MiLB.com.