Allen, Jester seal mission for San Antonio
Padres No. 8 prospect goes seven in first TL no-hitter of season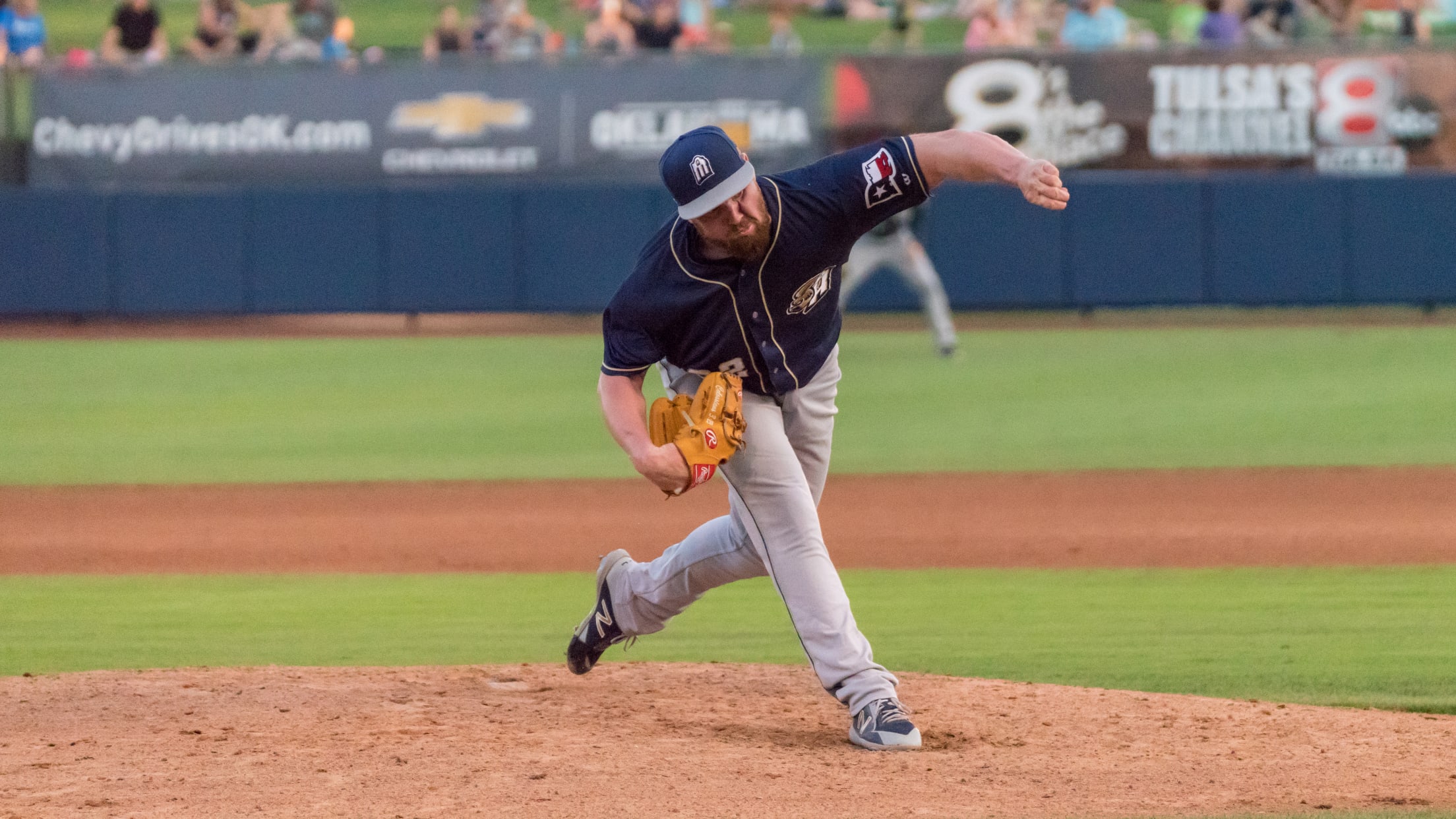 Logan Allen leads the circuit with seven wins, 76 strikeouts and 66 2/3 innings over 11 games. (Rich Crimi/Tulsa Drillers)
Mission accomplished.History was made at ONEOK Field on Thursday as Double-A San Antonio's Logan Allen turned in his best performance of the season, going seven innings to combine with Jason Jester on the first no-hitter in the nine-year history of the Tulsa ballpark -- the first no-no in the Texas
Mission accomplished.
History was made at ONEOK Field on Thursday as Double-A San Antonio's Logan Allen turned in his best performance of the season, going seven innings to combine with Jason Jester on the first no-hitter in the nine-year history of the Tulsa ballpark -- the first no-no in the Texas League this year. The duo set the pace for the Missions' 6-0 victory over the Drillers.
"It's pretty incredible," said Allen. "I didn't really realize what was going on. To be honest, I felt like I was struggling a little bit early, but then I saw the board and noticed all the zeros and it was in the back of my mind. So I just knew I had to keep battling and then Jason came in and did an unbelievable job. This is something I'll never forget."
The Padres No. 8 prospect fanned seven and walked five while matching his season high of seven frames. He exited after throwing 105 pitches, 67 for strikes.
Gameday box score
Allen faced just one hitter above the minimum through the first four innings thanks to a double play turned by top Padres prospect Fernando Tatis Jr., Peter Van Gansen and 27th-ranked Austin Allen after a leadoff walk to No. 5 Dodgers prospectDJ Peters in the second frame.
"I didn't have a good feel for my fastball early on, but I went to my changeup and I got some guys out early with it and then I mixed in my slider to get some swings-and-misses," Allen said. "I got my curveball working later on in my outing. Then around the fifth, sixth and seventh, I decided to just bear down and throw my heater with conviction. I didn't really worry about location, I just tried to throw it past guys and it worked out."
The 21-year-old lefty struck out five of the final seven hitters he faced, and the only blemish of his outing came when 24th-ranked prospect Drew Jackson reached on a fielding error by Ty France at third base. Jackson was quickly erased when Allen picked him off three pitches later.
"I knew it was an error right away. The ball took a bad hop and rolled up Ty's arm and it's just one of those things that's part of the game," Allen said. "I did notice at first it was ruled a hit and I thought, 'Oh well, still gotta get the 'W.'' But after I struck out the next guy, I looked at the board again and it was all zeros, so that got me excited. But Ty has been unbelievable all year and the defense was unreal for me all night."
Jester twirled the final two frames without allowing a walk while punching out two. The right-hander set down the first five hitters he faced before Peters reached on a throwing error on a grounder hit back to the mound. But the 27-year-old got Jackson looking on a 3-2 off-speed pitch over the heart of the plate to cap the feat.
"I felt a lot of pressure when I entered the game. Not for me, but for Logan. I wanted to get this done for him," Jester said. "He's been nothing shy of great for us all season. The way he set the tone tonight for us, and with how dominant he was, it was fun to watch. And I knew I was getting in because I haven't thrown in a couple of days. So I was relieved to get out of there without giving up a hit.
"I threw a slider to Peters and he capped it back to me. I came off the mound and tried to block it, but it took a weird hop and kicked off my glove. I had plenty of time, but I rushed the throw and pulled it up the line. Thankfully, it was an error. After that, I think I dialed it back up even more. I really wanted to get the job done for Logan. I'm truly thankful and humble to be a part of it. To be in the tail end of that was special, and I also need to give a nod to [center fielder Michael Gettys], who was huge all night and made two great plays behind me. Everyone had a hand in this, it took nine of us to get this done."
The Missions provided all the offense in the fifth. Tatis blasted a two-run shot -- his 10th of the year, No. 28 prospect Gettys and Taylor Kohlwey hit back-to-back solo jacks, and Van Gansen doubled in the a run.
It marked the first no-hitter for the Missions since Kyle Lloyd made history by going the distance on May 13, 2017, the first time in 38 years a San Antonio hurler tossed a complete-game no-no.
Rob Terranova is a contributor to MiLB.com. Follow him on Twitter @RobTnova24.