Shore turns in hitless outing for Stockton
Back to starting full time, righty allows two walks in five frames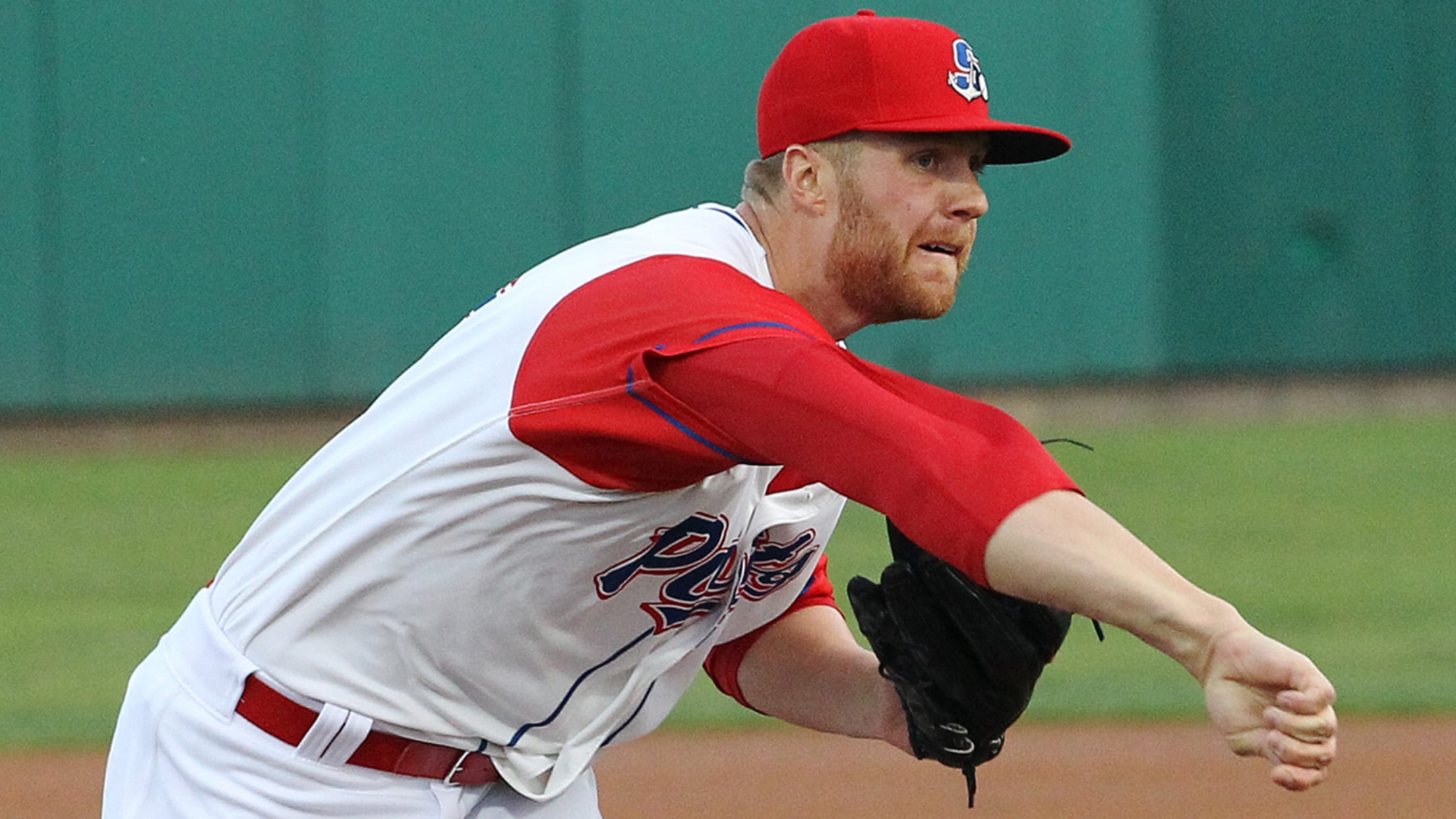 Logan Shore made seven starts in his debut season with Class A Advanced Vermont in 2016. (Ben Sandstrom/MiLB.com)
To start the 2017 season, the Stockton Ports used an eight-man rotation with four pitchers piggybacking on the starts of four others, then switching roles the next time through the staff. Entering the heart of May, Logan Shore has been turned loose back in his natural role, and he seized
To start the 2017 season, the Stockton Ports used an eight-man rotation with four pitchers piggybacking on the starts of four others, then switching roles the next time through the staff. Entering the heart of May, Logan Shore has been turned loose back in his natural role, and he seized the opportunity Tuesday.
Oakland's No. 8 prospect didn't allow a hit over five innings, walking two and striking out four in his longest outing of the season, as Class A Advanced Stockton fell late at Lake Elsinore, 5-0.
Taking the ball for his second straight start for the first time this year, the former Florida Gator stuck with a basic plan against the Storm.
Box score
"It was kind of weird, I threw probably 85 percent fastballs," Shore said. "I really didn't throw too many offspeed pitches unless I really needed to. For the most part it was just fastballs, out and in, down and up. For me, it's big because it really shows how effective the fastball is when you locate."
The heater set a steady course for the 2016 second-round pick, who faced the minimum through his first three innings, working around a one-out walk to No. 28 Padres prospectAustin Allen in the second with a double-play ball off the bat of San Diego's No. 25 Javier Guerra.
"Going into the game, I knew that they were a pretty aggressive team which I felt would play into my favor just because of my ability to command the baseball," Shore said. "I got a lot of quick outs. The fastball, being able to locate it out and in was huge for me, especially in to the lefties early in the count and to finish them off late in the count. There was some early contact, some aggressive swings. Fortunately for me, I executed the pitches when they were swinging early and got some weak contact."
The right-hander ran into some brief trouble in the fourth. San Diego's No. 11 prospect Michael Gettys walked with two outs and stole second, the only man to reach scoring position against him.
"I know he's fast, so I tried to give (Stockton catcher Santiago Chávez) a good chance to throw him out, but kind of just mishandled the transfer which is totally understandable," Shore said. "He is fast. I think that was his ninth [stolen] bag on the year. Two outs, runner at second, I really just focused on executing my pitches to the four-hole guy. I made a couple good pitches and finished him off with a fastball."
Lake Elsinore's cleanup hitter Ty France flew out to center to keep the game scoreless. Shore retired the Storm in order in the fifth to close his day. Even in his best appearance of 2017, the 22-year-old found something to take away.
"When you can execute early in the count and put them away late in the count, you're going to come out on the good side more times than not," he said. "For me, I've really been working on my breaking ball. I've added a curveball in the past couple weeks. Today was the first time that I threw it. I threw it two times for balls, but I think that's going to be huge down the road, having something that's really slow. It's a completely different look than anything that I throw with the changeup and the slider. It's just about developing."
With the Ports stretching his pitch limit to a cap of 75, Shore departed at 68. Stockton plans to give him, his former Florida teammate and MLB.com's No. 61 overall prospectA.J. Puk and left-hander Evan Manarino their own start days going forward. Tuesday's marked Shore's first five-inning game since Sept. 5, the final outing of his debut season with Vermont in the New York-Penn League.
"It feels good to go back out there and kind of have your own game and pitch deep into ballgames, which is my favorite thing to do," he said.
Lake Elsinore broke up the budding no-hit bid when Gettys doubled to center field off Stockton reliever Jared Lyons with one out in the seventh. France singled Gettys home on a liner to right. The Storm added three more runs in the eighth, two on a single to center by Allen.
Meanwhile, second-ranked Padres prospect Cal Quantrill posted a scoreless outing for Lake Elsinore. He scattered four hits and two walks while striking five over six innings. Righty Zech Lemond walked one and struck out one over two frames to pick up the win.
Tyler Maun is a contributor to MiLB.com. Follow him on Twitter @TylerMaun.