Loons Shut Out on Chilly Wednesday Night
Two multi-run innings for Lake County doom Loons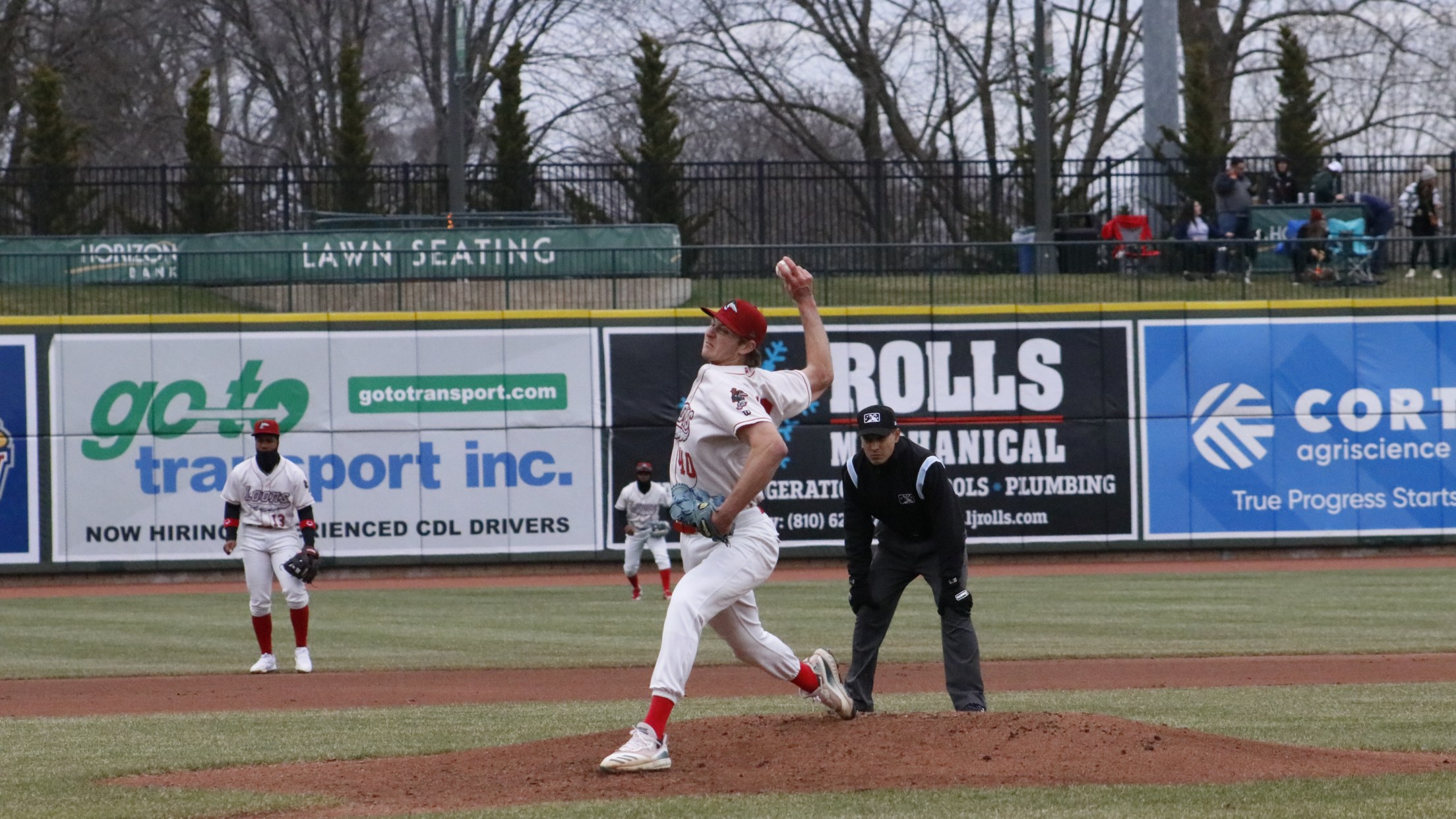 MIDLAND, Mich. – On Tuesday night at Dow Diamond, the Great Lakes Loons strung a few hits together in one frame, and used the big inning to take down the Lake County Captains, while their pitching staff kept the Captains quiet. On Wednesday night, turnabout is fair play. Lake County
MIDLAND, Mich. – On Tuesday night at Dow Diamond, the Great Lakes Loons strung a few hits together in one frame, and used the big inning to take down the Lake County Captains, while their pitching staff kept the Captains quiet.
On Wednesday night, turnabout is fair play.
Lake County scored three runs in the fourth inning and four in the sixth, while their pitching staff kept the Loons silent. The Captains even the series at one game apiece with a 7-0 win Wednesday night.
The Captains (5-6) got their three runs in the fourth off of Loons right-handed reliever Cole Duensing (L, 0-2). It started with a one-out double from Micael Ramirez, who was knocked in on a two-bagger by Raynel Delgado with two outs to give Lake County a 1-0 lead. Gabriel Rodriguez hit a single to score Delgado, then Rodriguez scored from first on a double from Joe Naranjo, and Lake County extended their lead to 3-0, scoring all of those runs with two outs in the frame.
In the sixth inning, the Captains notched just one hit, a single. They scored their four runs in that frame on three walks and an error. Antonio Knowles came in with a runner on second and just one out, and struck out the final two batters of the frame to end the inning.
The Loons (3-8) were quiet on offense, collecting just five hits over the game. On Tuesday night, six of their seven hits went for extra bases; on Wednesday, all five hits were singles, and came from four different players. The lone multi-hit game came from Imanol Vargas, who went 2-for-4.
Great Lakes, the High-A affiliate of the Los Angeles Dodgers, got a good start from right-hander Cole Percival. The UC Riverside product tossed three scoreless innings, allowing just two hits and a walk while striking out two.
Lake County, partners of the Cleveland Guardians, had terrific pitching from start to finish. Right-hander Aaron Davenport began the night with 4 2-3 innings of three-hit baseball, walking two and punching out five. He was followed up by fellow righty Jordan Jones (W, 2-0), who allowed a walk and a hit with two strikeouts in 2 1-3 innings. The game was finished off by southpaw Matt Turner, whose two innings saw two walks and a hit, but no runs and one strikeout.
The Loons' struggle was not in creating baserunners, but in stringing them together. Great Lakes stranded 10 men on base throughout the course of the game, but in only one inning did they leave more than two aboard: their lone two-hit inning of the night, the third. Only three baserunners all night saw scoring position.
It truly was the story of the big innings tonight. In innings one through three and seven through nine, the Loons held Lake County scoreless, with the visitors notching just three hits in those frames. The Captains simply had the better ability to get hits in succession. Give credit to relievers Knowles and Kevin Malisheski, who combined to pitch 3 2-3 innings of shutout ball, allowing just one hit and one walk while striking out four.
By the time Knowles and Malisheski came in to keep Lake County at bay, the deficit was already too great, and the Captains' pitching staff simply did not give the Loons any sliver of a chance to get back in the game.
The Loons and Captains have now each won one game in the series, and will be back at it again Thursday night for the third contest in the six-game set. Loons right-hander Nick Nastrini (0-0, 3.86 ERA) will take the hill, opposite Mason Hickman (0-1, 4.50 ERA) for Lake County, also a right-handed pitcher. Dow Diamond hosts its first Thirsty Thursday™ of the young season, presented by John P. O'Sullivan Distributing – enjoy 50% off draft beer all night long. Tickets are still available on loons.com. First pitch is scheduled for 6:05 p.m., with pregame coverage beginning on ESPN 100.9 FM at 5:50 p.m. with the Loons On-Deck Circle, driven by Garber Chevrolet Midland.
The Great Lakes Loons have been a Single-A partner of the Los Angeles Dodgers since the team's inception in 2007. Dow Diamond serves as the team's home and also houses the Michigan Baseball Foundation, a 501(c)(3) non-profit public charity, and ESPN 100.9-FM. For tickets or information about the Loons, call 989-837-BALL or visit Loons.com.