Loons Sweep Doubleheader over Beloit, Pitching Staff Excels
Great Lakes arms allow just one run in fourteen innings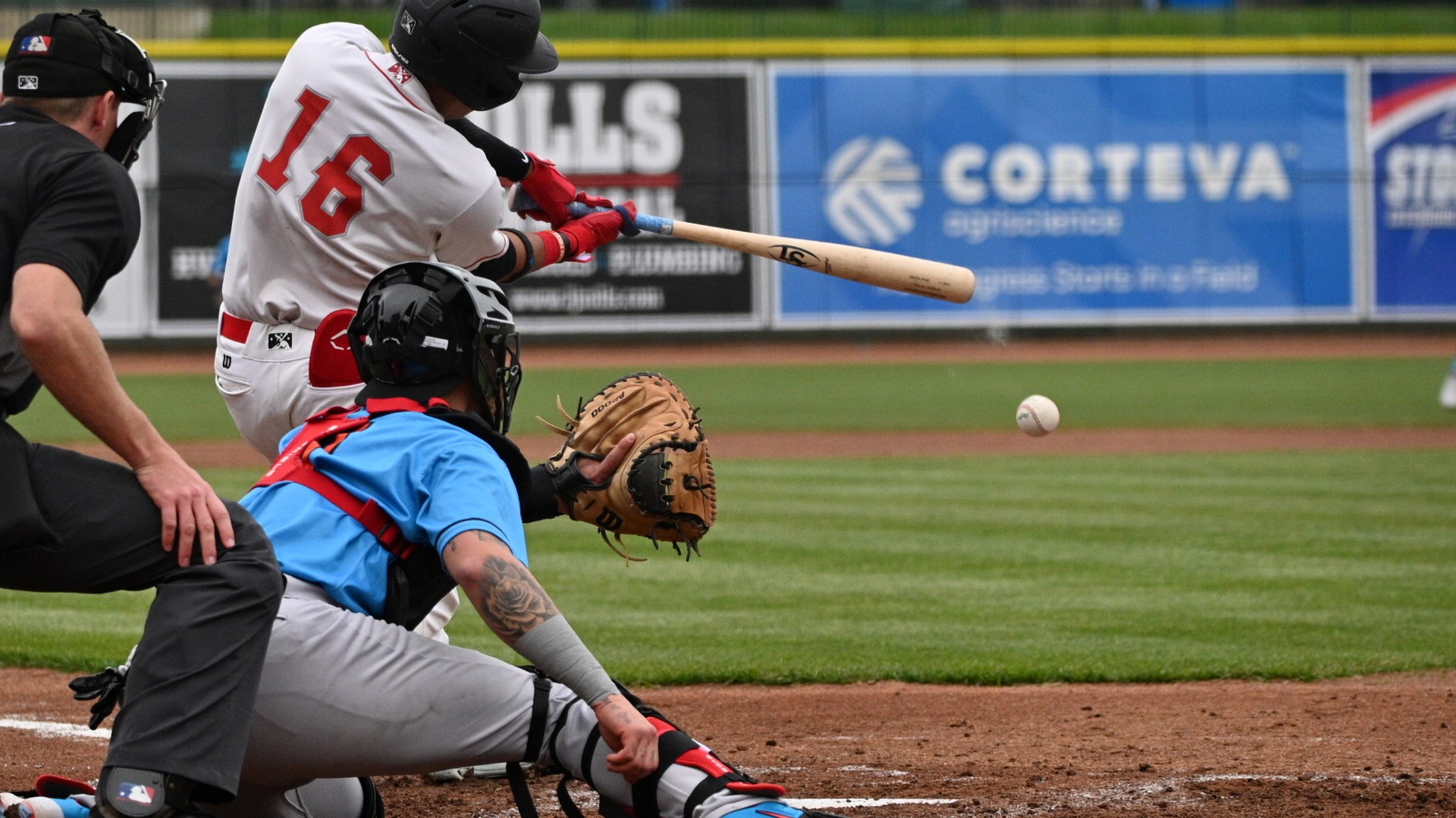 (Robert Spears Photography)
MIDLAND, Mich. – In a long baseball season, facing adversity is often less important than how you respond to adversity. On Wednesday night, the Great Lakes Loons faced adversity, losing a game despite one-hitting the Beloit Sky Carp. The Loons responded well Thursday night to that adversity. The Loons defeated
MIDLAND, Mich. – In a long baseball season, facing adversity is often less important than how you respond to adversity.
On Wednesday night, the Great Lakes Loons faced adversity, losing a game despite one-hitting the Beloit Sky Carp. The Loons responded well Thursday night to that adversity.
The Loons defeated Beloit in both games of a doubleheader at Dow Diamond, 3-0 and 3-1, with their pitchers allowing just one run in fourteen innings of work.
Great Lakes (12-12) got off to a hot start in the first game, scoring two runs in the first inning off of southpaw starter Patrick Monteverde (L, 0-1). Eddys Leonard and Jorbit Vivas both reached base on one-out singles. After an out and a wild pitch advanced both runners to scoring position, Ryan January smacked a two-run single to give the Loons the lead. Great Lakes scored two runs on three hits in the first inning of the first game, more runs and hits than they tallied in nine innings on Wednesday.
Those two runs would be all the Loons would need, thanks to excellent pitching from Gavin Stone (W, 1-1). The Loons right-handed starter went six innings of work, breaking his own mark for longest start by a Loon this season. He walked one and surrendered two hits in those sparkling six frames while picking up three strikeouts. Stone, the Dodgers' fifth-round draft pick in 2020, has just the second Loons start which qualifies for a win (the first was his as well), and he becomes the first Great Lakes starter to earn a win this season.
The Loons would get one more run of support in the first game. Leonard doubled with one out in the fifth inning, then Vivas singled him home to give the game its final score: 3-0.
Jose Hernandez (SV, 4) finished the first game for Great Lakes, and while he got into some trouble, loading the bases with two hits and a walk with one out, he got out of it with a ground ball double play. Hernandez now has a save in each of his last four appearances, and is tied atop the Midwest League leaderboard in saves.
In game two, Beloit (8-16) got on the board first, scoring a run in the first inning. Nasim Nunez walked to lead off the game and stole two bases, then Victor Mesa, Jr., doubled to score him. In the 17th inning of the series for the Sky Carp on offense, that was their first RBI hit and their first extra-base hit. Through 23 innings of Sky Carp offense in this series, it is still their only such hit.
That was the lone blemish for Loons lefty Lael Lockhart, who allowed four hits in four innings, walking the lone batter and allowing the lone earned run while striking out two.
The Loons, High-A affiliate of the Los Angeles Dodgers, were tied with Beloit until the fourth inning of the second game. Leonel Valera led off the inning with a walk and he stole second base. One batter later, Aldrich De Jongh notched an RBI single to put the Loons in front, 2-1.
Meanwhile, Beloit, the Miami Marlins' affiliate, was still bested by Loons pitchers. Cole Duensing (W, 1-2) allowed a pair of hits in his two frames, but did not walk a batter nor allow a run, and he struck out three Sky Carp.
Great Lakes notched an insurance run in the fifth inning, again aided by a stolen base. Jonny Deluca reached on a hit by pitch, then stole second base. He advanced to third on a Leonard single, then scored on a Vivas fielder's choice, and the Loons led by the eventual final score, 3-1.
Julian Smith (SV, 1) tossed the seventh and final frame, the fourteenth of the night, allowing a hit but erasing him on a successful pickoff, and striking out a batter to face the minimum.
The Loons improve to .500 for the first time since April 12, and hold a 2-1 lead in the series over Beloit. The two teams will face off again on Friday night, beginning at 6:05 p.m. at Dow Diamond. Beloit will start southpaw Dax Fulton (0-2, 5.30 ERA), currently ranked as the No. 9 prospect in the Marlins' system. Cole Percival (1-0, 2.30 ERA) gets the start for Great Lakes. It's Feast Friday at Dow Diamond: enjoy $2 hot dogs and potato chips, ice cream sandwiches, and 16-ounce sodas for just $1 each, presented by Isabella Bank. Get your tickets now on loons.com. On ESPN 100.9-FM, pregame coverage begins with the Loons On-Deck Circle, driven by Garber Chevrolet Midland, at 5:50 p.m.
The Great Lakes Loons have been a Single-A partner of the Los Angeles Dodgers since the team's inception in 2007. Dow Diamond serves as the team's home and also houses the Michigan Baseball Foundation, a 501(c)(3) non-profit public charity, and ESPN 100.9-FM. For tickets or information about the Loons, call 989-837-BALL or visit Loons.com.