Quintana's three-homer game fuels Hooks
Astros catcher establishes career highs with six RBIs, five runs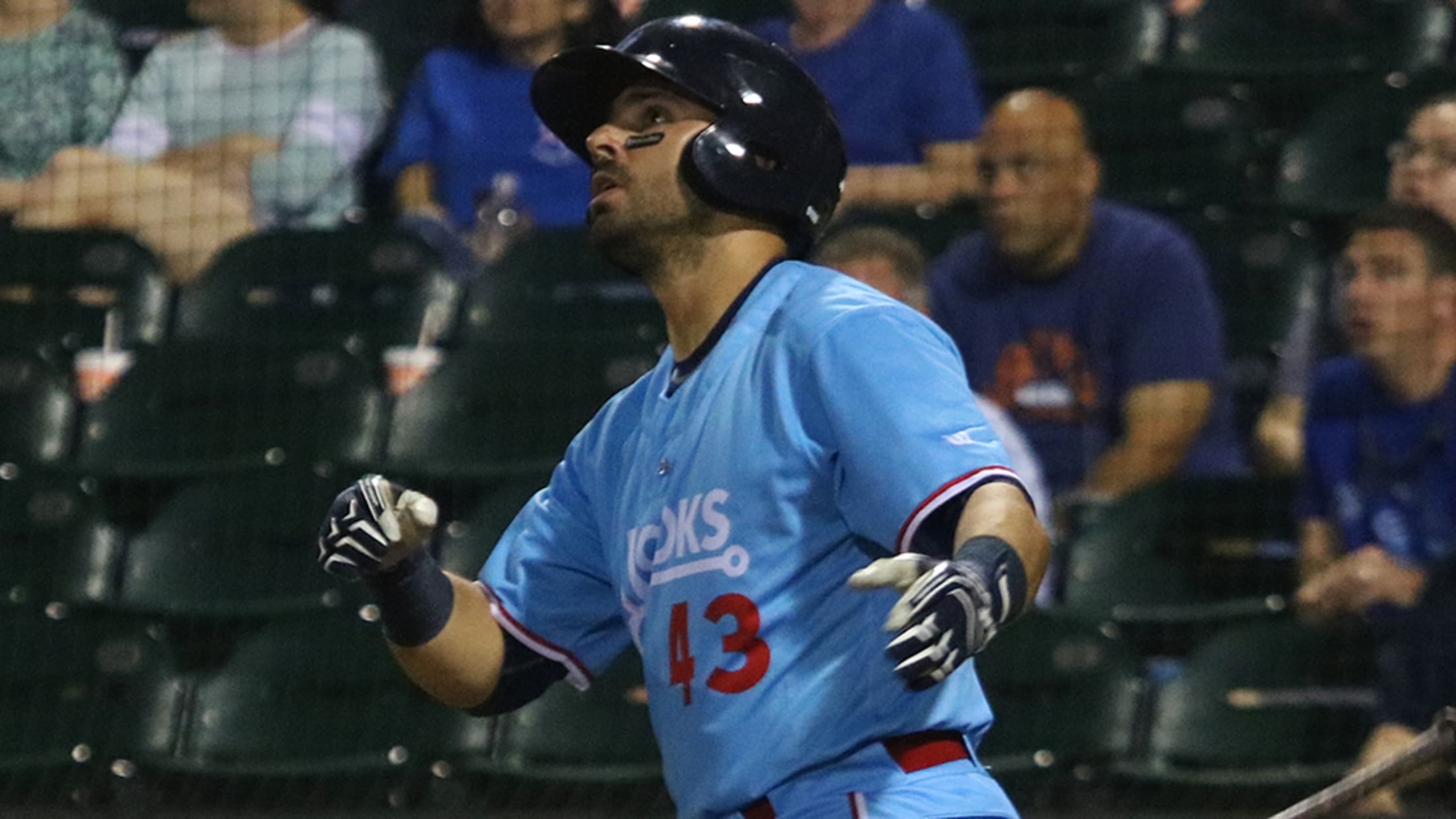 Lorenzo Quintana became the first Hook to homer three times in a game in more than two years. (Tammy Tucker/MiLB.com)
One night after a swarm of bees invaded Whataburger Field, it was Lorenzo Quintana who created the buzz.The Houston backstop homered three times, reached safely in all five plate appearances and established career highs with six RBIs and five runs as Double-A Corpus Christi rolled past Northwest Arkansas, 15-6, on
One night after a swarm of bees invaded Whataburger Field, it was Lorenzo Quintana who created the buzz.
The Houston backstop homered three times, reached safely in all five plate appearances and established career highs with six RBIs and five runs as Double-A Corpus Christi rolled past Northwest Arkansas, 15-6, on Monday night.
Quintana became third Hook to go deep three times in one game and the first since J.D. Davis on May 19, 2016 against San Antonio. It marked the 15th three-homer game in the Minors this season and the first in the Texas League.
"I didn't know a whole lot about him since he was playing in Cuba," Corpus Christi hitting coach Troy Snitker said. "But his reputation was that of an offensive-minded backstop. We got some glimpses of him in Spring Training. ... In fact, the first swing I ever saw him take resulted in a line drive off the top of the left-field wall. I think we knew then he definitely had some offensive tools."
Gameday box score
The 29-year-old cut into a 4-2 deficit with a solo blast to left-center field leading off the bottom of the second inning. He connected on a three-run shot to left in the third and was hit by a pitch and scored on Stephen Wrenn's double in the fifth. Quintana completed the trifecta with a two-run jack to left in the sixth to top his previous career high of five RBIs, set on April 13 against the Naturals. He's the second catcher on the Hooks roster with a three-homer game under his belt. Eduardo de Oleoparked three for Buies Creek in the Carolina League on April 21, 2017.
With an opportunity for a fourth home run, the Cuba native was plunked a second time in the game in the seventh, which elicited some words from Quintana toward Northwest Arkansas hurler Andres Machado. The right-hander was ejected by home plate umpire Cody Oakes before an altercation ensued. Quintana scored a fifth time on balk by Bryan Brickhouse.
The career night continued a hot streak for the first-year professional. Quintana is hitting .417 with five homers and 15 RBIs in his last 10 games. He's driven in at least two runs in three consecutive games, totaling 10 in that span.
Signed as an international free agent last October, he has batted .263/.325/.493 with 19 extra-base hits and 30 RBIs through 42 games with the Hooks.
"Lorenzo's an older guy coming out of Cuba, but it's important for him to play and get consistent time behind the plate," Snitker said. "He needs to learn our system and what it's like to play professional ball in the States. He's had to learn a lot of stuff on the fly, especially early in the year. Now he's starting to get comfortable and it's taken some pressure off him and it shows."
His strong offensive output notwithstanding, Quintana has impressed Snitker with his overall approach and demeanor off the field.
"He's eager to learn and wants to work," the former Minor League catcher said. "The transition for him fitting in has been fairly seamless. I know the guys enjoy having him around and he enjoys being at the field every day. Lorenzo's always the first guy to knock on my door to watch video. He loves the game and being around the clubhouse."
Randy César had three RBIs while No. 28 Astros prospect Abraham Toro, Ryne Birk and Andy Pineda also had three hits for the Hooks, which pounded out 19 knocks in the game.
Akeem Bostick (1-2) picked up the win after allowing six runs on six hits and three walks with two strikeouts in six innings.
Alex Liddi homered twice -- giving him three in the last two games -- and drove in three runs for Northwest Arkansas.
Dallas Beeler (0-1) was tagged for seven runs (six earned ) on nine hits and three walks over 3 2/3 innings. It was the 29-year-old's first Minor League appearance since 2016.