Angels' emerging stars waiting in the wings
Adell, Canning among breakout prospects knocking at the door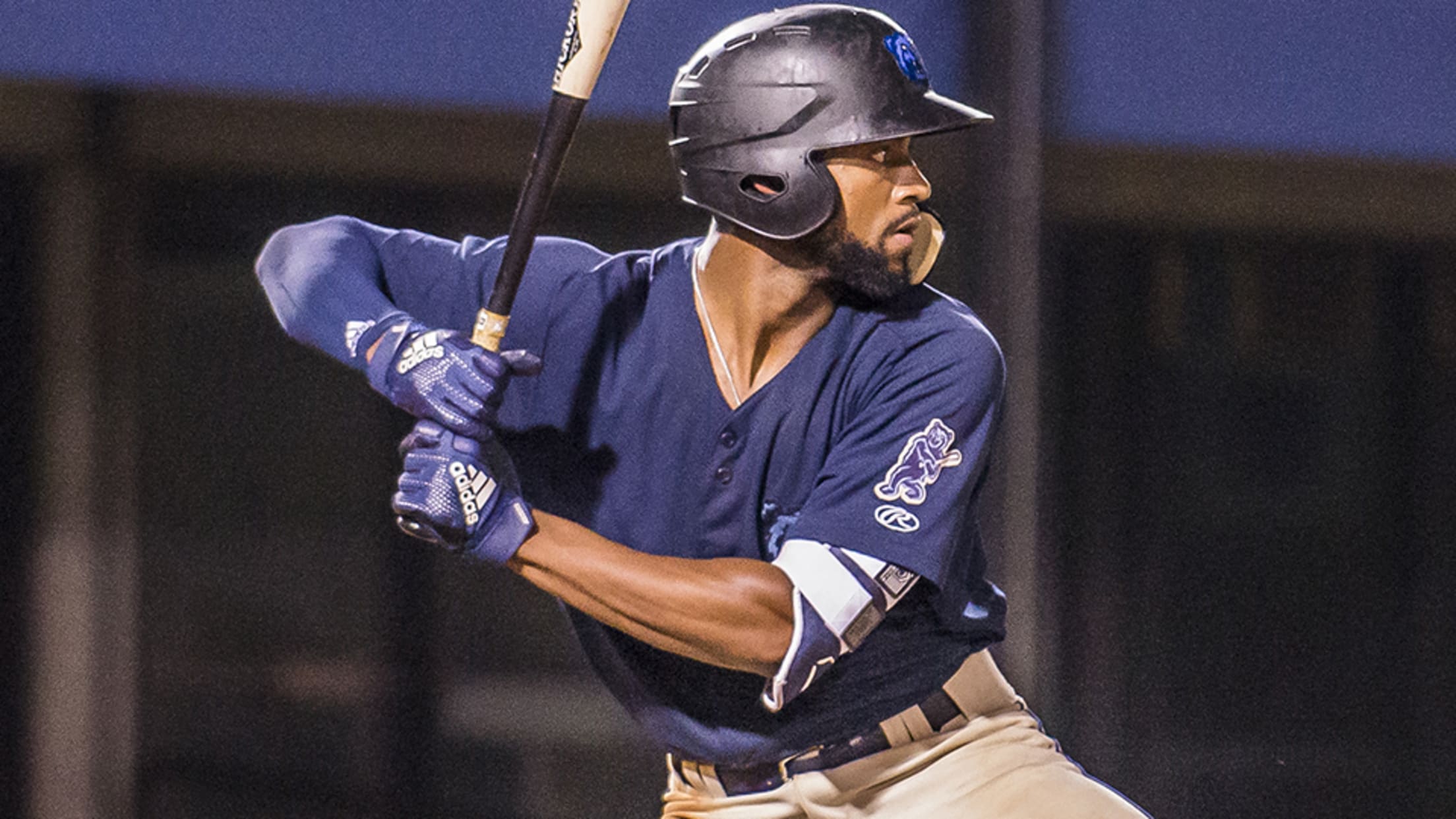 Jo Adell climbed three levels of the system this season and finished the year hitting .290 with 20 home runs and 77 RBIs. (Mobile BayBears)
Each offseason, MiLB.com goes position by position across each system and honors the players -- regardless of age or prospect status -- who had the best seasons in their organization. Click here to locate your favorite club.The Angels are in desperate need of a shot in the arm. Bogged down
Each offseason, MiLB.com goes position by position across each system and honors the players -- regardless of age or prospect status -- who had the best seasons in their organization. Click here to locate your favorite club.
The Angels are in desperate need of a shot in the arm. Bogged down by bad contracts at the big league level and watching other teams in the American League West Division surge past them and enjoy success in the postseason cannot be sitting well with the organization that possesses arguably the greatest player in the sport -- Mike Trout. The team hasn't made the playoffs since 2014, its only appearance in the past nine seasons.
But there is good news: Help is on the way. Behind a good string of Draft selections and some fortuitous trades, the Angels boast a strong and top-heavy farm system. The organization possesses three prospects who rank among the Top 100 in the game, and if healthy, the team's top 10 will be stating their cases for time in The Show within the next year or two.
Angels Organization All-Stars
Catcher -- Jack Kruger, Inland Empire (56 games), Mobile (41 games):
After a breakout rookie campaign, Kruger experienced a bit of a sophomore slump in 2017, but the 24-year-old regained his form this season. Kruger batted .299/.357/.413 with 30 extra-base hits and 40 RBIs. The 2016 20th-round pick out of Mississippi State also showed progress behind the plate, improving his fielding percentage to .991 and committed just seven errors (down from 12 last season) on 774 total chances.
"First and foremost, what a great teammate," said Inland Empire manager Ryan Barba. "He's got a lot of leadership skills. Understands how to call a game. Takes control with the pitchers -- communicates really well with them. He's also got good receiving skills, he knows how to put down the right fingers. Offensively, he understands the zone really well. When he gets a pitch he likes, he hits it hard and really does some damage."
First baseman -- Matt Thaiss, Mobile (40 games), Salt Lake (85 games):
Thaiss made his
third consecutive appearance
as an Angels Organization All-Star after another strong offensive campaign. After compiling a slash line of .287/.352/.490 with 18 extra-base hits and 25 RBIs over 40 games in the Southern League, the 2016 first-rounder was bumped to Triple-A Salt Lake and proved to be up to the challenge. With the Bees, the 23-year-old finished the season on a tear, hitting 10 dingers with six triples, 24 doubles and 51 RBIs. The
fifth-ranked Angels prospect
also turned in a career-best five-hit effort on June 19 against Colorado Springs.
"It's been really impressive," Bees manager Keith Johnson said
after Thaiss' five-hit night
. "The league kind of adjusted to him a little bit and he's adjusted back, so he's found something that's working for him and he's going out and displaying it every day.
"He analyzes his at-bats and then he's on to the next one. He stays in the present. He doesn't let his at-bats, whether they were good or bad, affect him in the here and now, and that's been really impressive."
Second baseman -- Jose Fernandez, Salt Lake (91 games), Los Angeles (36 games): At 30 years old, the Cuban native was signed to a Minor League deal in January and opened the year in the Pacific Coast League. Fernandez showed enough early on that he was called up to debut in The Show on June 8. He spent the remainder of the season on the shuttle between Los Angeles and Salt Lake, but he finished the year in the bigs after rosters expanded on Sept. 1. Fernandez batted .333 with 17 dingers, 19 doubles, 66 runs and 59 RBIs in 91 games for the Bees. He finished 31-for-116 with six walks, two homers and 11 RBIs over four stints with the Angels.
Organization All-Stars by MLB affiliate »
Third baseman -- Taylor Ward, Mobile (42 games), Salt Lake (60 games), Los Angeles (40 games): This is also Ward's third straight time as an Angels Organization All-Star. The 2015 first-round pick broke out in 2018 and made a rapid ascension to the Majors. After hitting .345/.453/.520 with six dingers and 25 RBIs to open the year, Ward was named a Southern League Midseason All-Star. He was promoted to Triple-A on June 2 and continued to impress. The 24-year-old raised his average to .352 over 60 games with the Bees, and his transition from catcher to the hot corner appeared to be a catalyst for his success. Ward made his big league debut on Aug. 14 and stuck there. He clubbed six home runs and drove in 15 runs for Los Angeles over 40 games to end the year.
"I always thought it was a move to help him move up through the organization more quickly," BayBears manager Lou Marsontold MiLB.com in July. "I think they always knew he had that potential, but offensively, they wanted him to just go out and swing the bat and feel better physically and mentally. You're seeing that potential come out now. He doesn't have to worry about what pitch he called last inning and getting yelled at about it. All he needs to worry about is playing solid defense and barreling the ball.
"He doesn't overthink things. He doesn't put too much pressure on himself and continues to put together quality at-bats. He just worries about going up there and finding a good pitch and barreling it and keeping it simple."
Shortstop -- Luis Rengifo, Inland Empire (41 games), Mobile (40 games), Salt Lake (46 games): Rengifo climbed three rungs of the Angels system in 2018 and made the most of his opportunity at every stop. The 21-year-old's natural ability opened the season in the California League and batted .323/.426/.466 with 16 extra-base hits, 22 stolen bases and 36 runs scored. The native of Venezuela never skipped a beat, finishing the season in the PCL with a cumulative .299/.399/.453 slash line with 13 triples, 30 doubles, 41 swipes and 109 runs. The 10th-ranked Angels prospect could make a case for The Show with a strong spring showing next year.
"The biggest thing about Luis is that he's just an incredible athlete," Barba said. "He also understands the game really well, and he's got a good attitude. He understands the zone at the plate, knows what he's looking for, and he can do a little bit of everything. He can save runs with plays in the field and also get on base and find a way to score runs on offense. I think he plays with a chip on his shoulder. He just gets after it."
Outfielders
Jabari Blash, Salt Lake (83 games), Los Angeles (24 games): Power, power, power. There isn't much else to say about Blash after he muscled his way into the PCL home run lead early in the year and still finished atop the circuit with 29 dingers despite only playing in 83 games with the Bees. Traded from the Yankees on Feb. 21, Blash was another player on the shuttle between Los Angeles and Salt Lake. The 29-year-old spent six stints with the big league club and finished the season there. In 24 games with the Angels, Blash went 4-for-39 with five walks and a double.
Jo Adell, Burlington (25 games), Inland Empire (57 games), Mobile (17 games): Since being selected No. 10 overall in last year's Draft, Adell has been on his own shuttle -- and it's only moved forward. The top Angels prospect vaulted up three more levels of the Angels organization after finishing his rookie campaign in the Pioneer League. Adell was selected for the MLB Futures Game en route to his second nod as an Angels Organization All-Star. In 99 games between the Midwest League and Southern League, baseball's No. 15 overall prospect hit .290/.355/.543 with 20 roundtrippers, 32 doubles, 83 runs and 77 RBIs. The 19-year-old was also named the Cal League Player of the Month after a torrid June.
"There have been a lot of [positive] things written about Jo, and I can tell you that they are right on point," Barba said. "You're talking about a super athlete, and he goes out there every day and is just fun to watch. He's a special player. He's loaded with talent but still continues to work hard every single day. He's a guy that can do a lot of different things. Hopefully he'll be in the big leagues soon, but all I can say is: he's a special talent."
Brandon Sandoval, Inland Empire (33 games), Mobile (72 games): Sandoval showed his versatility by playing every outfield position this season and proved his rookie season at the plate last year was no fluke. The 27th-round pick by the Angels in 2017 hit .332 last year in 63 games between Rookie-level ball and Class-A Advanced Inland Empire. After opening the season with the 66ers and picking up where he left off, the 23-year-old was promoted to Double-A Mobile on May 22. Sandoval finished the year with a slash line of .298/.359/.363 with 14 doubles and 33 RBIs.
"I didn't know too much about Brandon until Spring Training, but I can tell you that he's just one of those guys who loves the game," Barba said. "He's got great speed, simple mechanics at the plate, and he's always got a good idea of what he's trying to do whenever he's at the plate. He just goes out there and he has a good time, and with us he took advantage of his moments. He found a way to get on base, could score from first on an extra-base hit, he just did a lot of the small things and that makes a big difference."
Utility player -- Jared Walsh, Inland Empire (40 games), Mobile (41 games), Salt Lake (47 games): With an emphasis on versatility at an all-time high, Walsh should not have any trouble finding a roster spot with a big league club soon. The 25-year-old proved to be somewhat of a Renaissance man in the field this season. Walsh played every outfield position, saw time at first base and appeared in eight games on the bump. At the plate, he batted .277 with 29 dingers, 34 doubles and 99 RBIs. The southpaw allowed just one earned run and struck out seven over 5 2/3 innings out of the bullpen. Walsh was called up to the Angels briefly two different times in March, but did not appear in a game.
"Jared is another guy who just took advantage of opportunities, and the way he went about his business was as a true professional," Barba said. "He used his opportunities to go through the system very quickly and it landed him in Triple-A. He showed good power, that he can get on base and you even got to see him pitch a little bit. He can do a lot of different things really well and now he's knocking on the door."
Right-handed starter -- Griffin Canning, Inland Empire (two games), Mobile (10 games), Salt Lake (13 games): After medical concerns dropped Canning out of the first round in the 2017 Draft, the Angels selected the right-hander in the second round. Although he didn't make his professional debut until this year, Los Angeles has already received an outstanding return on its investment. After beginning the season in the Cal League, the 22-year-old ascended to Triple-A Salt Lake on June 21 -- after not suffering a loss through his first 12 professional starts while striking out 61 over 54 1/3 frames and posting a sub-1.00 WHIP. The second-ranked Angels prospect made an impressive PCL debut -- allowing two hits and three walks while fanning six over four scoreless innings. A couple of bad outings inflated Canning's numbers from there, but the UCLA product finished his rookie campaign with a 3.65 ERA, a 1.26 WHIP and 125 punchouts in 113 1/3 innings.
"All I can say is, he's a stud," Burlington pitching coach Jonathan Van Eaton said. "He's a really hard-working kid, he's educated, and we're excited to have him here and for his future. Griffin is a big strike thrower with numerous pitches, and he repeats his delivery really well. He's already soared through our system."
Left-handed starter -- Jose Suarez, Inland Empire (two games), Mobile (seven games), Salt Lake (17 games): After signing in 2014 out of Venezuela, Suarez seemed to come into his own last season. An Angels Organization All-Star for the second time, the southpaw took off in 2018 and climbed to the doorstep of The Show. The No. 8 Los Angeles prospect also made his way through three levels of the system and didn't show any signs of being overmatched after each promotion. The 20-year-old spent the bulk of the season with Triple-A Salt Lake and finished the year sporting a 3.92 ERA with 142 whiffs and 44 walks in 117 frames.
"I had the chance to coach Jose in Rookie ball, and everyone was concerned about body type because he carried around some extra weight," Van Eaton said. "But then he really started taking care of his body, and that sped up his delivery and you started to see what he could do. Right now he can throw any pitch for a strike in any count and that has truly benefited him. I think what separates him is his mind-set. He's fearless out there. He's got a big league mind-set."
Honorable mention, Patrick Sandoval, Inland Empire (three games), Mobile (four games): Sandoval was acquired in the trade with the Astros that sent catcher Martin Maldonado to Houston on July 26. The 22-year-old allowed just three runs on 18 hits and 14 walks while fanning 48 over 34 1/3 innings between Class A Advanced Inland Empire and Double-A Mobile. Sandoval was named Pitcher of the Week three separate times and earned Midseason All-Star honors in the Houston organization. He finished the season as the Angels No. 19 prospect.
"Patrick is a competitor who has great mound presence," Barba said. "He keeps hitters off balance by mixing his pitches well, while inducing weak contact with swing-and-miss stuff."
Relief pitcher -- Jorge Tavarez, Burlington (21 games), Inland Empire (19 games): At 5-foot-10 and 150 pounds, Tavarez doesn't seem to be a typical reliever, but he makes opponents exit the batter's box in frustration. The 23-year-old out of the Dominican Republic possesses a good mix of pitches and a plus-curveball that enables him to miss bats with ease. Tavarez finished the season with 90 punchouts in 77 2/3 innings. He showed solid command by walking 36 over that span.
"He's, pound for pound, one of the best athletes I've ever had the privilege to work with," Van Eaton said. "He's got arm speed, health, work ethic -- the whole package is there. He wasn't gifted to be 6-5 obviously, which everyone would have loved. But he's explosive and he's got extreme strength. His bread and butter was his curveball this year. It's a 12-6 with elite spin rate, and he can throw it in any count. He was actually the leader of the bullpen when he was with us. I loved bringing him in in high-stress situations."
Rob Terranova is a contributor to MiLB.com. Follow him on Twitter @RobTnova24.