Jackson makes history in romp by Owlz
Angels No. 5 prospect hits 23rd homer, ties Pioneer record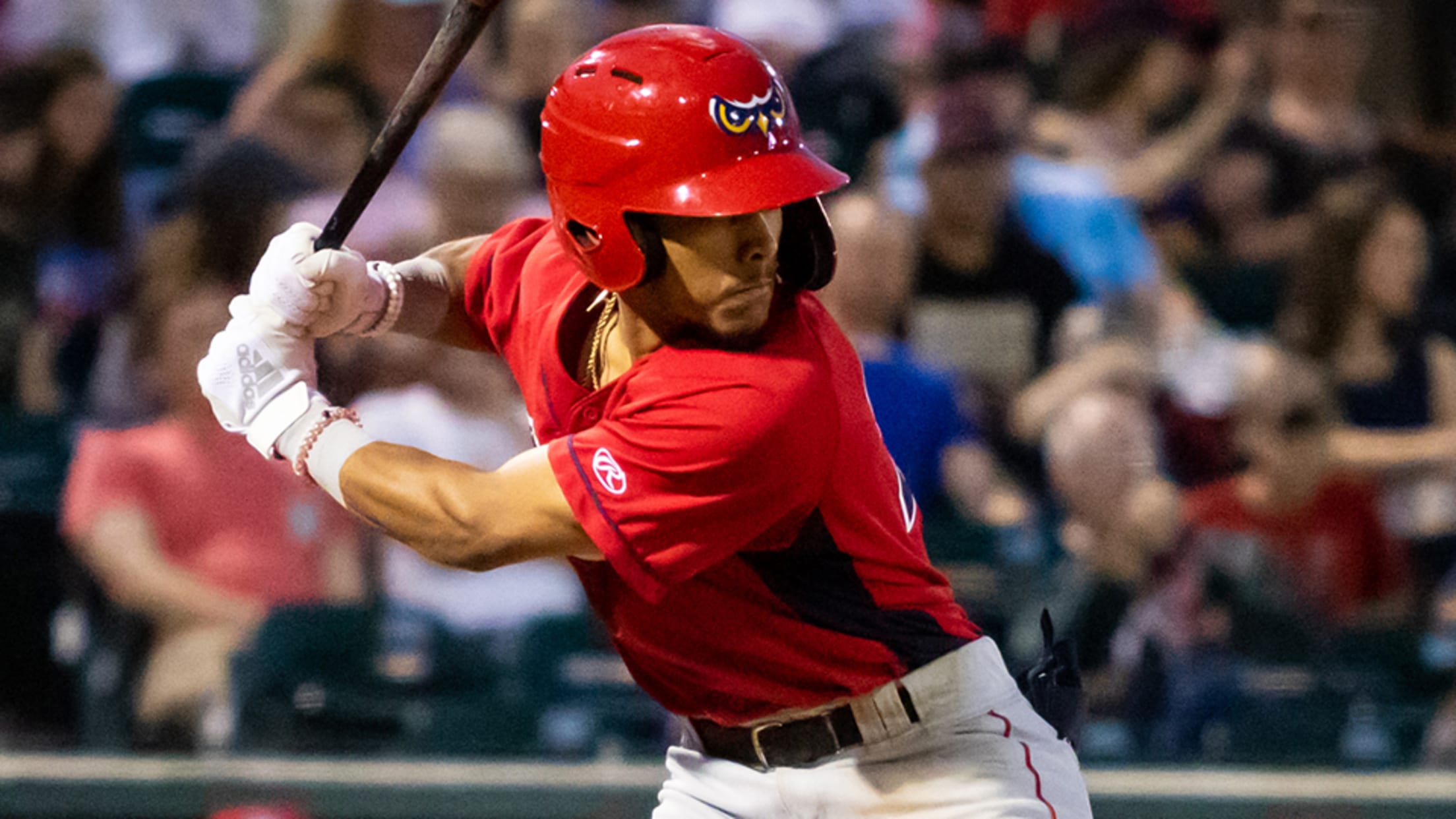 Jeremiah Jackson is 10-for-37 with six homers and 14 RBIs in his last 10 games. (Bobby Stevens/MiLB.com)
Saturday night was a special one for Jeremiah Jackson.The Angels' No. 5 prospect tied the single-season Pioneer League record with his 23rd homer and matched his career high with five RBIs, powering Rookie Advanced Orem to an 18-5 romp over Ogden at the Home of the Owlz. He went 3-for-5
Saturday night was a special one for Jeremiah Jackson.
The Angels' No. 5 prospect tied the single-season Pioneer League record with his 23rd homer and matched his career high with five RBIs, powering Rookie Advanced Orem to an 18-5 romp over Ogden at the Home of the Owlz. He went 3-for-5 with a walk and three runs scored.
"Anytime you have the potential to break a record is really awesome," Jackson said. "I'm blessed and thankful to be in this position."
Batting leadoff, Jackson struck out in his first at-bat but laced the first pitch he saw from Alfredo Tavarez for a two-run single in the second inning that extended Orem's lead to 4-0. The Owlz took control with a nine-run outburst, sending 14 batters to the plate.
Gameday box score
Jackson jumped on the first pitch again in the third, singling to center with one out against Nelfri Contreras and scoring two batters later on a knock by Jose Reyes. He struck out again in the fifth but grabbed a little piece of history an inning later.
With a run already in, Brandon White singled with one out in the sixth and Anthony Mulrine was hit by a pitch one out later to put two runners on for the 19-year-old. Like his earlier hits, he needed just one pitch against southpaw Franklin De La Paz and belted a booming fly ball over the center field fence for the first three-run homer of his professional career. It tied the record set in 1997 by Gregory Morrison of the Medicine Hat Blue Jays.
"At the time, I knew I was getting close to it, but I was trying to keep a level head and take it day by day," Jackson said.
"[He left] a fastball up and I was able to get it pretty good. I knew it was going out. It was awesome. Being my first three-run homer also, being able to do that was a fun moment."
Jackson has put together an All-Star campaign in his second year of pro ball. The 2018 second-round pick leads the circuit with 59 RBIs, 38 extra-base hits and 151 total bases and ranks third with a .643 slugging percentage and 46 runs scored. He's batting .277 with three three-hit efforts in his last nine games, including a three-homer game on Aug. 15 against Idaho Falls.
However, when comparing stats, it's his long ball numbers that jump off the page. In his debut season, he hit seven homers in 43 games between the Rookie-level Arizona League and Orem. He's tripled that number this summer.
What changed? For Jackson, there were subtle changes at the plate, but the real emphasis involved his mind-set.
"I've made a few swing changes, but really it comes down to making good decisions," he said. "I've been focusing on swinging at good pitches, working good counts and setting up the pitch you want to hit."
With a week left in the regular season, Jackson has plenty of time to rewrite the record book. He won't try to hit homers, but he hopes he can gain sole possession of the mark by playing like he has all year.
"You can't really try to hit home runs or you'll get all out of whack," the Alabama native said. "I'm just going to stick to my same approach, which is making good decisions and hitting strikes hard. Hopefully, it happens; but if it doesn't, I know I did what I was supposed to do and hope that everything else takes care of itself."
Angels No. 8 prospect D'Shawn Knowles fell a homer short of the cycle, while Morgan McCullough went 3-for-5 with a homer and three RBIs for the Owlz. Caleb Scires also drove in three runs and scored twice.
Ramon Rodriguez, Andy Pages and Andrew Shaps homered for the Raptors.
Katie Woo is a contributor to MiLB.com. Follow her on Twitter @katiejwoo.