BayBears' Thaiss spoils Adams' gem
Angels No. 2 prospect produces winning run in Double-A debut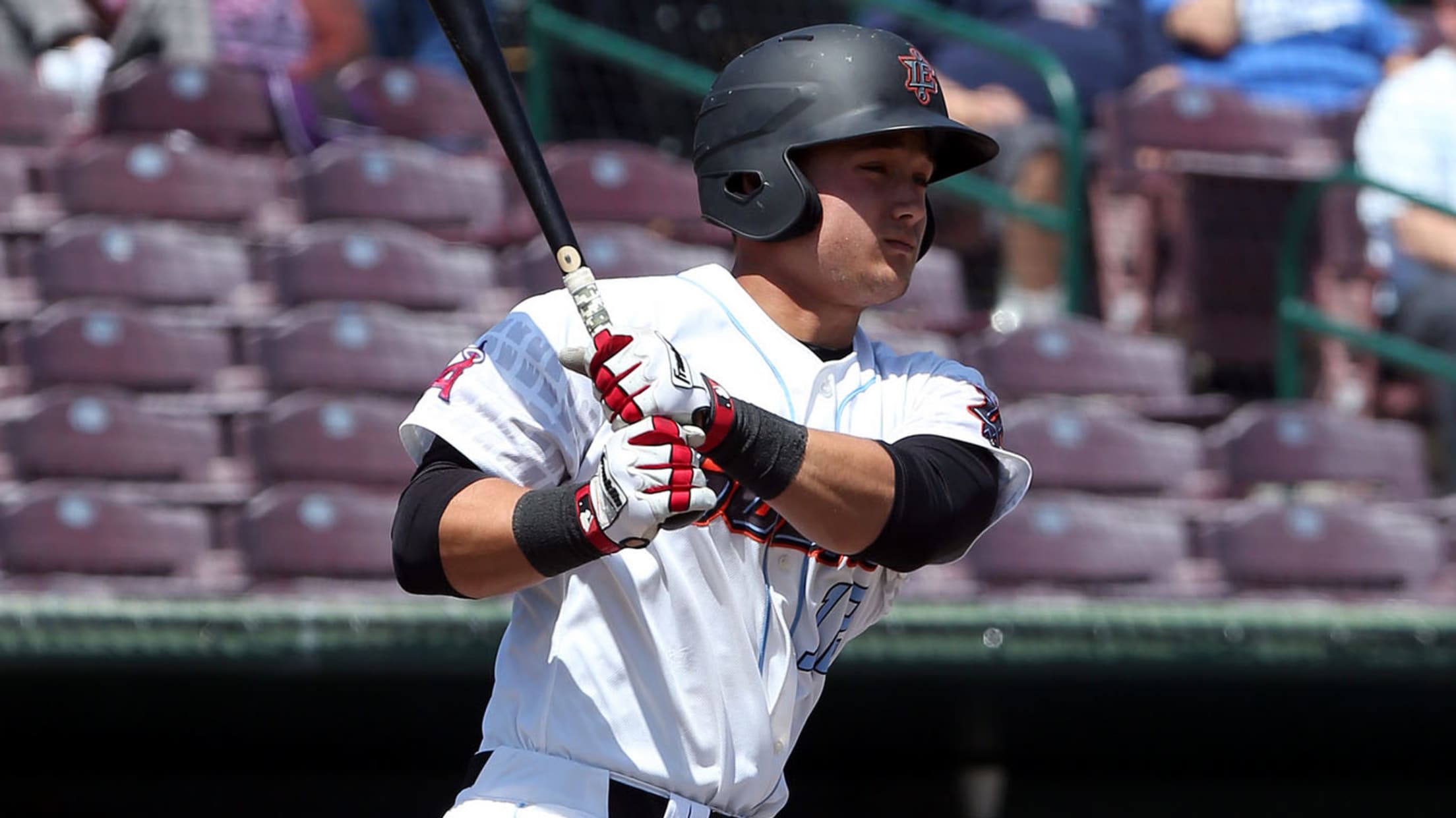 Matt Thaiss batted .296 with three homers and 20 RBIs in his final 27 games with Inland Empire. (Donn Parris/MiLB.com)
Matt Thaiss made his debut at another level on Tuesday, and like the previous three times, he left quite a first impression.The second-ranked Angels prospect delivered an RBI double in his first Double-A game as Mobile edged Birmingham, 1-0, at Regions Field. Thaiss produced the only offense in a pitchers' duel
Matt Thaiss made his debut at another level on Tuesday, and like the previous three times, he left quite a first impression.
The second-ranked Angels prospect delivered an RBI double in his first Double-A game as Mobile edged Birmingham, 1-0, at Regions Field. Thaiss produced the only offense in a pitchers' duel between Angels No. 6 prospect Grayson Long and No. 12 White Sox prospect Spencer Adams.
Gameday box score
Selected 16th overall in last year's Draft, Thaiss drove in Angels No. 13 prospect Michael Hermosillo with a line drive double to left after Hermosillo singled to break up Adams' no-hitter with one out in the sixth inning.
Hermosillo, who entered the contest with 19 stolen bases across two levels, drew plenty of attention from Adams, forcing the 21-year-old right-hander to make four pickoff throws before swiping second and scoring on Thaiss' hit on a 3-1 count.
"I knew he could run a little bit, but I was just trying to keep him close," Adams said. "And I just wasn't executing my pitches. The only guy who could hurt me right there is the guy hitting, and I just didn't put myself in a position to win that at-bat."
Adams had kept the BayBears quiet through five innings, recording eight of his career-high 12 punchouts.
"Pretty much everything was working for me tonight," he said. "I just had command of all my pitches and I kind of set the tone right there for any pitcher who can control his pitches.
"That was the furthest I've ever taken a no-hitter into a game. Obviously, it's awesome. Any person dreams of throwing a no-hitter. But I wasn't really too worried about that, honestly. I was just trying to not lose focus out there because as it turned out, one bad pitch can change the whole game for you."
Facing the 2014 second-round pick, Thaiss struck out on three pitches in his first-bat and lined to left in the third inning. But the 22-year-old first baseman is no stranger to making impactful debuts.
After the Angels drafted him, Thaiss hit a go-ahead three-run homer in his pro debut for Rookie-level Orem before going 3-for-6 a few weeks after in his first game with Class A Burlington. The left-handed hitter also homered in his 2017 debut for Class A Advanced Inland Empire.
The New Jersey native went on to produce a .265/.353/.399 slash line with eight homers and 48 RBIs in 84 games with the 66ers before getting his promotion late Monday.
With Mobile, Thaiss reunited with Long, who made his first three starts of the season with Inland Empire before climbing to the Southern League. The 23-year-old right-hander allowed three hits and a walk while tying a season high with eight strikeouts over six innings.
Justin Anderson and Conor Lillis-White both tossed a clean inning in relief of Long before Michael Dimock pitched a perfect ninth to record his third save of the season.
Michael Peng is a contributor to MiLB.com. Follow him on Twitter @MichaelXPeng.