Angels Prospect Primer: Jones leads rebuild
Talented teen headlines system getting overhauled from ground up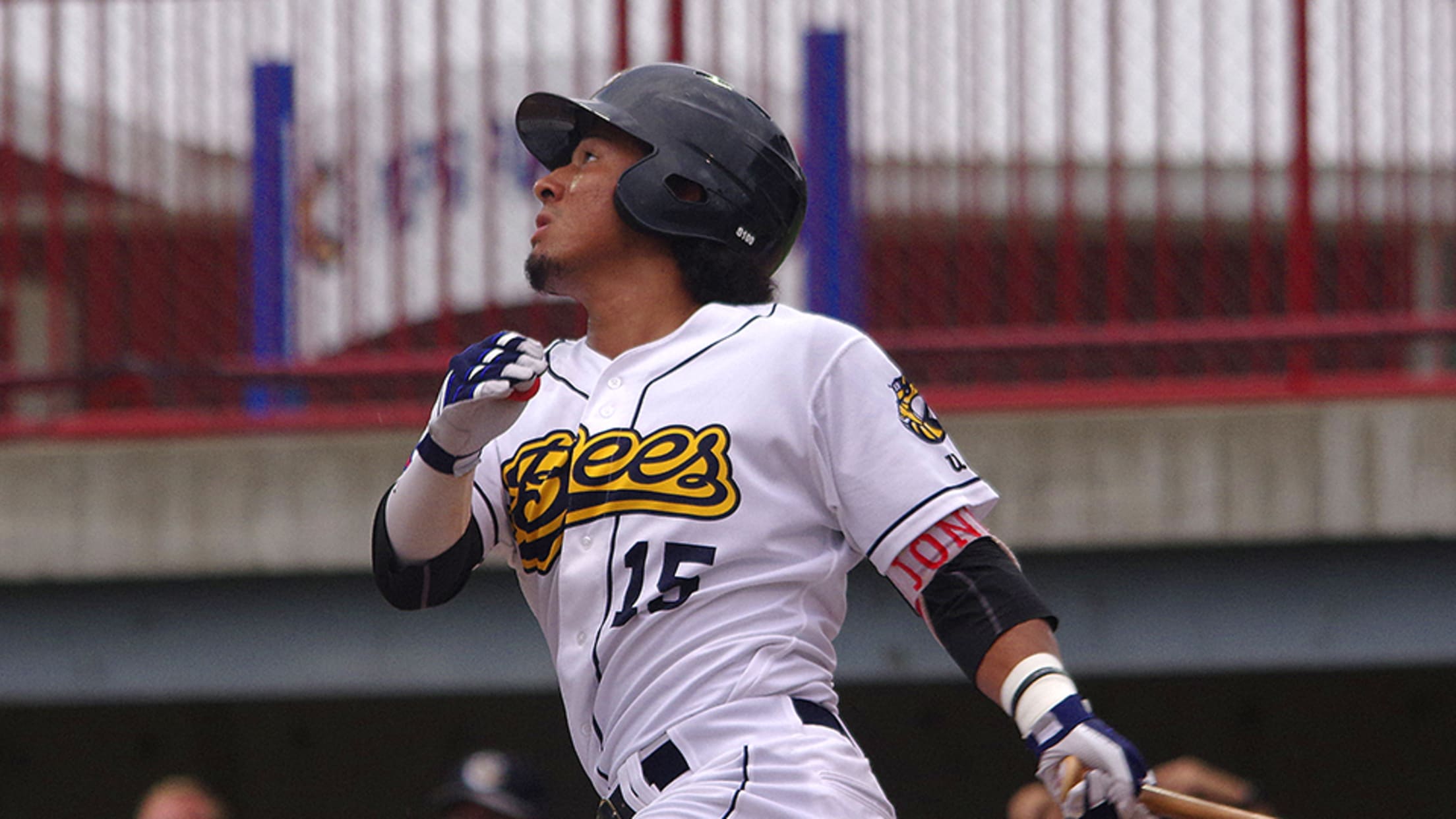 Jahmai Jones slashed .302/.379/.422 with 30 RBIs in 64 games across two Minor League levels in 2016. (Stephen A. Cirinna)
Some players are on the verge of stardom, others are entering a crucial phase of their development and still others are getting their first tastes of full-season ball. With the 2017 season approaching, MiLB.com takes a look at the most intriguing prospects from each MLB organization.Shining star: Jahmai Jones , OFLess
Some players are on the verge of stardom, others are entering a crucial phase of their development and still others are getting their first tastes of full-season ball. With the 2017 season approaching, MiLB.com takes a look at the most intriguing prospects from each MLB organization.
Shining star: Jahmai Jones , OF
Less than two years removed from high school, Jones showed why he's rated as the Angels' top prospect heading into 2017. Drafted in the second round in 2015, the 19-year-old Georgia native turned in an All-Star season with short-season Orem last year. In 48 games for the Owlz, Jones batted .321/.404/.459 with 19 stolen bases and 49 runs scored, leading to a promotion to Class A Burlington. Though his numbers dipped during a 16-game stint with the Bees, the six-foot, 215-pounder finished his first season at .302/.379/.422 in 64 games.
Beyond the numbers, Jones has impressed the Angels with his leadership and maturity as well.
"He's a special person and a special player," said Angels Minor League director of operations Mike LaCassa. "Jahmai is one of the most mature teenagers I've ever been around, and it shows up on and off the field. Combine that attribute with his talent, and it's turned him into someone who could be on track for a really impressive year at the full-season level as a 19-year old. I think baseball will be seeing an exciting player for years to come."
Breakout prospect: Michael Hermosillo , OF
It's fair to say that Hermosillo's breakout came last year, but considering he appeared in only 77 games, the potential for a truly great season is within his grasp. Most of the pieces fell into place for the Angels' No. 14 prospect in 2016 as he hit .317/.402/.467 with 26 extra-base hits, 39 RBIs and 58 runs scored between Burlington and Class A Advanced Inland Empire.
"It was really a great year for Michael," said LaCassa. "While the numbers his first two seasons weren't great, he never struggled with the mental approach at the plate, and that showed in his strikeout-to-walk ratio. We were hoping it would come together the way it did. He took off and had a tremendous year."
An athletic talent who was lured away from football, Hermosillo's strong year was in direct contrast to his 2015 season when he batted just .231/.344/.263 in 93 games between Orem and Burlington. His All-Star caliber follow-upput him on the map and earned him a non-roster invite to Major League camp this spring.
Full-season debutant: Matt Thaiss , 1B
Though Thaiss appeared in 52 games for Burlington in 2016, this year will be his first full season as a professional. The 16th overall pick in last year's Draft, Thaiss hit the ground running after a standout career at the University of Virginia, where he was a two-time All-American as a catcher. The Angels immediately moved him to first base, a switch the 21-year-old handled with relative ease.
Thaiss batted .338 in a 15-game cameo with Orem before finishing the season with a .276/.351/.427 slash line for the Bees. An advanced hitter with patience and good strike zone judgement, the Angels expect the New Jersey native to hit for a high average while developing a more consistent power stroke.
"Matt is another position player we are very excited about," LaCassa said. "It's his first Spring Training as a pro, and he was already in big league camp. He walked during each of his first two plate appearances and looked like a Major Leaguer in the process. That epitomizes the kind of plate discipline he has, which makes his above-average bat that much more dangerous. Even moving out from behind the plate has been smooth. We've been pleasantly surprised at how good he looks playing first. I don't think anyone in our organization thinks he'll be anything less than average, and many believe he'll be a strong defensive first baseman."
Back and healthy: Vicente Campos , RHP
Having played professionally in the United States for six seasons and four organizations, it's hard to believe that Campos is still just 24 years old. Signed as an undrafted free agent by the Mariners in 2009, Campos was dealt to the Yankees in 2012 and missed the entire 2014 season following Tommy John surgery. He struggled when he returned in 2015 but seemed to put everything together last year, winning 10 games while posting a 3.22 ERA with 120 strikeouts in 142 2/3 innings across three Minor League levels.
Dealt from the Yankees to the D-backs last July in exchange for Tyler Clippard, the right-hander made his Major League debut Aug. 27, pitching 5 2/3 innings of relief. However, the injury bug bit Campos again when he was diagnosed with a fracture in his right arm. The D-backs placed him on waivers, and the Angels were all too happy to claim a pitcher who is now their No. 12 prospect.
"We were excited to add Vicente to our system," LaCassa said. "Given his age, he has a lot of prospect status left, and he's someone we hope can stay healthy and on an active roster all year. If that happens, he's going to put it all together because the tools are there. We were really fortunate to be able to grab someone like that off waivers."
At the crossroads: Alex Meyer , RHP
Injuries, inconsistency and control issues have conspired against Meyer fulfilling his vast potential. The 23rd overall pick by the Nationals in 2011, Meyer has carved up opposing hitters to the tune of 10.4 strikeouts per nine innings in his Minor League career. Conversely, the Angels' No. 8 prospect has also averaged nearly four walks per nine, which has largely contributed to him not reaching the lofty heights expected of him.
Los Angeles nabbed Meyer in a trade with Minnesota last August, but shoulder issues limited the Indiana native to just 29 Minor League innings, mostly with Triple-A Rochester. Meyer made seven appearances, including six starts, in the Majors last season, posting a 5.68 ERA with 29 strikeouts in 25 1/3 innings.


Others to keep an eye on: A back injury kept outfielder Brandon Marsh from making his professional debut in 2016, but the Angels' No. 3 prospect is healthy and ready to begin his career. ... Lefty Nate Smith is knocking on the door to the big leagues after striking out a career-high 122 batters while walking just 44 in 150 1/3 innings with Triple-A Salt Lake. ... Struggling as a starter, right-hander Keynan Middleton might have bought himself a ticket to the Majors after moving to the bullpen. Using a mid-90s heater, Middleton held opponents to a .196 average and fanned 88 in 66 innings last season, finishing the year in Triple-A. With the Angels' pitching situation fluid at best, Middleton could be a strong candidate to make his Major League debut in 2017. ... The Angels couldn't have asked for much more than what Jared Foster provided in his first full season. The outfielder hit .276/.317/.422 with 40 extra-base hits and 56 RBIs across two Minor League levels in 2016.