Owlz' Adell falls homer short of the cycle
Angels top prospect adjusting well to the Pioneer League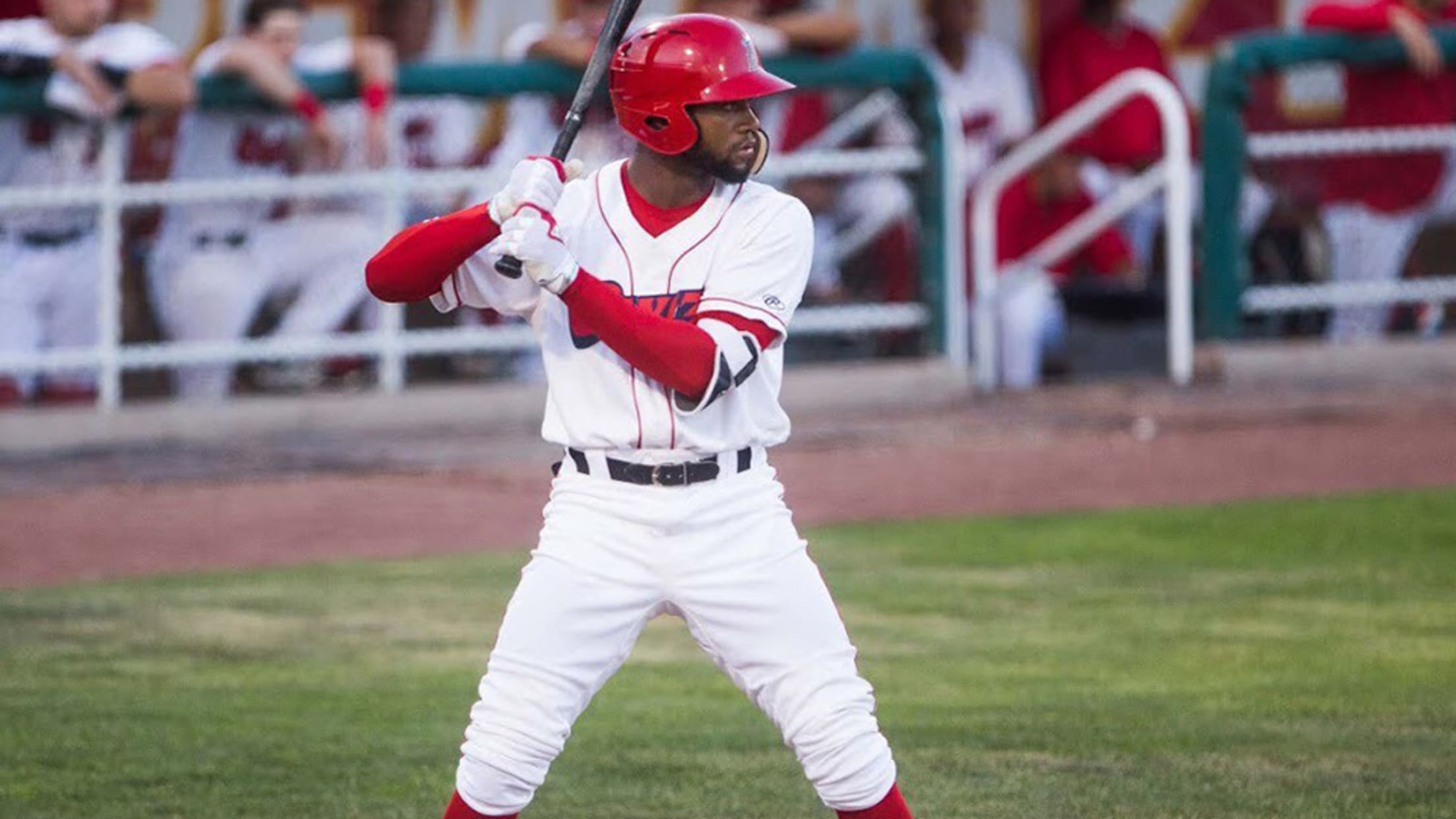 Jo Adell has 21 extra-base hits among the 43 he's logged in the Minor Leagues this season. (Ari Davis/Orem Owlz)
Jo Adell played the role of catalyst with aplomb on Friday night.The Angels' top prospect fell a homer short of the cycle as Rookie-level Orem ripped Grand Junction, 11-1, at the Home of the OWLZ. Adell drove in two runs and scored another. 
Jo Adell played the role of catalyst with aplomb on Friday night.
The Angels' top prospect fell a homer short of the cycle as Rookie-level Orem ripped Grand Junction, 11-1, at the Home of the OWLZ. Adell drove in two runs and scored another.
Gameday box score
The Louisville, Kentucky, native led off the bottom of the first inning with a single to left and doubled to left in the third. In the sixth, Adell worked the count full and plated two runs with a triple to right.
After being selected 10th overall in the June Draft, Adell was assigned to the Rookie-level Arizona League, where he batted .288/.351/.542 with four homers and 21 RBIs in 31 games. Since being promoted on Aug. 17 to the Pioneer League, the 18-year-old has logged a .916 OPS with five extra-base hits and three RBIs in six games.
"It was a grind in Arizona. Just keeping the energy up for all the games after the work you need to put in is different and takes some getting used to," Adell told MiLB.com earlier this week. "The big thing for me is keying in on every pitch during every game.
"As a hitter, you're not always going to get a pitch you can drive. The pitchers here are just too good. Even if they throw you a strike, it might not be your pitch. That's a lot different than in high school where you may not get what you're looking for, but you can still do damage. If you don't get ahead and find your pitch early in the count at this level, you're not going to be able to do much."
Angels No. 6 prospect Brandon Marsh came within a triple of hitting for the cycle, going 3-for-4 with three RBIs. In 26 gams with the Owlz, the 2016 second-round pick has a 1.054 OPS with four homers, nine doubles and two triples. He sports a .395 batting average with 27 RBIs and has hit safely in 22 of 26 games since joining Orem on June 19.
• Get tickets to a Owlz game »
For the third time in 17 games with the Owlz, Jeyson Sanchez homered twice and drove in five runs.
Simon Mathews (3-1) was tagged for one hit -- a solo homer by Chad Spanberger -- with two walks and seven strikeouts over five innings, while Jason Alexander yielded two hits and fanned six through four frames to notch his first save for Orem.
Michael Leboff is a contributor to MiLB.com.