Peters powers way to Player of the Week honor
Dodgers prospect pounces on Bumgarner, wins third award of '17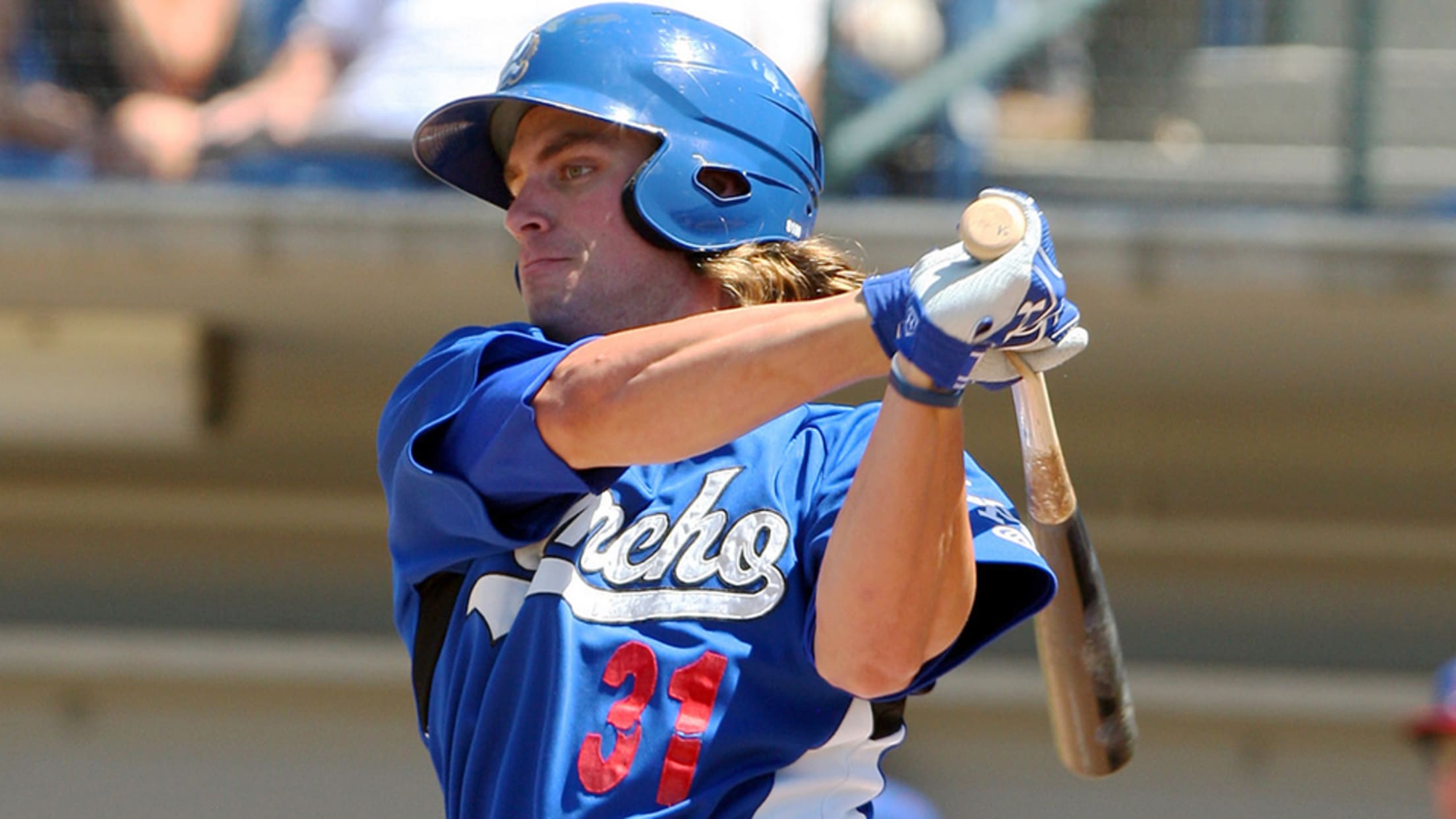 DJ Peters ranks second among Class A Advanced hitters with 43 extra-base hits in 83 games this season. (Donn Parris/MiLB.com)
DJ Peters got to measure himself up to some big-name Major Leaguers last week, and he's very pleased with the results. The Dodgers' No. 18 prospect homered three times -- including twice in one inning off rehabbing Giants star Madison Bumgarner -- ripped five doubles and finished 13-for-29 (.448) over seven
DJ Peters got to measure himself up to some big-name Major Leaguers last week, and he's very pleased with the results.
The Dodgers' No. 18 prospect homered three times -- including twice in one inning off rehabbing Giants star Madison Bumgarner -- ripped five doubles and finished 13-for-29 (.448) over seven games for Class A Advanced Rancho Cucamonga to highlight the latest group of Minor League Offensive Players of the Week.
It's the third time Peters has been named California League Player of the Week in 2017, also taking home the prize on June 19 and July 1. He joins impressive company as Rockies top prospect Brendan Rodgers also won the Cal League award three times this year prior to his promotion to Double-A Hartford.
"It's an absolute blessing to be recognized like this again," Peters said. "I feel like the California League is one of the greatest leagues in Minor League Baseball, and it feels good to get this. Whatever week it is, I obviously want someone from the Rancho Cucamonga Quakes to get it, but if it's me, I'm very grateful."
• View the Pitcher of the Week winners »
If there was a candidate to go yard against the 2014 World Series MVP during his rehab start with San Jose last Wednesday, it might have been Peters, who leads the circuit with 19 homers, a .565 slugging percentage and a .954 OPS through 83 games. The right-handed slugger pulled a 2-0 offering from the southpaw for a solo shot to start the fourth inning, then sent a 2-1 pitch over the left-field fence again for a two-run blast that capped an eight-run frame.
The 21-year-old outfielder wasn't done showing off in front of Major League superstars, however. The Quakes concluded the week with three games at Inland Empire, where Angels center fielder and two-time American League MVP Mike Trout was rehabbing a thumb injury. While Trout went 2-for-4 with a triple and a double in his two games against Rancho, Peters did his best to get noticed, going 6-for-14 with a homer and two doubles in three contests.
"I'm more relaxed in games like that, to be honest with you," he said. "Major Leaguers are just human beings like you and me. They're trying to get things right. Pitchers are going to be around the zone. Hitters are going to be swinging early and trying to get on base to test themselves. I don't think the game changes too much, but personally I'm more relaxed. That's why you play the game to go up against guys like Bumgarner or Trout or play with Scott Kazmir who was here with us for a few days. That's what I want to do."
This stretch is just the latest outburst in what's been an incredibly strong first full season for the 2016 fourth-round pick out of Western Nevada College, who's somehow only gotten stronger over the second half. Peters is currently riding a 14-game hitting streak in which he's gone deep six times while adding one triple and seven doubles. His 51 total bases over that span are the most in the Minors, while his 14 extra-base hits trail only fellow Player of the Week winner Garrett Cooper and his 15 for Triple-A Colorado Springs.
Peters said he's tried to do a better job of making quick in-game adjustments, as opposed to waiting until his next batting practice.
"Lately for me, it's been kinda getting stuck back and not going completely forward," he said. "That's something I'll notice. Maybe I'm not using my legs as much as I can, so I'll come back into the dugout and tell myself what I did wrong, so I'll immediately try to use all of my legs the next time out. That process has been working, and it's something I'll try to continue to improve every time."
This power surge isn't a new development. Peters' offensive tools pushed him onto Draft boards in college, and he showed them off with a .351/.437/.615 line and 13 homers in 66 games last season for Rookie-level Ogden.
For 2017, the California native ranks fourth among all Class A Advanced hitters in OPS. Two of the three sluggers ahead of him -- Michael Chavis (1.029) and Austin Hays (.956) -- were promoted to Double-A in the middle of this season. Though Peters has the benefit of putting up high numbers in the hitter-friendly California League, he should be getting his chance to move up before long. For now, his focus remains with the Quakes.
"To be honest, I can only play where my feet are," he said. "Right now, the California League is an unbelievable place to play -- good teams, great atmospheres. From what I hear, maybe that's the same at Double-A Tulsa. I know I'm ready for wherever I am and wherever I need to be. It's all part of God's plan, and it's worked out well so far. I completely trust it."
Here's the complete list of Minor League Offensive Players of the Week for July 3-9:
Sam Dykstra is a reporter for MiLB.com. Follow and interact with him on Twitter, @SamDykstraMiLB.