Peters powers Drillers with two homers
Dodgers No. 6 prospect slugs first two Double-A long balls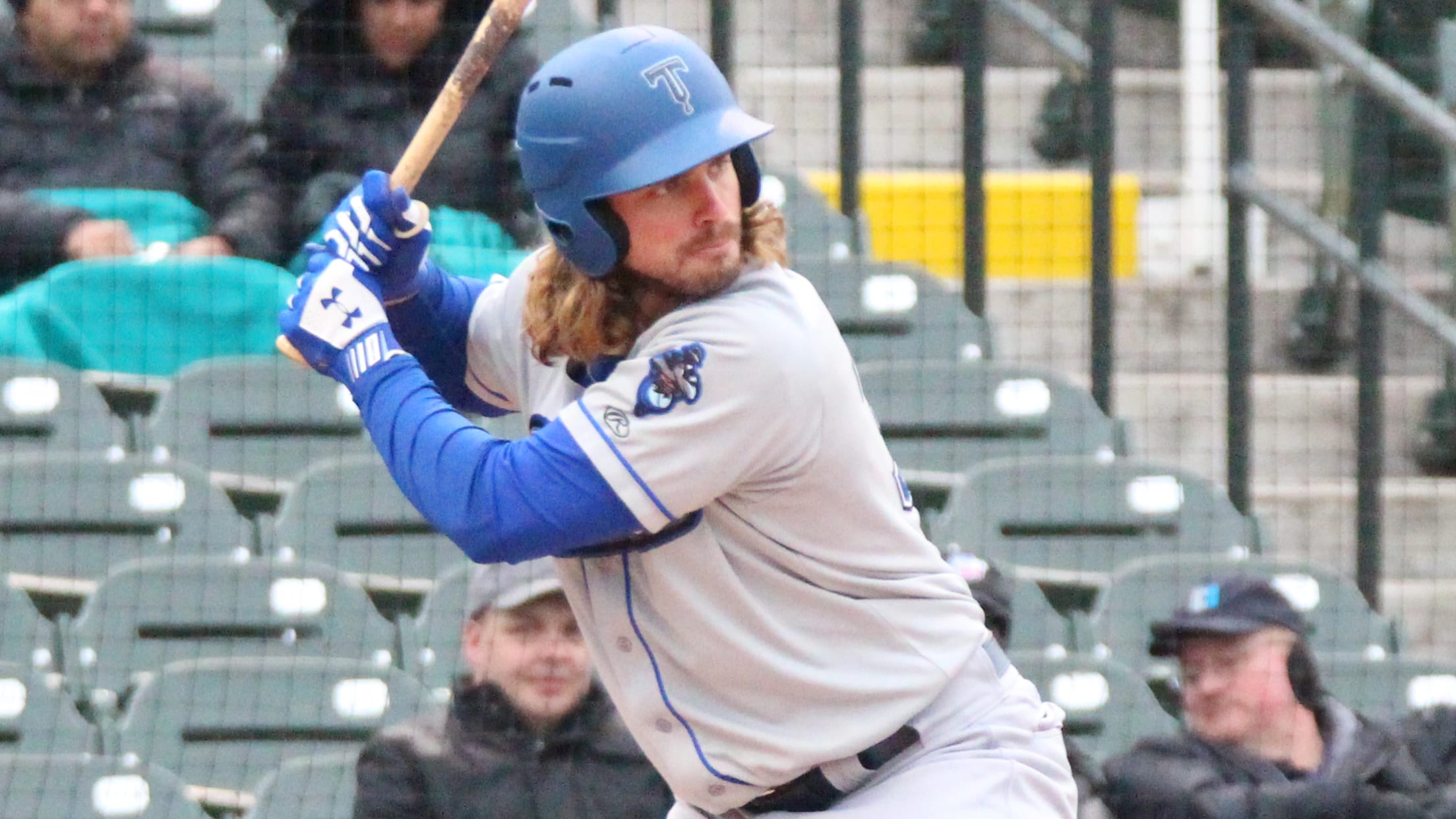 DJ Peters was named Calilfornia League MVP last season after hitting 27 homers for Rancho Cucamonga. (Joshua Tjiong/MiLB.com)
DJ Peters isn't taking the opportunity to play at Double-A for granted because he knows the work necessary to thrive at the highest levels. It showed on Sunday as the Dodgers' No. 6 prospect slugged his first two Texas League homers, leading Tulsa to a 12-6 win over Midland at Security Bank
DJ Peters isn't taking the opportunity to play at Double-A for granted because he knows the work necessary to thrive at the highest levels.
It showed on Sunday as the Dodgers' No. 6 prospect slugged his first two Texas League homers, leading Tulsa to a 12-6 win over Midland at Security Bank Ballpark.
Gameday box score
Peters cleared the fence in left-center field against right-hander Norge Ruiz in the first inning to open the scoring, then pulled another one over the left field wall off reliever Tucker Healy in the sixth to complete his fifth career multi-homer game and extend the Drillers' lead to 10-5.
"It always seems like the first one is the hardest to get, and I got it out of the way early, second batter and first at-bat," the outfielder said. "It's obviously a blessing being up in Double-A, playing really good competition and I feel great up there. I'm seeing the ball really well, putting the bat on the ball and hitting it hard."
Peters is coming off an impressive sophomore campaign at Class A Advanced Rancho Cucamonga in which the Western Nevada College product hit .276/.372/.514 with 27 homers and 82 RBIs. Those numbers grabbed the attention of Dodgers brass and the 22-year-old was invited to Major League Spring Training, where he batted .409 with three homers and five RBIs in 15 games before he was assigned to Minor League camp.
His stellar stint with the Quakes got the attention of his Dodgers teammates, too.
During the offseason, Peters trained with a group of seven or eight of his organizational mates and coaches Monday through Friday at Dodger Stadium, a group that included Justin Turner, Kenley Jansen, Austin Barnes and Enrique Hernández.
"You get to know them a little better on a personal basis," Peters said. "You get to talk to them more as people. Getting our work done and getting our lifts in and pushing each other to be the best. Being around those guys and seeing the way they go about their work is something that has helped me and my career.
"I have this great opportunity to go to Dodger Stadium every day ... and the fact I get to be around seven or eight big leaguers is not something every person gets to do. And it's something that I took full advantage of and I loved the opportunity."
It also was flattering for Peters to be noticed by players he hopes to join in Los Angeles.
"As a player in the organization, you always want to make an impression," he said. "And the fact that they encouraged me to go to Dodger Stadium every day and recognize when I'm there, it's a blessing to me and it's just one of those things where I want to get better for my season as well. And I can't find any better place in the entire world than Dodger Stadium."
Sunday's power surge is an encouraging sign for Peters, who struck out eight times and did not drive in a run in his first three games of the season. He fanned four times on Saturday against Frisco.
"It is a long year and we're four games in now and in a month or two we won't even remember the first two weeks of this season," Peters said. "With all the ebbs and flows of the season, you control what you can control. ... I'm excited for the challenge."
The 6-foot-6 slugger got a glimpse of what's ahead this season with a callup to Tulsa for the 2017 Texas League playoffs.
"Double-A is where the players definitely get separated, and you could definitely tell that," said Peters, who went 1-for-4 with an RBI and two walks in the postseason. "The clubhouse and ballpark atmosphere was different. The umpires are different. The pitchers are so much better and it was a really big learning moment for me and an eye-opener, for sure. I'm ready for the challenge. I'm going to embrace and I'm going to play well."
Kyle Garlick was 3-for-5 with a homer, three runs scored and two RBIs for the Drillers, while Angelo Mora was 2-for-4 with a triple, double, triple, three runs scored and four RBIs.
A's No. 18 prospectTyler Ramirez was 3-for-5 with two doubles and a triple and two RBIs and Eli White homered and scored twice on a three-hit day for the RockHounds.
Josh Horton is a contributor to MiLB.com. Follow him on Twitter @joshhortonMiLB