Texas notes: Ruiz wise beyond his years
Dodgers No. 3 prospect takes on toughest task at Double-A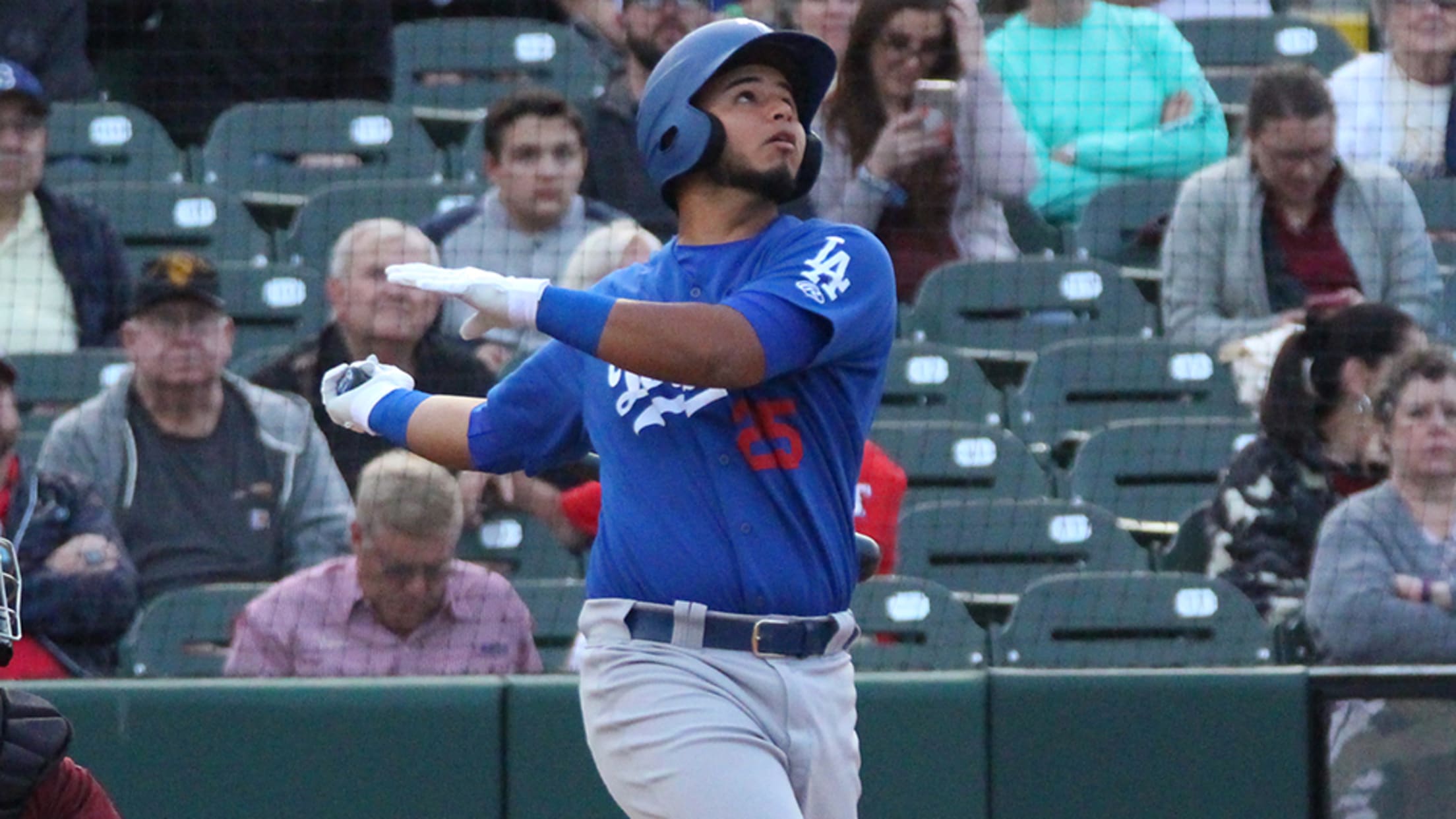 At 19 years old, Keibert Ruiz is the second-youngest player in the Texas League. (Joshua Tjiong/MiLB.com)
At first glance, Keibert Ruiz seems like a surprise participant in the Texas League.The Dodgers' No. 3 prospect is more than two months from his 20th birthday -- second-youngest on the circuit to San Antonio's Fernando Tatis Jr. -- but he's already two levels from Los Angeles as the everyday
At first glance, Keibert Ruiz seems like a surprise participant in the Texas League.
The Dodgers' No. 3 prospect is more than two months from his 20th birthday -- second-youngest on the circuit to San Antonio's Fernando Tatis Jr. -- but he's already two levels from Los Angeles as the everyday catcher for Double-A Tulsa.
"When I signed, I didn't think about that," MLB.com's No. 48 overall prospect said. "I just played my game and did my job."
It's been a slow and steady rise for Ruiz on a six-year journey -- in three different countries -- through professional ball. He picked up the game when he was three years old and started switch-hitting at the urging of his father when he was 12. At 14, he left his home in Valencia, Venezuela, bound for a baseball academy two hours away -- a move he said was toughest on his mother.
He signed with the Dodgers on the day he turned 16 and jumped right into the Rookie-level Dominican Summer League before coming stateside at 17 to play in the Rookie-level Arizona League. It's not an uncommon route for international players, and it's one on which he doesn't spend too much time reflecting.
"I don't like to think too much," he said. "I just play my game. I play hard every day and see what happens."
This thought process has worked at every level so far as he continues to hit and progress as a catcher, a position he picked up while at an amateur academy in Venezuela.
Entering Wednesday's games, Ruiz is hitting .284 with four home runs and 14 RBIs, striking out only once every 14 plate appearances, the second lowest rate in the league. His success comes after batting a combined .316/.361/.452 over 101 games with Class A Great Lakes and Class A Advanced Rancho Cucamonga last year.
"There are a lot of good players in this league and that's good for me," he said. "At first I was struggling a bit, to the pitchers, I wasn't on time. But I feel very old right now, and trying to get better every day."
The Texas League offers Ruiz's biggest challenge yet, as the Double-A circuit is typically considered a final proving ground for prospects. After finishing last season in the California League, where he hit .317 and slugged .795 in 63 games, the second-ranked catcher prospect is starting to see how the next level earned its reputation less than two months into the season.
"It's a lot different than it was in [Class A Advanced], where you can see pitchers throwing 92, 93," he said. "Here, for seven innings, you've got pitchers throwing 97. It's different."
If the adjustment has been difficult, it isn't easy to tell. Ruiz had a pair of multi-hit games in the season's first week and hit safely in six consecutive games entering Wednesday, including a three-run home run in a Tuesday win over Springfield.
Whenever his next step comes, it'll likely be with the same mindset with which he's gotten to this point.
"I work on my hitting, my catching. I will try to do my best in everything," he said, "to have a good season."

In brief
Tatis turnaround:
Tatis, the highest-ranked prospect in the Texas League, had a rough first few games. The No. 7 overall prospect went hitless in the season's first three games and was hitting just .177 through April. He went 3-for-5 with two doubles and a home run when the calendar flipped to May and hasn't slowed down since. The breakout performance was the first of six multi-hit games in May, and his .333 average this month has helped raise it to .235 on the season. Five of his eight home runs and 11 of his 21 RBIs have also come during his May outburst.
Slugging teammates:
Neither
Victor Roache
or
Lane Thomas
are touted prospects, but the two Springfield sluggers have been trouble for Texas League pitching this season. Roache leads the circuit with 11 home runs, while Thomas is second with nine. Roache, the Brewers' first-round pick in 2012, is in his first season with the Cardinals but fourth in Double-A. The nine homers are already a career-high for Thomas, Toronto's fifth-rounder in 2014.
Still going:
Jecksson Flores
doesn't look like a Texas League first-timer this year. The Northwest Arkansas infielder's fourth-inning single Wednesday night extended his league-best hitting streak to 13 games. The 24-year-old is hitting .313 through 25 games this season, his first at Double-A.
Troy Schulte is a contributor to MiLB.com.