Loons' Lux notches first four-hit game
Dodgers' No. 7 prospect learns a lot from early-season struggles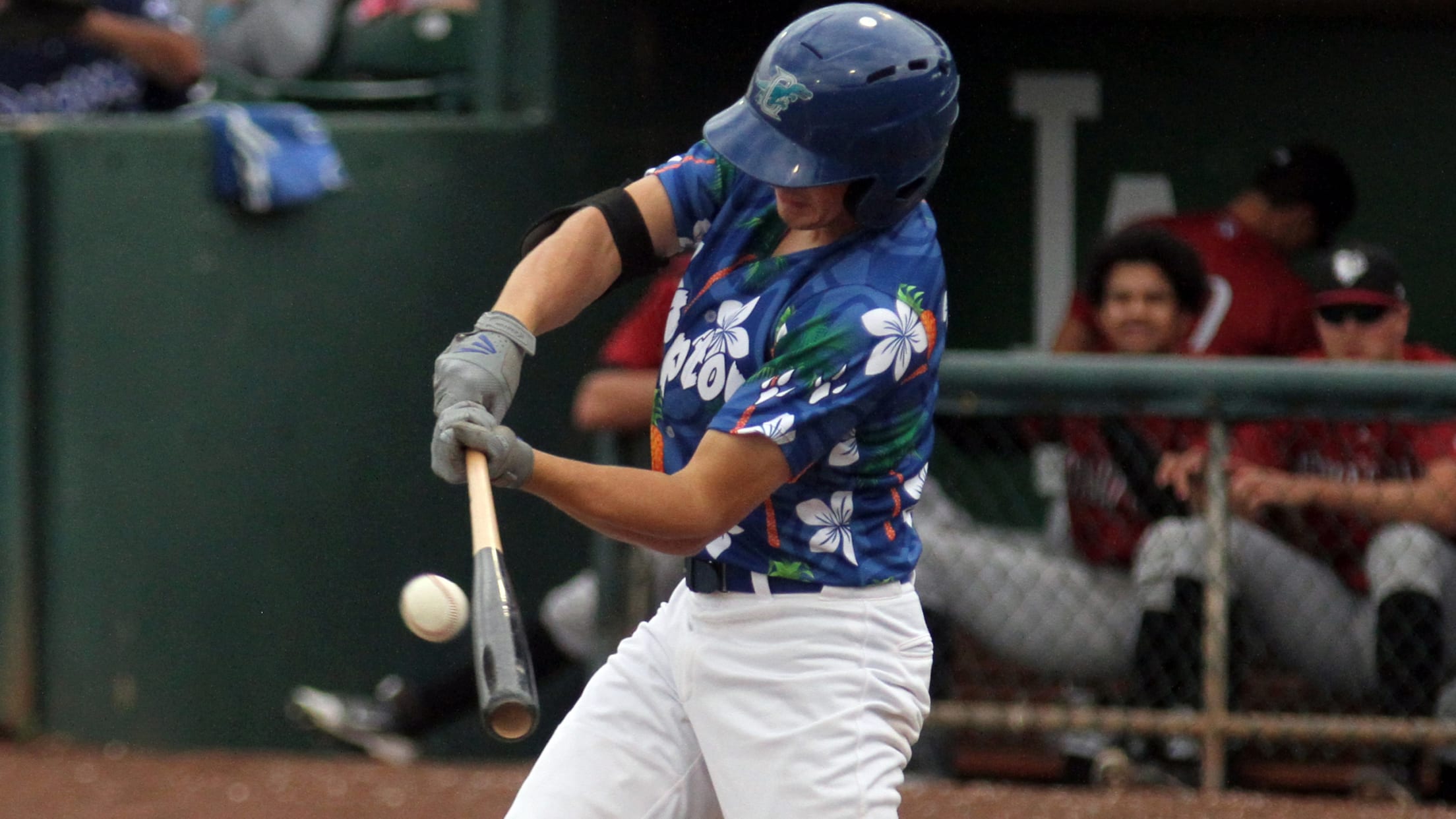 Gavin Lux's batting average climbed to an even .200 with his four-hit performance against Clinton. (Michael Grennell)
Gavin Lux admits some greedy tendencies led to a difficult start in his first full professional season with Class A Great Lakes. In order to iron out those issues, the Dodgers' No. 7 prospect took an unorthodox approach to making contact in the box."I'm just thinking about almost trying to
Gavin Lux admits some greedy tendencies led to a difficult start in his first full professional season with Class A Great Lakes. In order to iron out those issues, the Dodgers' No. 7 prospect took an unorthodox approach to making contact in the box.
"I'm just thinking about almost trying to get jammed," he said. "Early on, I was trying to do a little too much, so I was kind of spinning off and flying open."
Gameday box score
Lux's changes worked Thursday night as he notched his first career four-hit effort and drove in a run in the Loons' 7-3 win over the Clinton LumberKings,7-3, at Ashford University Field. He finished 4-for-5 to draw his average even with the Mendoza line through 55 at-bats in his first full season.
"I'm just getting more comfortable with my approach and what I want to do at-bat to at-bat," he said. "I kind of know how pitchers are attacking me. I just got to study them and see what they're doing and trying to do to me, so I'm definitely getting more comfortable."
The 20th overall selection by Los Angeles in last year's Draft smacked all singles, but knew never to scoff at a base hit.
"I'm just trying to be a table-setter, get on base," Lux said. "Obviously, extra-base hits are good, but singles, I'll take singles."
The Great Lakes' leadoff man collected hits in his three at-bats against Clinton starter Ljay Newsome, including a single back up the middle to open the game. Lux entered the contest 4-for-4 in stolen base attempts, but was mowed down after his first hit by Clinton catcher Yojhan Quevedo while trying to swipe second.
"[We've been working on my] first step. That's huge," he said. "Early on, I kind of had a problem. I was standing up right away when I'm trying to steal. [I should be] just standing low and then pushing out. But I'm going to keep running, and I'm not going to shy away just because I got thrown out once."
After adding another single to center in the third, Lux remained aggressive on the bases but showed some naivety on his run-scoring knock in the fourth. Gage Green scored from second and Luis Paz advanced from first to third on the liner into right, but the 19-year-old was thrown out trying to take second once the throw from the outfield appeared to be headed for home.
The lefty bounced out in his fourth at-bat, but singled to right against Clinton reliever Vinny Santarsiero in the eighth.
Lux's tendencies in the box helped him understand the approach opposing pitchers have been taking to get him out. For an overaggressive hacker with a penchant for stepping out on a swing, one type of pitch that can be kryptonite.
"They kind of attack really with fastballs, and then coming around in my second, third and fourth at-bats, I saw a ton of changeups," Lux said. "So my approach is just I'm really, really thinking about getting jammed because then, if he throws a changeup, I'll be right on it. So I just saw a ton of changeups, and that's a pitch early on that I struggled with. I'm seeing the ball a lot better."
Brendon Davis, the Dodgers' No. 27 prospect, had a two-RBI single, plated a run on a sacrifice fly and walked twice for Great Lakes.
Mariners' No. 15 prospect, Bryson Brigman, doubled, singled and scored a run to raise his average to .282 with the LumberKings.
Gerard Gilberto is a contributor to MiLB.com. Follow and interact with him on Twitter, @GerardGilberto4.