Dodgers' Farmer highlights Players of the Week
Tulsa catcher/third baseman goes 12-for-19 (.632) over five games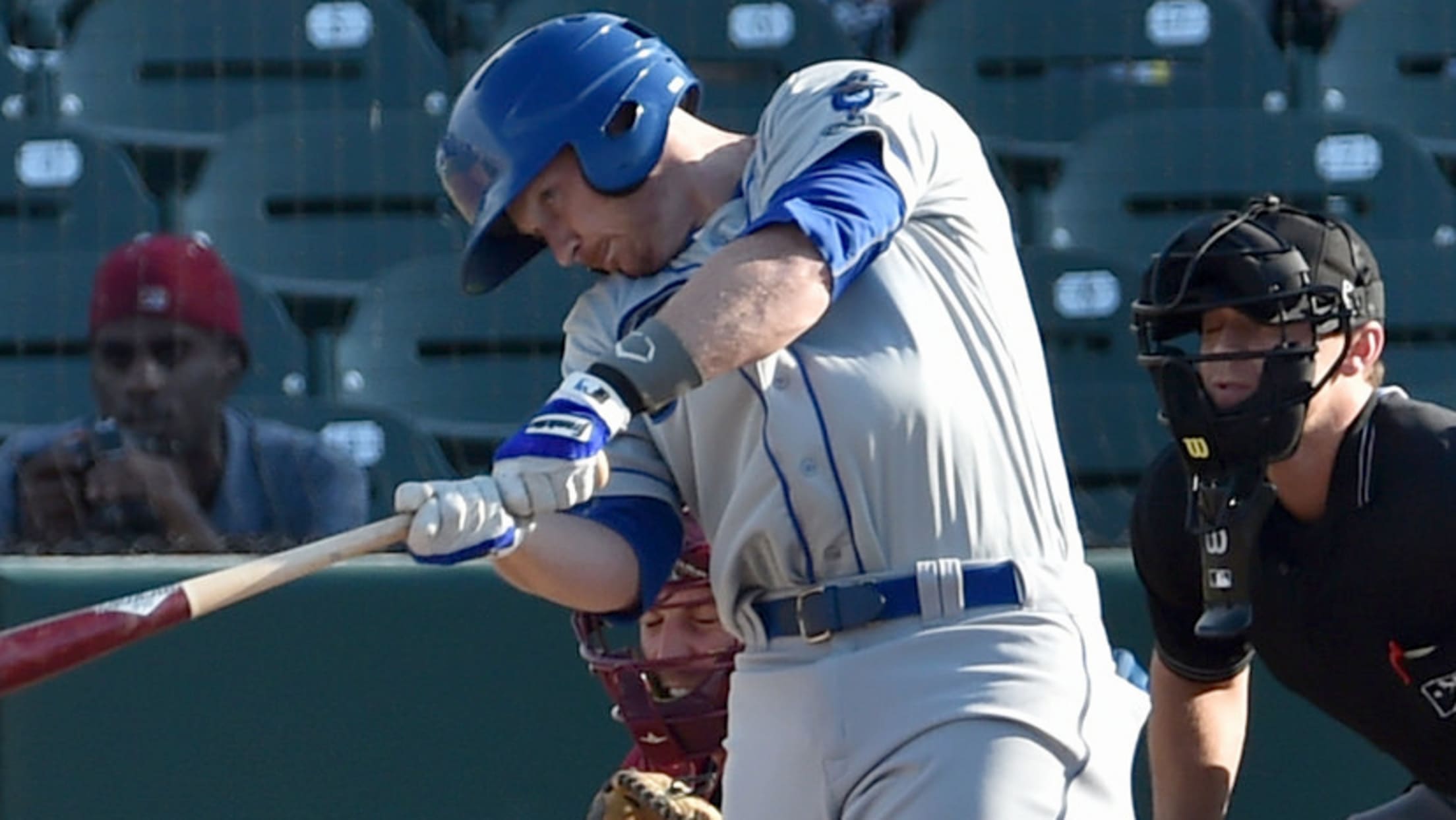 Kyle Farmer ranks fourth in the Texas League with a .419 on-base percentage in 27 games for Double-A Tulsa. (Shane Roper/MiLB.com)
Kyle Farmer was 0-for-13 in his last four games for a Tulsa club that had started the season 14-16 when he heard fellow Drillers catcher Paul Hoenecke say so something so profound, he knew it had to be shared with the masses:
Kyle Farmer was 0-for-13 in his last four games for a Tulsa club that had started the season 14-16 when he heard fellow Drillers catcher Paul Hoenecke say so something so profound, he knew it had to be shared with the masses:
Tweet from @kFarm17: "Sometimes you got to lose it to find it." -uncle Paul henny with the wise words.
"We were all going through stuff, and he just said that and I thought, 'Wow, that should be on a shirt,'" Farmer said. "It was nothing toward myself, more for the team, but I thought it was a funny quote. And it's true. We lost some games, but maybe we needed that to get back on track."
The way things have gone for Farmer and the Drillers lately, Tulsa-area T-shirt makers might want to be on alert for a bulk order.
Farmer was named Texas League Player of the Week for May 8-14 after going 12-for-19 with three doubles, four RBIs and four walks over five games. His .632 average and .667 on-base percentage led all Minor League qualified hitters for the week.
View the Pitcher of the Week winners »
Though he tweeted Hoenecke's quote Tuesday, the 26-year-old catcher/third baseman wasn't able to put it to use until Thursday when the Drillers traveled to Northwest Arkansas for a four-game series. He had multiple hits in all four games of the series -- a Tulsa sweep -- and had his best performance Friday when he went 3-for-3 with a double, two RBIs and two walks.
"After going those four games without a hit, I didn't try to get too worried," Farmer said. "I've played ball for a long time, so I know how it works. I wouldn't call it a slump. I just wasn't getting hits. Northwest Arkansas can be a tough place without a batter's eye, but I thought I was able to see the ball pretty well and the ball found some holes. The sweep was great, too. It was a good weekend."
The stretch raised Farmer's average from .250 to .330 and his OPS from .684 to .849 through 27 games. Only four Texas League hitters have a higher average.
This is the third season that the 2013 eighth-round pick is spending at Double-A, and after hitting .256/.323/.395 in 74 games with Tulsa last year, he admitted he was "a little shocked" that a move to Triple-A wasn't in the cards to open 2017. The Dodgers explained that they wanted to get him as much time as possible at both catcher and third base, and given the roster construction of the two clubs, his best opportunity to do so was with the Drillers. Farmer, who began playing two positions in 2015, has 15 starts at catcher and 10 at third this season -- a more even split than in previous campaigns.
The added time at third has helped alleviate some of what Farmer calls the "mental grind" of catching, but he says he hasn't felt additional pressure to make himself a better hitter.
"It's not part of the equation for me," he said. "I'm trying to be the same hitter, no matter if I'm playing catcher, shortstop, third base, outfield, whatever. I don't change my approach just because of my position."
If there's one way that Farmer has significantly improved in his third Texas League campaign, it's his strike-zone recognition. The right-handed slugger has walked in 13.7 percent of his plate appearances and struck out in only 10.3 percent -- both career bests if carried over the full season. His ratio of 1.33 walks per strikeout is also best in the Texas League.
"I have to chalk that up to age more than anything," he said. "I'm not old at 26, but I've gotten more seasoned when it comes to looking for a pitch to hit and a pitch to take. I can see the ball deeper in the zone better, I think, and I'm not trying to force a hit. I'm not trying to overpower it either."
With the way Farmer has been performing of late, it's fair to wonder whether that elusive promotion to the Pacific Coast League is getting closer by the day. After all, he was added to the Dodgers' 40-man roster back in November. For now, the University of Georgia product is happy to appreciate the run with Tulsa that has nabbed him his first career Player of the Week honor.
"I think players on a hot streak sometimes go out of their way to do too much to keep it going," he said. "I'm just trying to stay in the zone, stay with the same routine and enjoy the ride. I think you have to respect the game and how it works, and the game will respect you back. If you go out there and play hard, that's the best you can do rather than trying to force this to happen again and again."
Here are the rest of the Minor League Offensive Players of the Week for May 8-14:
Sam Dykstra is a reporter for MiLB.com. Follow and interact with him on Twitter, @SamDykstraMiLB.