Dodgers Prospect Primer: Buehler refining game
Abdullah, Lux, Kendall set to establish themselves as new LA wave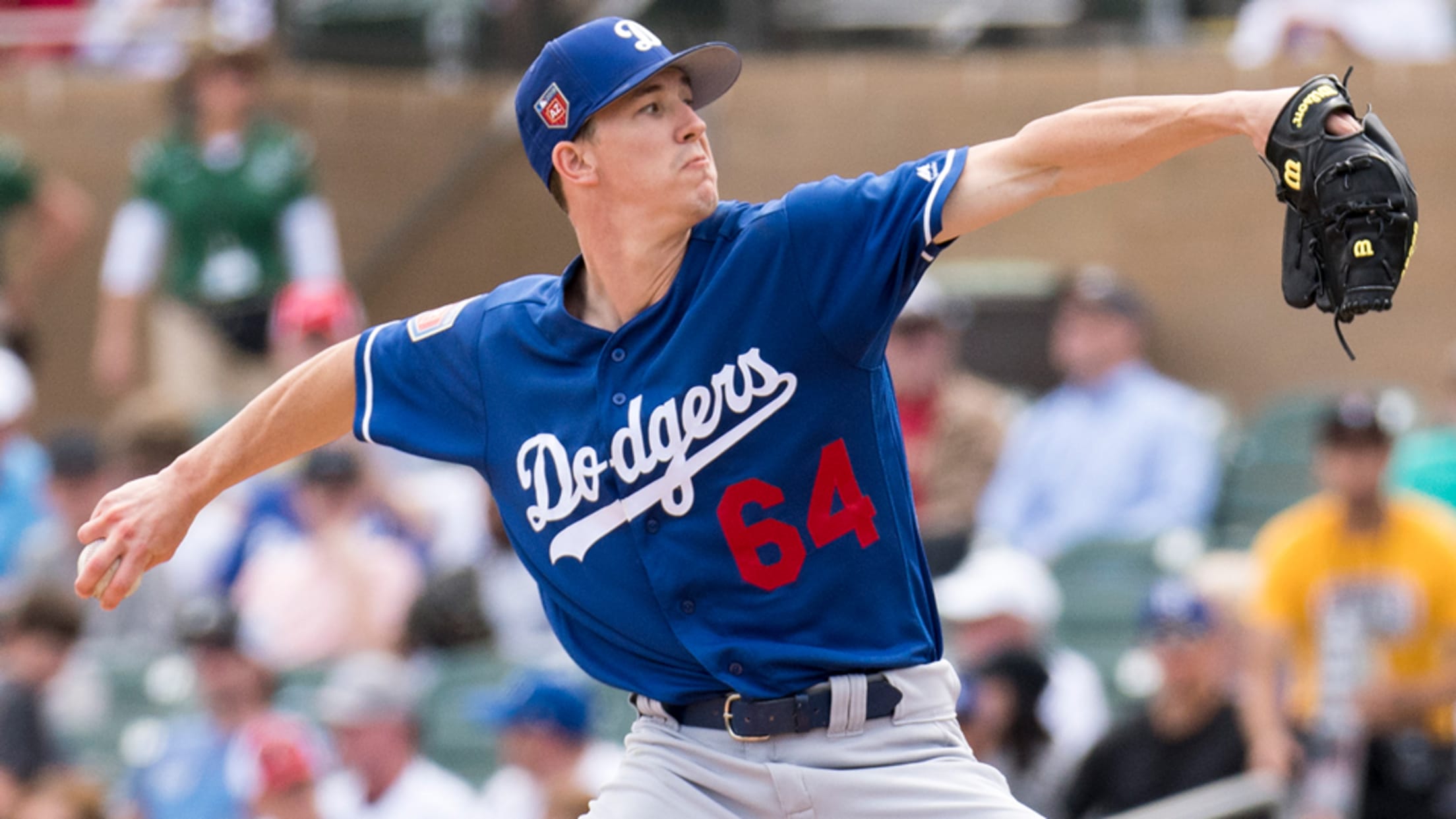 Walker Buehler has fanned 131 over 93 2/3 Minor League innings, holding opponents to a .199 average. (Jared Ravich/MiLB.com)
Some players are on the verge of stardom, others are entering a crucial phase of their development and still others are getting their first tastes of full-season ball. With the 2018 season approaching, MiLB.com takes a look at the most intriguing prospects from each MLB organization.Shining Star: Walker Buehler, RHPMLB.com's
Some players are on the verge of stardom, others are entering a crucial phase of their development and still others are getting their first tastes of full-season ball. With the 2018 season approaching, MiLB.com takes a look at the most intriguing prospects from each MLB organization.
Shining Star: Walker Buehler, RHP
MLB.com's No. 12 overall prospect and top Dodgers prospect, Buehler reached the Majors in what was essentially his debut season, and everything about his game indicates he's capable of getting back there quickly and excelling for a long time. The Dodgers took him in the first round of the 2015 Draft, knowing he'd probably need Tommy John surgery. He went under the knife that August, delaying the Vanderbilt product's first exposure to professional competition until he pitched five innings over three games in 2016.
But last year, he piled up 125 strikeouts over 88 2/3 innings while making the transition from starting to relieving to be able to help the big league bullpen down the stretch. His command was shaky at times when he got that opportunity -- he walked eight and allowed eight earned runs over 9 1/3 innings, but he was unscored upon in half of his eight appearances.
"I think Walker's very aware that any time he was out there executing his stuff [in the big leagues], he dominated," Dodgers director of player development Brandon Gomes said. "It was a tremendous growth opportunity for him, and that's what he took away from it, starting to understand what is needed, getting to watch the best of the best work on a daily basis."
That continued in Spring Training. Pitching in two Cactus League games, Buehler fanned seven over four shutout innings. The 23-year-old right-hander has hit triple digits with his fastball and has a plus curveball and slider along with a solid changeup. But more time in the Minors should help him reach his potential and be a key contributor on the reigning National League champions.
"The biggest thing for Walker right now is probably pitch sequencing and understanding that his taste last year in September is a really good opportunity for him to understand how the big leaguers are more advanced than the Minor League guys, and he's not going to be able to overpower them," Gomes said. "It's much more about refining his craft and understanding how dynamic he can actually be with the weapons he has -- identifying and finding out how to break down a lineup and navigate big leagues hitters a second and third time through rather than relying on pure stuff. But he's incredible. He's a great worker, a great kid, so we're fully confident that he can do it and very quickly."
Breakout prospect: Imani Abdullah, RHP
Abdullah, who turns 21 on April 20, is a 2015 11th-round Draft pick who hasn't really had the chance to show what he can do in pro ball. He made six appearances in his debut season, then had a 3.61 ERA in 16 brief starts in the Class A Midwest League in 2016. Last year, he was held in extended camp until June 22 for mechanical work and, after 12 1/3 innings spread over six games in less than a month, was shut down with shoulder discomfort.
The San Diego native will start the year slowly, but there's plenty of reason to think it'll be a special one.
"Imani is being built up to break camp at about five innings. He's fully healthy, throwing the ball well, back to pounding the zone," Gomes said. "We're excited about getting Imani back out there for a full season and continuing to watch him progress. With that big body, he might take a little bit longer to get to get to his ultimate projection, but with the quality of human being that he is and the hard worker, we're excited with where that can be.
"As he continues to grow into his body, [the curveball will] be a nice weapon to add on to a fastball that carries into the zone and a changeup that he's already very comfortable with."
At the crossroads: Gavin Lux, SS
The 2016 first-rounder turned 20 in November and had 29 extra-base knocks and 27 stolen bases in 111 Midwest League games in his first full season. While he didn't hit for average through much of the year, he batted .336 in August and got on base consistently even when hits weren't falling. He played 43 games at second base and 65 at shortstop, where he made 19 errors, many of them throwing.
But arm strength is not an issue and Los Angeles is confident he can thrive at short. The hot final month of the season suggests that any doubts raised by the left-handed hitter's earlier struggles can be at least partially explained as the product of a teenager settling into pro ball. If that's the case, the Wisconsin native has put himself in position to make critics forget the questions with a season that establishes him as one of the top 10 or 15 shortstop prospects.
"Luxy had a tremendous offseason. He's much more physical now than he was, and it's also part of just him growing up. But he's made some adjustments to his swing," Gomes said. "We're talking about a guy that can play shortstop, he can steal bags, he's driving the baseball to the opposite field, so we're really excited with the high quality offseason that Gavin had, on top of just being as good as a teammate as you'll have in the organization and, hopefully, a leader. Even though he's young, he can help lead his team on and off the field."
Listed at 6-foot-2 and 190 pounds, Lux doesn't possess above-average power but tied for seventh in the Midwest League with 56 walks.
"He has a very good idea of the strike zone. He conducts a high quality at-bat," Gomes said. "Now, taking those components with the swing adjustments and just being a bigger, stronger, faster version of himself as he continues to mature, he can impact the baseball and be more than the zone controller. I'm not sure if Gavin will be a 30-home run guy, but we can see him hitting home runs and being gap-to-gap on top of playing plus defense at shortstop."
Major League-ready prospect: Alex Verdugo, OF
Verdugo is the system's No. 2 prospect -- MLB.com's 33rd overall -- and hit .314/.389/.436 with 189 total bases in 117 games in the Triple-A Pacific Coast League last season. He followed that with a .324 batting average and two homers in 18 Cactus League contests.
With a deep outfield on the big league club, Verdugo may have to be patient. He should be ready when a callup comes, and in the meantime, he's not discouraged about returning to Oklahoma City.
Full-season debutant: Jeren Kendall, OF
Another Vanderbilt product the Dodgers grabbed in the first round, Kendall debuted last July 18 and went 10-for-22 with seven RBIs and four steals in five Rookie-level Pioneer League games. Los Angeles challenged him with a promotion to the Midwest League, where he batted .221 in 35 games. Even if he doesn't hit for a high average, his 70-grade speed makes him someone to watch. But the club is confident he will hit for average -- and more.
"We're continuing to work with him on his swing, his approach, just learning professional baseball and continuing to keep him aware of how good he can be and just really help him maximize that, because it's a really impressive skill set all-around," Gomes said. "He's been locked in all spring, really working with our hitting department, and he's already an elite defender, so continuing to do his work out there.
"I think you watch Kendall and at any point in time he stands out as the best player on the field. This guy, his ceiling is perennial All-Star, we feel. It is some kind of electricity in the hands. You watch him run the bases. ... He hits the ball in the gap, it is a thing of beauty to watch him go for a triple. He just glides. The athleticism is through the roof."
More to keep an eye on: Like Verdugo, Edwin Ríos is blocked by depth at the big league level but has a chance to be one of the PCL's most dangerous hitters. ... Right-hander Morgan Cooper, the Dodgers' second-round pick last year, "is still progressing slowly from an arm that has been nagging him a little bit," Gomes said. There's no timetable for his professional debut. ... Catcher Keibert Ruiz won't turn 20 until July but figures to spend the bulk of the year in Double-A after a 2017 that catapulted him from unranked to No. 52 overall prospect.


Predictions:
Most home runs in the system: DJ Peters
Most stolen bases: Kendall
Most strikeouts: Yadier Álvarez
Current prospect to get most Major League playing time: Buehler
Non-Top 100 prospect to end 2018 in the Top 100: Peters
Josh Jackson is a contributor to MiLB.com. Follow and interact with him on Twitter, @JoshJacksonMiLB.