Iribarren goes around the horn and more
Farmhand plays all nine positions during Bats' final game of 2018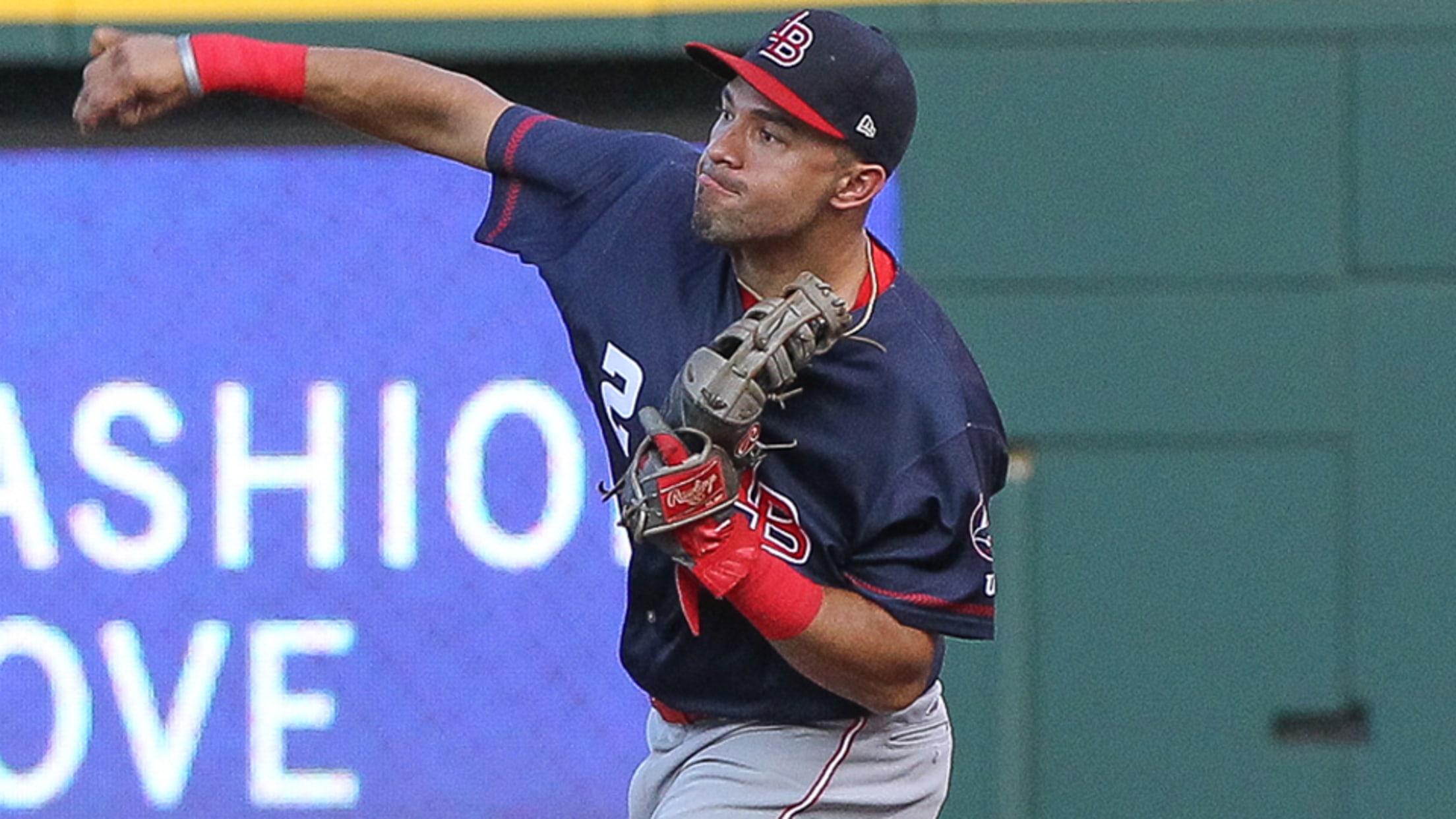 Hernan Iribarren has proven his defensive versatility over 14 Minor League seasons. (Chris Baird/MiLB.com)
At heart, baseball is a game, and games are supposed to be fun. In his last chance this season, Hernan Iribarren had fun all over the field.The veteran Cincinnati farmhand played all nine positions during Triple-A Louisville's 4-0 loss to Indianapolis on Monday afternoon at Louisville Slugger Field. He was
At heart, baseball is a game, and games are supposed to be fun. In his last chance this season, Hernan Iribarren had fun all over the field.
The veteran Cincinnati farmhand played all nine positions during Triple-A Louisville's 4-0 loss to Indianapolis on Monday afternoon at Louisville Slugger Field. He was the second Minor Leaguer to end the regular season by manning every spot on the diamond.
Nash Knighttook his tour around the field during Class A Advanced Dunedin's finale on Sunday afternoon and Brandon Polizzi became the third for Class A Short Season Vancouver late Monday night.
Gameday box score
Iribarren began the game behind the plate for the first time in his career. He helped guide Bats starter José López, the Reds' No. 28 prospect, through a perfect first inning before moving counter-clockwise around the infield. He shifted to first base in the next frame, second -- the position he's played more than any other in his career, at 715 times -- in the third and shortstop in the fourth.
The 34-year-old played third through the first out of the fifth, then took the mound to face Indianapolis starting pitcher Tyler Eppler. Iribarren threw a first-pitch ball and got a swinging strike to even the count before Eppler tapped an infield hit on the right side.
The mound wasn't uncharted territory for the native of Venezuela, who made at least two pitching appearances every season since 2014, including a June 22 outing in which he surrendered four runs in one frame against New Orleans. During his 24 appearances as a hurler, Iribarren has gone 1-1 with a 3.04 ERA over 26 2/3 innings. Both of his decisions came in 2017, when he appeared in a career-high 10 games as a pitcher. Despite that resume, he moved back to third after surrendering the single to Eppler. Lopez, who went to left field for Eppler's plate appearance, returned to the bump.
Iribarren moved around the outfield from left to right over the next three frames before ending his season back at second. He recorded one assist -- on a groundout by Eric Wood to second to end the third -- and two putouts -- Wood's strikeout in the first and Wood's flyout to right in the eighth.
At the plate, Iribarren went 0-for-2 with a walk to finish the season hitting .265/.325/.349 in 82 games. Signed by the Brewers as an international free agent in 2002, he made his Major League debut in 2008 and has appeared in 48 big league games over parts of three seasons. The left-handed hitter and right-handed fielder has spent five years with Louisville and last reached the Majors in 2016 with Cincinnati.
Lopez (5-13) was charged with four runs on six hits and a walk while striking out seven in six innings. The 25-year-old righty ended his season with five losses over his last six decisions.
Erich Weiss hit a three-run homer and Wyatt Mathisen went 3-for-4 with a dinger and two runs scored for Indianapolis.
Eppler (13-6) earned the win, scattering three hits and a walk over seven innings. He fanned six.
In the Northwest League, Polizzi became the second Blue Jays farmhand to play all nine positions, including the first pitching performance of his career. He induced a popout to shortstop from Spokane's Scott Kapers to end the seventh and delivered an RBI single to left in the eighth in the Canadians' 7-4 victory.
An outfielder by trade, the 22-year-old made 15 appearances at second this season, but had not played any other position since he was drafted in the 35th round last year. After catching the eighth, Polizzi wrapped up his night in left.