Bats' Stephenson outduels Bucs' Keller
Reds righty strikes out career-high 12 over six scoreless innings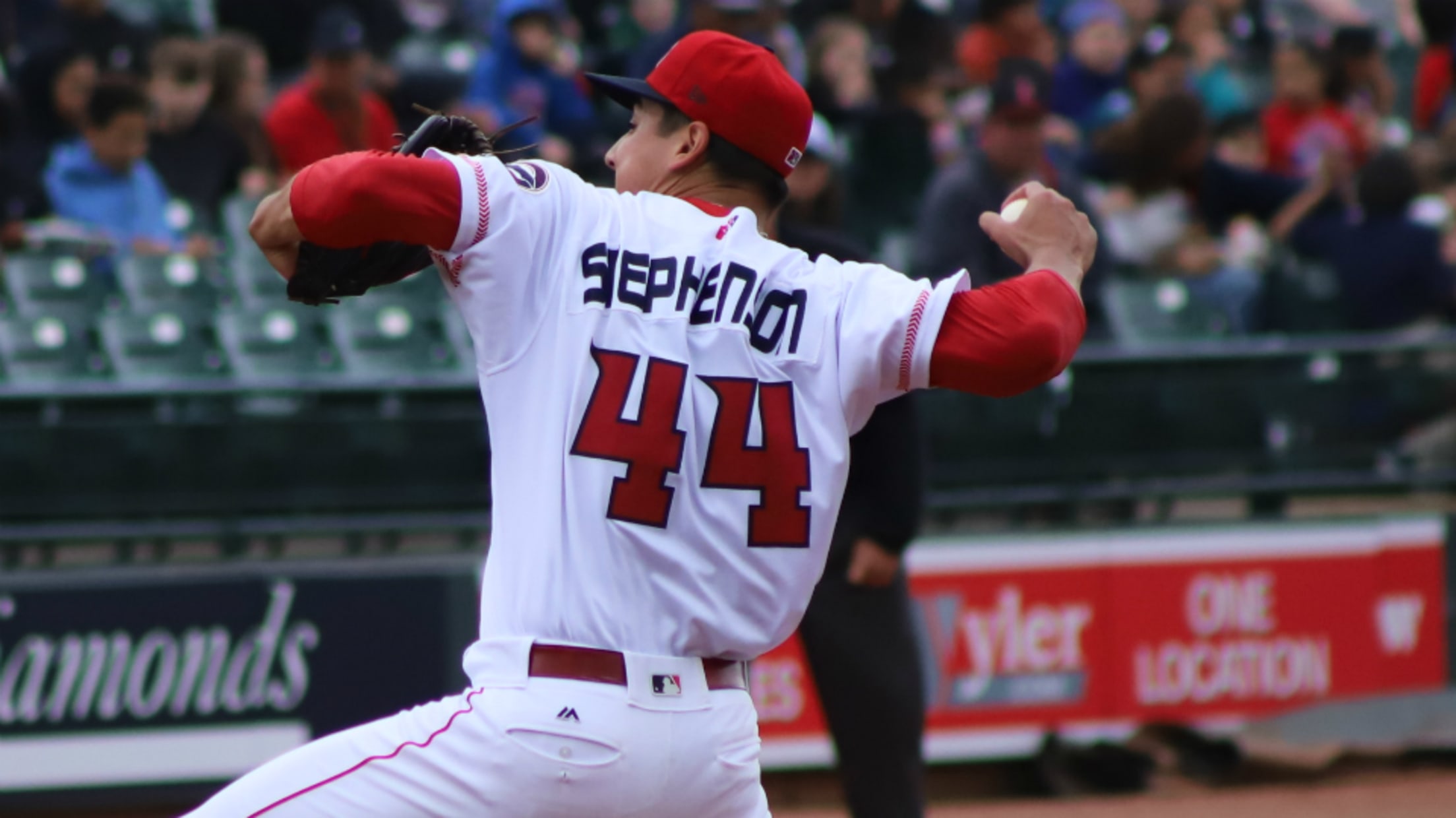 Robert Stephenson lowered his ERA to 3.35 in 16 starts for Triple-A Louisville. (Taris Smith/Louisville Bats)
A bevvy of big swings at Victory Field came up short during a heavyweight battle between Triple-A Louisville's veteran Robert Stephenson and 22-year-old Mitch Keller in his second International League start. The decision went to the Reds right-hander, who fanned a career-high 12 batters over six scoreless innings, while the top-ranked Pirates
A bevvy of big swings at Victory Field came up short during a heavyweight battle between Triple-A Louisville's veteran Robert Stephenson and 22-year-old Mitch Keller in his second International League start.
The decision went to the Reds right-hander, who fanned a career-high 12 batters over six scoreless innings, while the top-ranked Pirates prospect, racked up a season-high 10 whiffs as the Bats bested the Indians, 5-2, on Thursday.
Gameday box score
Stephenson (8-6) allowed two singles and one walk. The 2011 first-round Draft pick punched out out six of seven hitters in the first three innings, setting the side down on strikes in the second.
"He's been solid for the last month-and-a-half, slowly putting everything together," Bats pitching coach Jeff Fassero said. "Tonight, he had everything working for him."
Adam Frazier reached on a throwing error by first baseman Hernan Iribarren to lead off the fourth inning. Stephenson got Sean Rodríguez to pop up and struck out José Osuna. A wild pitch moved Frazier to second, but the right-hander fanned Ryan Lavarnway to end the inning.
In the fifth, Stephenson navigated past a leadoff walk to Kevin Kramer and Jason Martin's one-out infield single. Frazier led off the sixth with a single to left, but the Martinez, California, native rebounded to fan the side and put the exclamation point on his outing.
The 2014 Futures Game participant relied on his fastball inside to right-handers and throwing his slider on the outer half.
"His slider was outstanding," Fassero said. "He threw for it strikes when he needed to and threw it out of the zone in swing-and-miss [counts]."
Stephenson's previous career high was 11 strikeouts, which he'd accomplished four times -- most recently against Columbus on June 25. The 25-year-old threw 62 of his 96 pitches for strikes. The outing gave him 109 punchouts for the season -- third place among all Triple-A hurlers, behind MLB.com's No. 10 overall prospectMichael Kopech of the White Sox and Red Sox No. 15 prospectJalen Beeks.
While the 6-foot-3 hurler has always shown potential, Fassero said his charge has found consistency over the past six weeks or so.
"It's just been a combination of everything, kind of the trust that he can do it," the pitching coach said. "Over the last five, six starts, he's shown that he can do it. He pretty much dominated the best-hitting league team in our league tonight. He mixed his pitches really well. His slider was very sharp. He just kept them off balance -- never gave them a chance."
Stephenson spent parts of the past two seasons in the Majors, compiling a 7-9 record with a 5.10 ERA in 19 career starts. Fassero said the goal is to have the righty return to Cincinnati with a newfound confidence that derives from believing in his pitches.
"For him to get [back] to the big leagues, he's gotta show that he can keep doing this," Fassero said. "The starting staff up there has been throwing pretty good. He's just gotta keep plugging along, keep going. Whenever there's that opening, hopefully he's going to get that shot again. Right now, he's focused on getting back there and pitching like he's pitched here for us.
"When he went out there, he was comfortable and he trusts his stuff now. It's been a head game for him and he's gotten over it."
The biggest adjustment for Stephenson has been cutting down on the free passes. With the exception of a five-walk outing on June 19 against Durham, he's given us bases on balls to five hitters combined in four of his last five starts.
"His stuff is good enough," Fassero said. "If you look at his numbers, he doesn't give up a lot of hits to begin with. He gets in trouble with walks.
Keller (0-1) was tagged with five earned runs on six hits and four walks over six frames. Baseball's 12th-ranked prospect tossed 92 pitches -- 56 for strikes -- and has allowed 13 earned runs over his first two International League starts, spanning 8 2/3 innings.
Phillip Ervin homered, drove in two runs and scored twice for the Bats.
Chris Bumbaca is a contributor for MiLB.com based in New York. Follow him on Twitter @BOOMbaca.