Knights' Giolito rebounds with seven zeros
No. 7 White Sox prospect allows four hits, aims to be consistent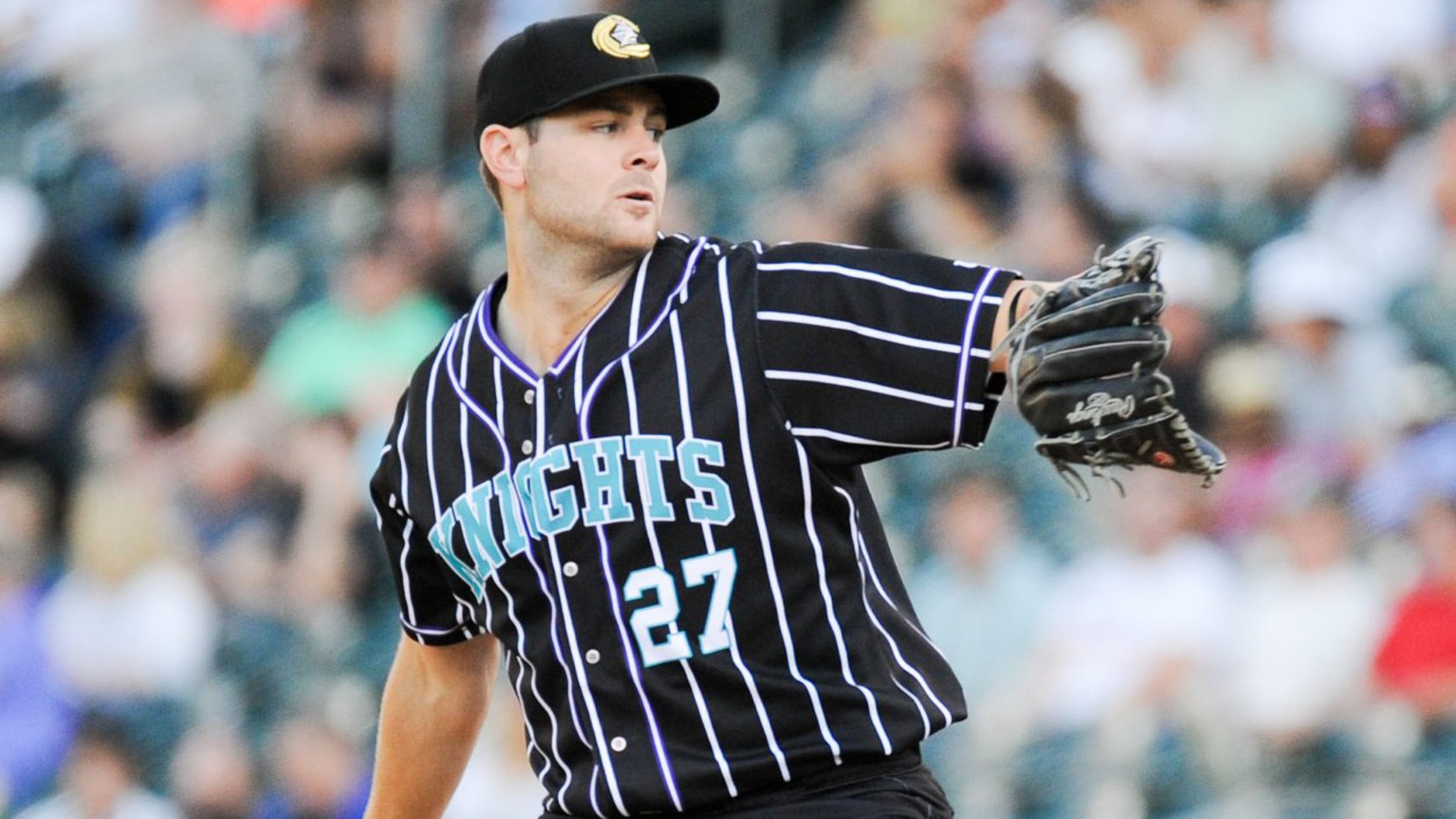 Lucas Giolito went over the 100-inning mark for the season during Tuesday's outing. (Laura Wolff/Charlotte Knights)
Lucas Giolito has taken some lumps during his first season with the White Sox. But Tuesday night, the No. 7 White Sox prospect again showed that when things are right, he's capable of dominance. Giolito scattered four hits and three walks while striking out six in seven scoreless innings as Triple-A
Lucas Giolito has taken some lumps during his first season with the White Sox. But Tuesday night, the No. 7 White Sox prospect again showed that when things are right, he's capable of dominance.
Giolito scattered four hits and three walks while striking out six in seven scoreless innings as Triple-A Charlotte beat Columbus, 4-1, at BB&T Ballpark.
"It hasn't been the best year for me," Giolito admitted after the game. "There's been a lot of ups and downs. I'm hoping I can build off of this outing for the rest of the year and become more consistent. That's the big word, working on consistency and going out there and competing every start."
This month has served as a metaphor for Giolito's roller-coaster campaign.
On July 2, MLB.com's No. 60 overall prospect allowed seven runs in 3 2/3 innings vs. Gwinnett. His next outing was a dominant 10-strikeout performance against Louisville. After giving up three runs in five innings to the Braves on July 15, Giolito had his worst start of the year against Scranton/Wilkes-Barre five days later, surrendering five runs in 1 2/3 innings .
Gameday box score
"My fastball command is the main thing I need to improve," the 23-year-old said. "I'm doing a good job throwing off-speed pitches for strikes and I'm able to work off of those, but I need to work on my fastball command to both sides of the plate and being able to make the misses a little bit smaller."
Giolito needed just eight pitches to get through a clean first inning and retired the first two Clippers he saw in the second before issuing a walk to Erik Kratz. The right-hander quickly recovered with a three-pitch strikeout of Michael Martinez.
"There could have been a lot more pitches in the first inning," Giolito said. "But the defense was spectacular. That kind of set the tone for me, knowing the defense was behind me, so I just wanted to fill up the strike zone and let them work. They did a great job."
After working around two-out singles by Daniel Robertson and sixth-ranked Indians prospectYandy Díaz in the third, Giolito (4-9) gave up a knock by Ronny Rodríguez in the fourth and walked Eric Stamets in the fifth, emerging unscathed both times.
"I didn't feel like I had the best stuff working. But I was able to go out there and let the guys work behind me and make quality pitches. Even though I was behind a lot of hitters, I was able to make the pitch to get out of it," he said.
Giolito worked a 1-2-3 sixth to get the chance to finish seven innings for the fourth time this year.
"My fastball command was a little bit off tonight, but [catcher Rob Brantly] did a really good job behind home plate," the 2012 first-round pick said. "We were working off the off-speed a lot. I could go to the changeup at any point to buy a strike and keep guys off balance at the same time. So when I did waver a little bit, we'd regroup and throw a lot of off-speed pitches to get ahead."
Rodriguez belted the first pitch of the seventh off the top of the wall in left field. The ball was ruled in play and Rymer Liriano threw Rodriguez out at third base. Columbus manager Chris Tremie quickly ascended from the dugout to argue that it should be a home run, but the call stood.
After the delay, Giolito walked Kratz and struck out Martinez before he was paid a visit by Knights pitching coach Steve McCatty, who wanted to give his starter a chance to catch his breath.
The mound visit paid off as the righty induced his eighth ground ball out of the night as Nellie Rodríguez bounced to first base.
"That inning was kind of weird," Giolito explained. "There was a lot of time while the managers were deliberating with the umpires. I kind of got a little bit out of sync, but McCatty came out and calmed me down and it felt great to get that last out."
The Harvard-Westlake School product felt a little bit lucky to be walking off the mound with another zero in the seventh, but for a pitcher who's been on the wrong side of some bad bounces this year -- coming into Tuesday's start, his BABIP (batting average on balls in play) was .327 -- he hoped it might be a sign of turning a corner.
• Get tickets to a Knights game »
"The way luck works, it always comes around," he said. "Today the defense made some great plays and got me out of jams and the whole ball-off-the-wall situation. Baseball is weird like that. You'll have some bad luck, but it'll find a way to turn itself around if you focus on what you need to do to get better every day."
Michael Leboff is a contributor to MiLB.com.