Lugnuts edge Cubs on Opening Day 2.0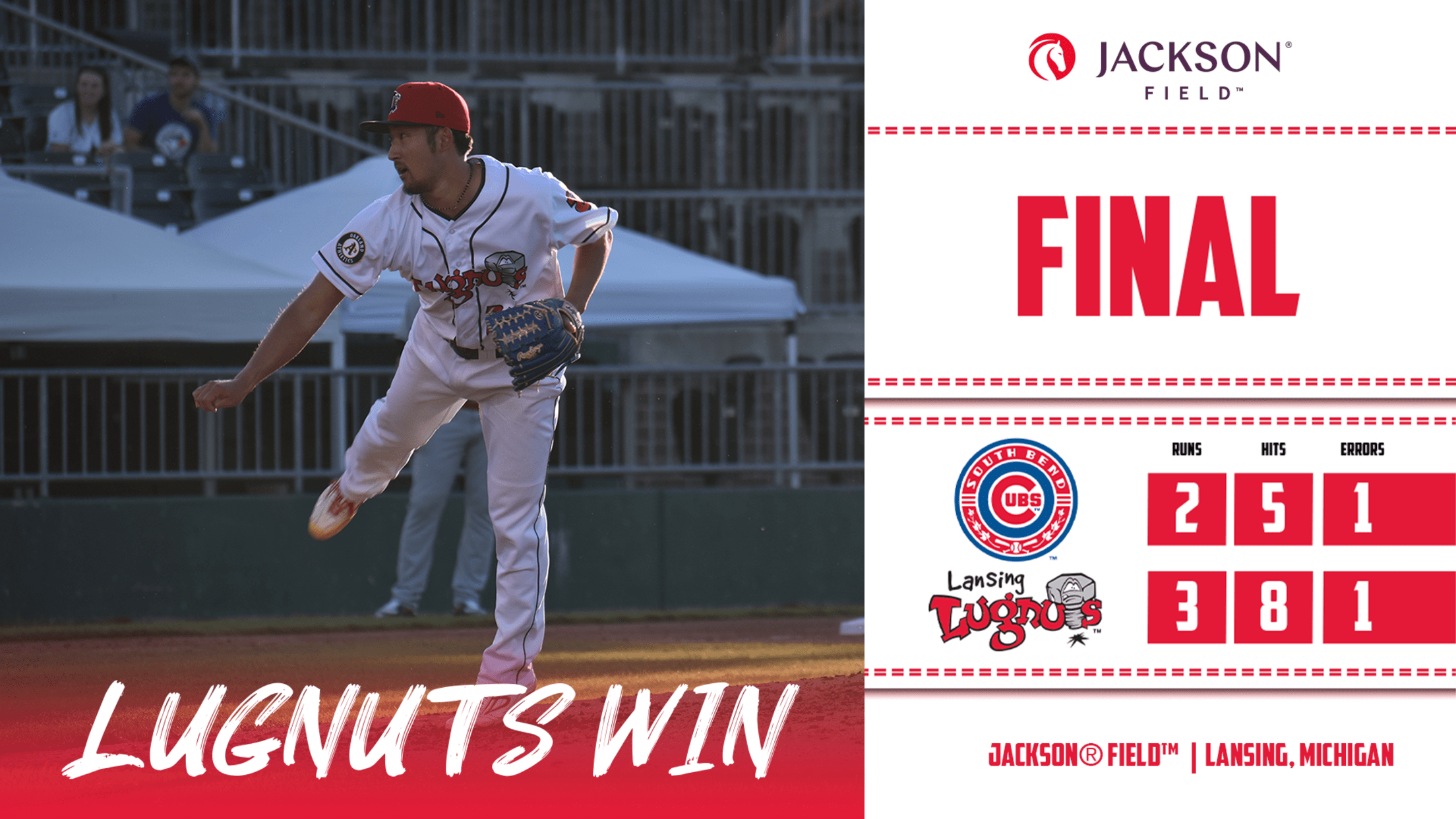 LANSING, Mich. – On the first night with 100% ballpark capacity restored, the Lansing Lugnuts (12-13) received an outstanding ensemble effort from a quartet of pitchers to top the South Bend Cubs (11-13), 3-2, on Tuesday night at Jackson® Field™. The Lugnuts played their first 12 home games at 20%
LANSING, Mich. – On the first night with 100% ballpark capacity restored, the Lansing Lugnuts (12-13) received an outstanding ensemble effort from a quartet of pitchers to top the South Bend Cubs (11-13), 3-2, on Tuesday night at Jackson® Field™.
The Lugnuts played their first 12 home games at 20% capacity by order of the State of Michigan before outdoor stadium limitations were restored to full capacity at the start of the month by Governor Whitmer.
The fans were greeted by 75-degree weather and near-virtuoso pitching from starter Shohei Tomioka and relievers Brady Basso, Aiden McIntyre and Jack Weisenburger.
Making his second professional start, Tomioka set down eight of the first nine batters he faced before allowing an Edmond Americaan RBI triple in the third. He finished with two hits, one walk, one run and five strikeouts in three innings.
Basso followed with 2 2/3 innings and five strikeouts of his own, departing after walking two batters and giving up a Jake Washer RBI single in the sixth. McIntyre stranded his inherited runners at the corners before leaving a runner at second base in a hitless seventh. That left Weisenburger, who gave up a single to the first batter he faced before dispatching the final six Cubs of the game, with one strikeout.
The Lugnuts took the lead for good with two runs in the first inning against South Bend starter Derek Casey. William Simoneit drove in Max Schuemann, who had doubled, with a groundout, and Austin Beck plated Patrick McColl, who had been plunked, with a single.
The Nuts' final run came in the third inning, with Jake Suddleson racing all the way around to score on a triple down the third-base line and an error by Bradlee Beesley in left field.
He is a freak, he is the fastest kid alive..... he is the fastest kid alive.@JakeSuddleson15 with the triple and an error to score one more for the good guys! Lugs lead the Cubs 3-1 in the top of the 6th! pic.twitter.com/uXzKtRvi31

— Lansing Lugnuts (@LansingLugnuts) June 2, 2021
Suddleson finished the game 3-for-4 with a single, double and triple. Schuemann, meanwhile, extended his on-base streak to 19 games with a single and double in four at-bats.
Lazaro Armenteros, Minor League Baseball's leading hitter, made his Lugnuts debut in left field and went 0-for-3 with a strikeout, flyout to right and groundout to third.
The second game of the six-game series is a Dog Days of Summer, with dogs welcome to the Wednesday 7:05 p.m. contest! Lansing sends right-hander Seth Shuman (1.69 ERA) against Cubs right-hander Ryan Jensen (4.97). To purchase tickets to Wednesday's game as well as any future Lugnuts home game, visit lansinglugnuts.com or call (517) 485-4500.
# # #