Lugnuts' pitching quintet sinks Captains, 5-2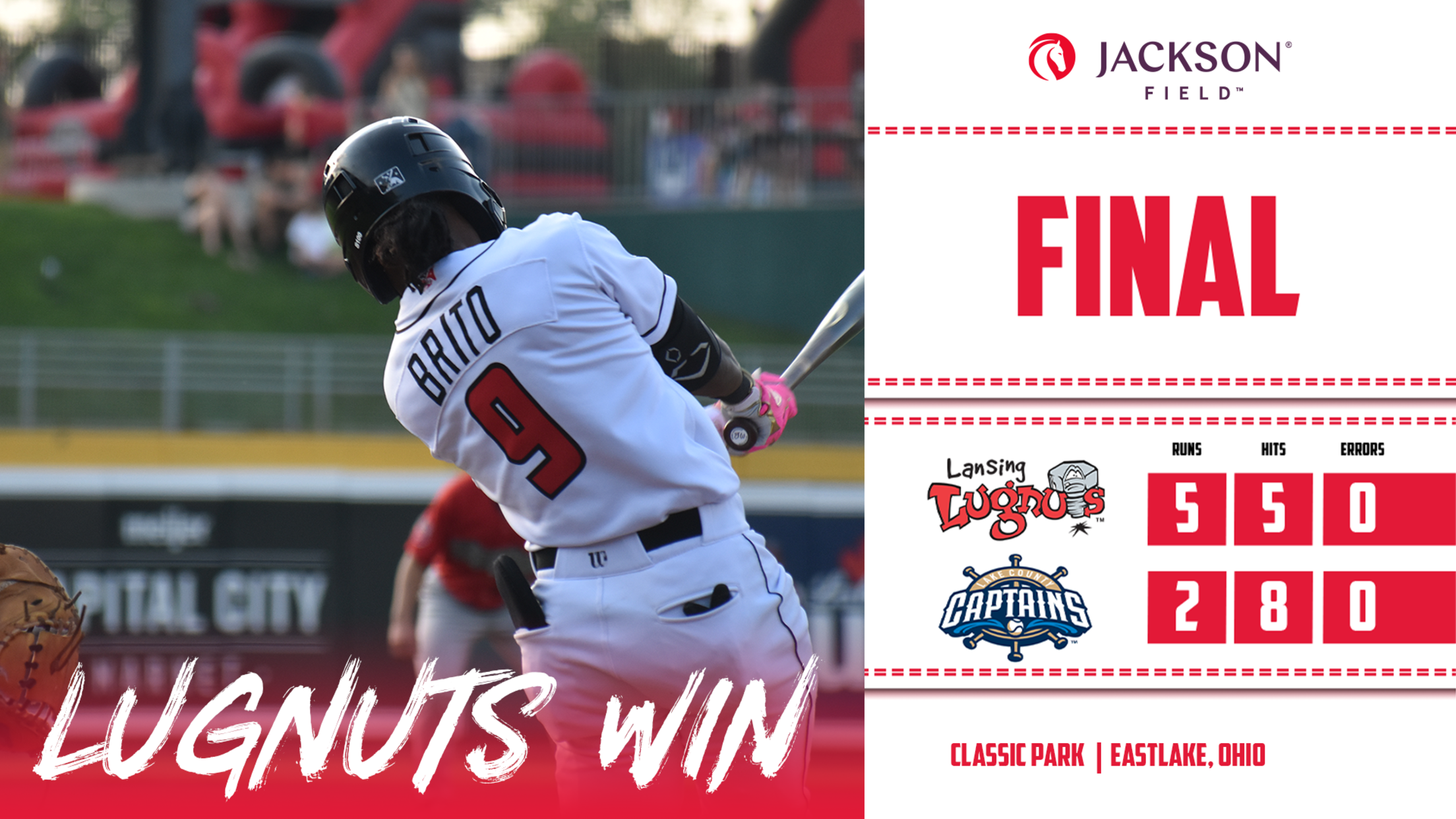 EASTLAKE, Ohio – Marcos Brito's bat and legs helped build an early lead, Cobie Vance homered to add late insurance, and a pitching quintet did the rest, leading the Lansing Lugnuts (40-43) past the Lake County Captains (44-39), 5-2, on Saturday night at Classic Park. The Lugnuts improved to 11-3
EASTLAKE, Ohio – Marcos Brito's bat and legs helped build an early lead, Cobie Vance homered to add late insurance, and a pitching quintet did the rest, leading the Lansing Lugnuts (40-43) past the Lake County Captains (44-39), 5-2, on Saturday night at Classic Park.
The Lugnuts improved to 11-3 on Saturdays with the result, putting themselves in position to win the series with a victory in the Sunday finale.
The Nuts played from in front throughout. They grabbed a 1-0 lead in the first inning against Captains starter Hunter Gaddis on a Jared McDonald sacrifice fly, and then expanded on that lead in the second inning thanks to Brito, who doubled home Lester Madden, Jr., was balked to third and then raced home on a passed ball for a 3-0 lead.
Lansing's starting pitcher was changed from Shohei Tomioka to Charlie Cerny shortly before first pitch due to the threat of rain in the area. The spot-starting Cerny – the Lugnuts' 16th different starting pitcher of the year – responded with two scoreless innings.
José Mora took the baton in the third inning, recording two outs and allowing a run on two hits and a walk before Tomioka came in and struck out Victor Nova to end the threat.
That started 3 1/3 strong innings for Tomioka, allowing only a fourth-inning solo tally while striking out four.
That fourth-inning tally, however, did narrow the Lugnuts' lead to 3-2 – until Vance walloped a no-doubt two-run homer over the left field bleachers against Lake County reliever Nick Gallagher in the seventh inning, closing out the scoring. It was Vance's third home run of the season.
The Lugnuts' fourth pitcher was Norge Ruíz, who handled a dominant seventh, striking out the side around a walk.
Brock Whittlesey then wrapped things up, stranding runners at the corners in the eighth before striking out the side in the ninth, finishing with four strikeouts.
Having won two in a row and three of five at Lake County, the Lugnuts tab ace right-hander Jack Cushing (1.80 ERA) for the Sunday start at 1:30 p.m., opposed by Lake County right-hander Mason Hickman (4.75 ERA).
The Nuts return home after Sunday, hosting the Dayton Dragons from August 10-15 in a six-game series. To purchase tickets, visit lansinglugnuts.com or call (517) 485-4500.
# # #