Lugnuts wallop Loons in 12th, 8-3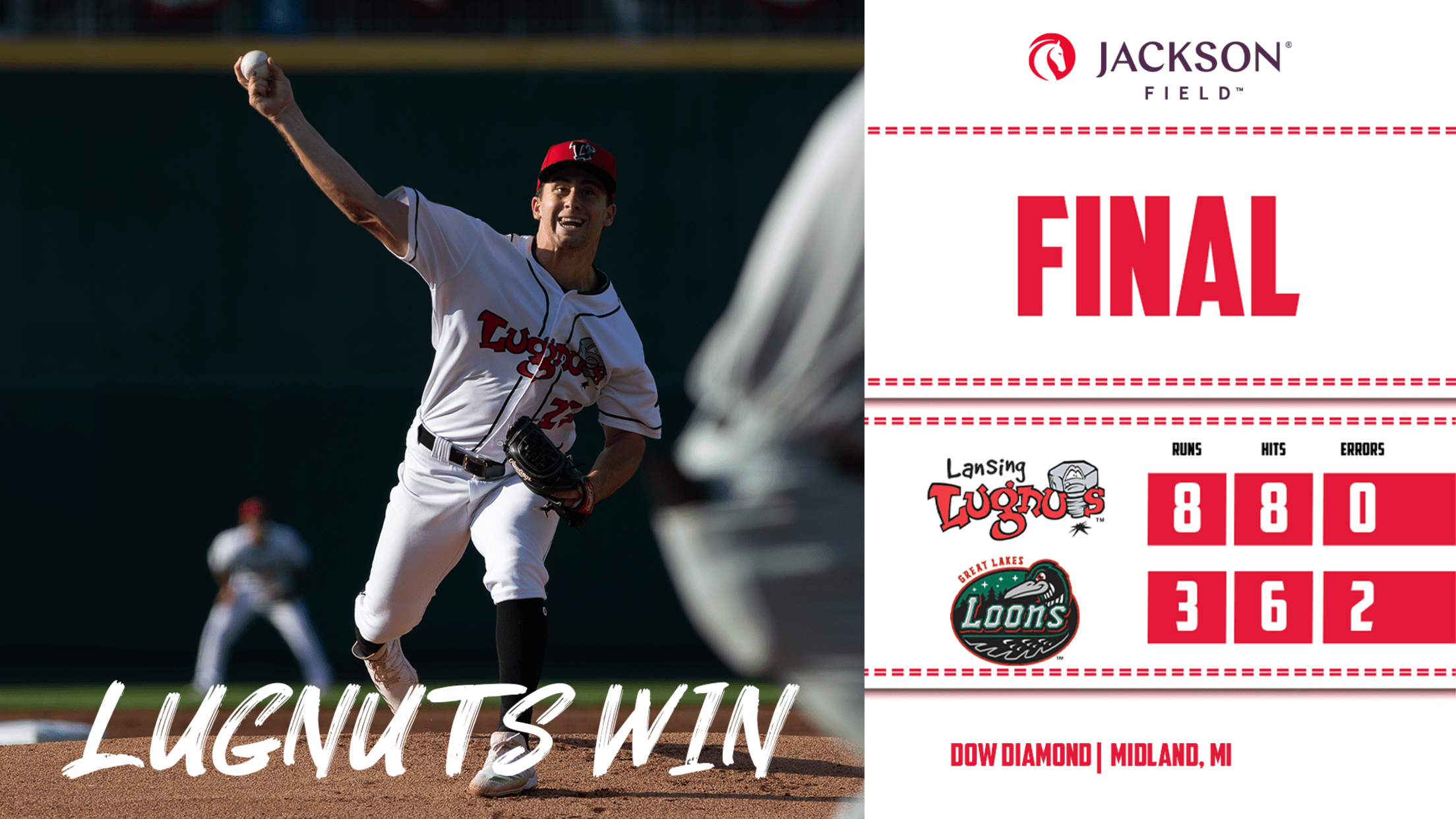 MIDLAND, MI – Lazaro Armenteros lined a two-run single in a five-run 12th-inning rally, and the Lansing Lugnuts (26-30) beat the Great Lakes Loons (31-25), 8-3, in an Thursday night epic at Dow Diamond. The game lasted four hours and 31 minutes – the same duration as the Nuts' 12-8
MIDLAND, MI – Lazaro Armenteros lined a two-run single in a five-run 12th-inning rally, and the Lansing Lugnuts (26-30) beat the Great Lakes Loons (31-25), 8-3, in an Thursday night epic at Dow Diamond.
The game lasted four hours and 31 minutes – the same duration as the Nuts' 12-8 10-inning loss on Sunday to Dayton.
The early story was Lugnuts starting pitcher Seth Shuman, who held the High-A Central's most explosive offensive to three singles and two walks in six scoreless innings, striking out seven.
But Great Lakes third baseman Brandon Lewis twice denied the Lugnuts a nine-inning victory, tying the game at 1-1 with a seventh-inning RBI double off Brock Whittlesey and at 2-2 with a ninth-inning two-out solo home run off Charles Hall.
Each team was held scoreless in the tenth and tallied a run in the 11th, with Michael Guldberg supplying an RBI single for Lansing answered by a Leonel Valera sac fly for the Loons.
In the 12th, however, the Lugnuts opened it up against Melvin Jiménez and Zack Plunkett. A bases-loaded fielding error by third baseman Deacon Liput brought home William Simoneit for a 4-3 lead. Armenteros followed with a laser into left field to score Cobie Vance and Elvis Peralta, Jr., who barely beat Ryan Ward's throw home. A Drew Millas bases-loaded walk and Simoneit bases-loaded HBP finished off the scoring.
Leudeny Pineda tossed a perfect bottom of the 12th inning to wrap up the win.
In the victory, Guldberg and Armenteros each enjoyed two-hit games while Millas and Jordan Díaz each drew a pair of walks.
Reliever Hall also deserved his share of the credit, striking out five batters while allowing two hits and two runs (one earned) in three innings, matching his season high.
The Lugnuts and Loons play a doubleheader on Friday at 5:35 p.m., with Lansing right-handers Richard Guasch (2.93 ERA) and Jack Cushing (1.50) opposing by Great Lakes right-handers Logan Boyer (3.77) and José Martínez (3.74).
The next Lugnuts home game will be on Tuesday, July 13, vs. the Lake County Captains, opening a six-game homestand. To purchase tickets, visit lansinglugnuts.com or call (517) 485-4500.
# # #