Patino posts first scoreless start of '19
Padres No. 4 prospect strikes out seven over 5 1/3 innings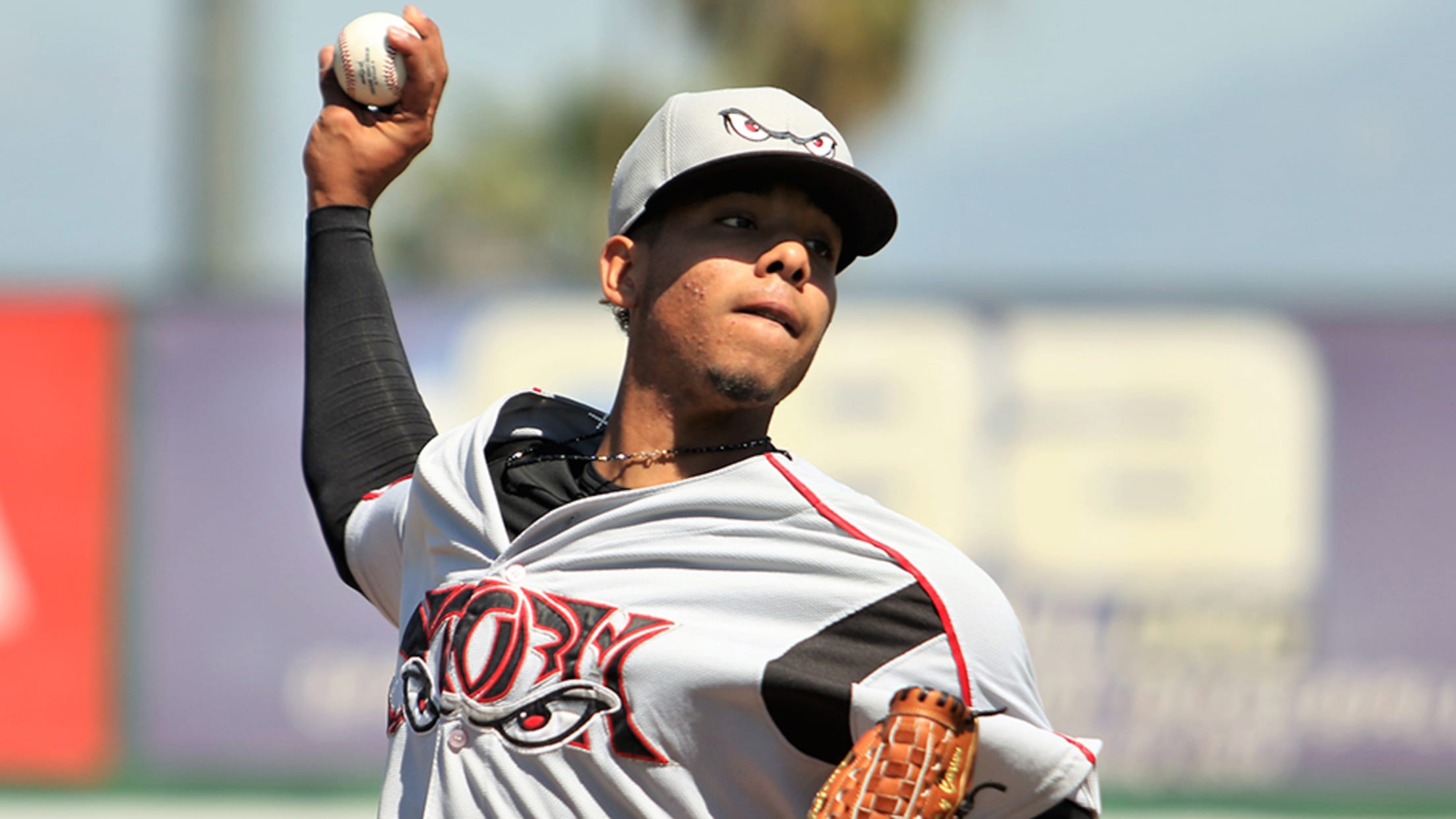 Luis Patino is tied for third in the California League with four wins and ranks ninth with 49 strikeouts. (Jerry Espinoza/MiLB.com)
Forgive Luis Patiño for being stubborn sometimes. Certainly opposing hitters wish he'd been more relenting Tuesday. The fourth-ranked San Diego prospect tossed 5 1/3 scoreless innings as Class A Advanced Lake Elsinore beat Rancho Cucamonga, 3-1, in the first game of a doubleheader at The Diamond. He struck out seven, allowing
Forgive Luis Patiño for being stubborn sometimes. Certainly opposing hitters wish he'd been more relenting Tuesday.
The fourth-ranked San Diego prospect tossed 5 1/3 scoreless innings as Class A Advanced Lake Elsinore beat Rancho Cucamonga, 3-1, in the first game of a doubleheader at The Diamond. He struck out seven, allowing four hits and and two walks.
"The stuff has always been electric, but now when you move up to the upper levels, you have to start commanding it a little better," Storm pitching coach Pete Zamora said. "You get a little less chase out of the zone. It's just a little bit of learning he's kind of accepted. He's a competitor and I believe a lot of competitors are stubborn sometimes. He was a little stubborn early. He's really put the work in the last four or five starts.
"He wanted this one. Very, very impressive. It was a big time start for him and I see it only helping him the rest of the way."
Gameday box score
Patino (4-4) left with a zero on the board for the first time this year, although he got some help keeping it there. The right-hander struck out the side in the first inning. He ran into trouble in the second when Dodgers No. 7 prospectJeter Downs singled up the middle and stole second. Marcus Chiu drew a two-out walk and Starling Heredia followed with an infield single to load the bases. MLB.com's No. 45 overall prospect got Brayan Morales to sky to center field to end the frame.
Early in the season, Zamora said, Patino may have faltered in such a situation.
"He was panicking," the pitching coach said. "And now you're not seeing any panic out of him. He knows he can make pitches. He's just comfortable in his own skin out there when stuff may not be going his way. He has the ability to make pitches without going to the fastball all the time. The changeup's been excellent the last two outings. He's showing some maturity beyond 19 years."
Escaping the second began a string of 12 batters in a row retired by Patino. With two outs in the fifth, Morales smacked a triple that deflected off Padres No. 13 prospect Tirso Ornelas at second base. After falling behind to Jeren Kendall, 3-0, the native of Barranquilla, Colombia, got the 15th-ranked Dodgers prospect to fly to left to preserve a 3-0 lead.
Patino whiffed Donovan Casey for the first out in the sixth, but yielded a double to Deacon Liput and walked Devin Mann before exiting. Evan Miller surrendered a run in the seventh before locking down his California League-leading eighth save.
The 6-foot hurler threw 86 pitches -- 55 for strikes -- and has not issued more than two free passes in his last six starts.
"It's really cool to see," Zamora said. "Because he is 19 and he's got great charisma. You're starting to see a 19-year-old in the Cal League starting to look like a pitcher. He's pitching out there. He's not chucking the ball and hoping for swings-and-misses."
A season ago, Patino ripped through the Midwest League as an 18-year-old with Class A Fort Wayne. While the Padres were cautious with his workload, limiting him to 83 1/3 innings in 17 starts, he went 6-3 with a 2.16 ERA, 90 strikeouts and a 1.07 WHIP. He gave up one home run all year.
"When you've had that much success, it's tough when someone says, 'Hey, you've got to do it a little bit different to get those swings here,'" Zamora said. "Nobody works as hard as [him]. Him and [MacKenzie Gore] are our two hardest workers on the team. Like I said, he was a little stubborn early. But he wants to be in the big leagues. He wants to move up. He's made the proper adjustments and you're getting more pitchability out of the kid instead of someone out there with some good stuff."
The move to the California League hasn't been smooth for Patino. Still, the 192-pounder lowered his ERA to 3.05 and increased his strikeout total to 49 over 41 1/3 frames in nine starts. He hasn't allowed more than two runs in all but one outing and opponents are batting .179 against him.
Going forward, Patino and his pitching coach will continue honing his "craftiness," such as landing an off-speed pitch for a called strike while behind in the count.
"He's always got the [97-, 98-mph pitch] in the back pocket," Zamora said. "But he's learning how to pitch. He's been impressive the last few starts."
Patino made the jump with Gore, San Diego's No. 2 prospect and eighth overall. The 20-year-old lefty is having a dominant campaign, with a 1.15 ERA and 64 punchouts over nine starts (47 innings). Together, they give Zamora a reason to show up at the ballpark every day with a smile on his face.
"These two drive each other," he said. "They pull for each other. They compete against each other. They're always getting the best out of each other. You're talking about two really good friends and teammates. They don't let the other get away with anything. It's kind of a cool dynamic when it comes to them."
Padres No. 15 prospect Luis Campusano doubled, singled, plated two runs and scored another.
In the nightcap, Downs provided the lone offense of the game with a solo homer in the fifth to fuel a 1-0 victory for the Quakes.
Chris Bumbaca is a contributor to MiLB.com. Follow him on Twitter @BOOMbaca.