M-Braves defeat Shuckers in rain-shortened game
Moore goes 2-for-3 with a homer and four RBI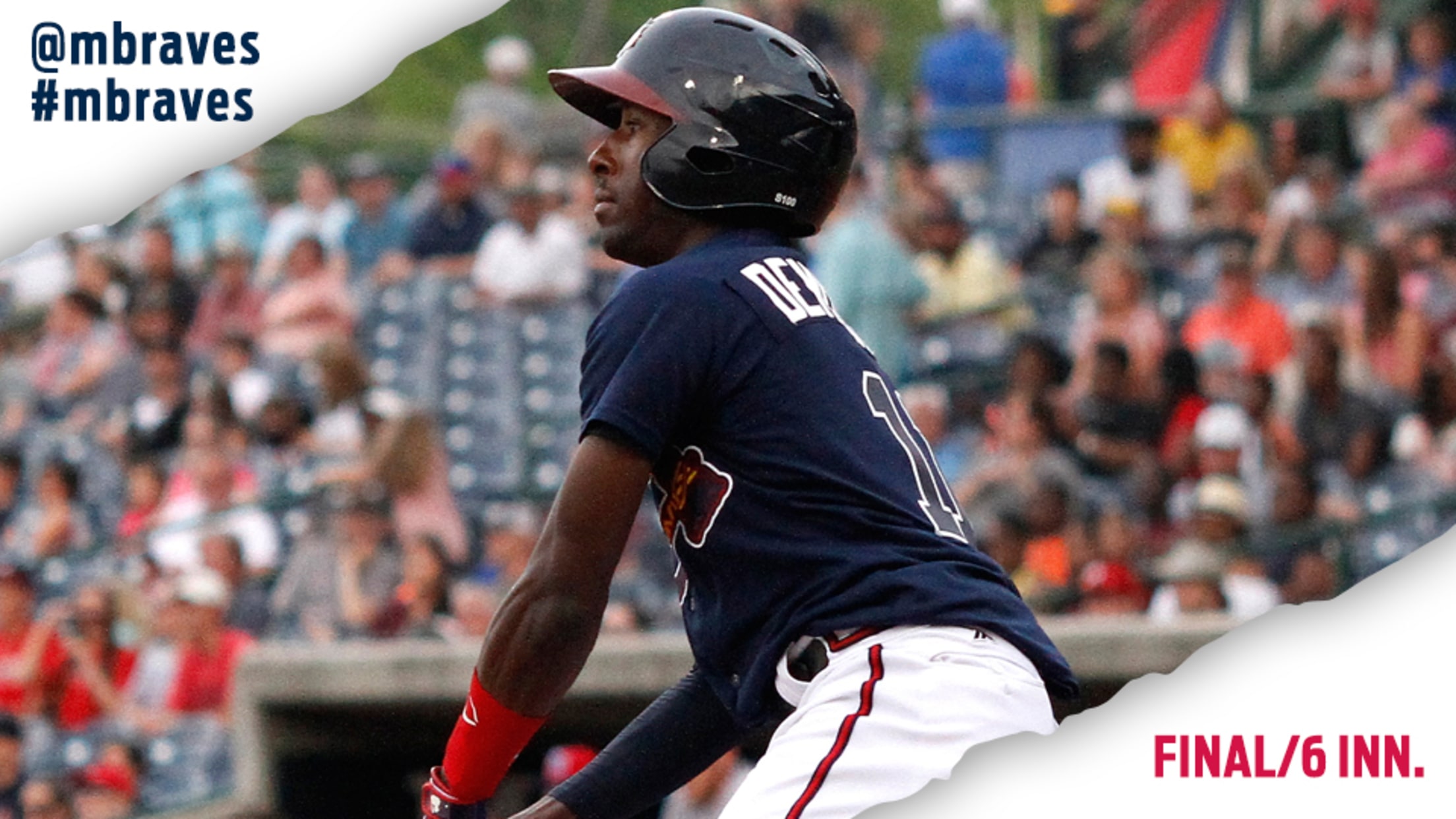 PEARL, MS -- Kris Medlen pitched six solid innings and Dylan Moore drove in four of the Braves six runs as the Mississippi Braves claimed a 6-1 victory in a rain-shortened series opener at Trustmark Park Sunday evening.After storms rolled through the area delaying the start of the game, Mississippi (28-28)
PEARL, MS -- Kris Medlen pitched six solid innings and Dylan Moore drove in four of the Braves six runs as the Mississippi Braves claimed a 6-1 victory in a rain-shortened series opener at Trustmark Park Sunday evening.
After storms rolled through the area delaying the start of the game, Mississippi (28-28) finally got underway in game one of a five-game series against the Biloxi Shuckers (30-26). With one out and runners at first and second in the bottom of the sixth, the skies opened yet again and halted play. The game was called a few minutes later with the M-Braves securing the win.
Medlen (1-0) started and worked all six official innings for the Braves. He held the Shuckers to just one earned run on four hits and a walk while fanning four. Medlen threw 49 of his 71 pitches for strikes.
Offensively, the Braves scored six runs on seven hits. Dylan Moore led the charge, going 2-for-3 at the plate with one run scored, a homer and four RBI. Travis Demeritte blasted his 10th home run of the season-a two-run shot in the fifth.
Biloxi took a quick 1-0 lead in the first. Michael Choice reached on a two-out single. Art Charles followed with a base hit to put runners at the corners before Jacob Nottingham delivered a RBI-single to right field.
In the second, Levi Hyams singled and Connor Lien walked to start the frame. Moore then ripped a three-run home run to left field, giving the Braves a 3-1 advantage.
Demeritte's two-run shot in the fifth made it a 5-1 game.
In the sixth, Lien led off with a double to left field. Moore then singled to right, plating Lien on the play to make it 6-1 for the Braves. Sal Giardina walked shortly before more storms rolled through and ultimately ended the game.
For the Shuckers, Jorge López (3-4) took the loss. He gave up six earned runs on seven hits and four walks. Lopez struck out six batters.
The M-Braves send RHP Mike Soroka (6-3, 3.13) to the hill in game two of this five-game series. Biloxi has not yet announced its game two starter. First pitch is scheduled for 7:00 PM. Gates open at 6:00 PM.
Biloxi (30-26): 1 R 4 H 0 E
Mississippi (28-28): 6 R 7 H 0 E
W: Kris Medlen (1-0)
L: Jorge Lopez (3-4)
Time: 1:43 (1:04 delay)
Attendance: 1847