M-Braves, New South Radio announce 780 AM, 102.1 FM The Box as new flagship radio station 
780 AM and 102.1 FM The Box will broadcast live all 138 games this season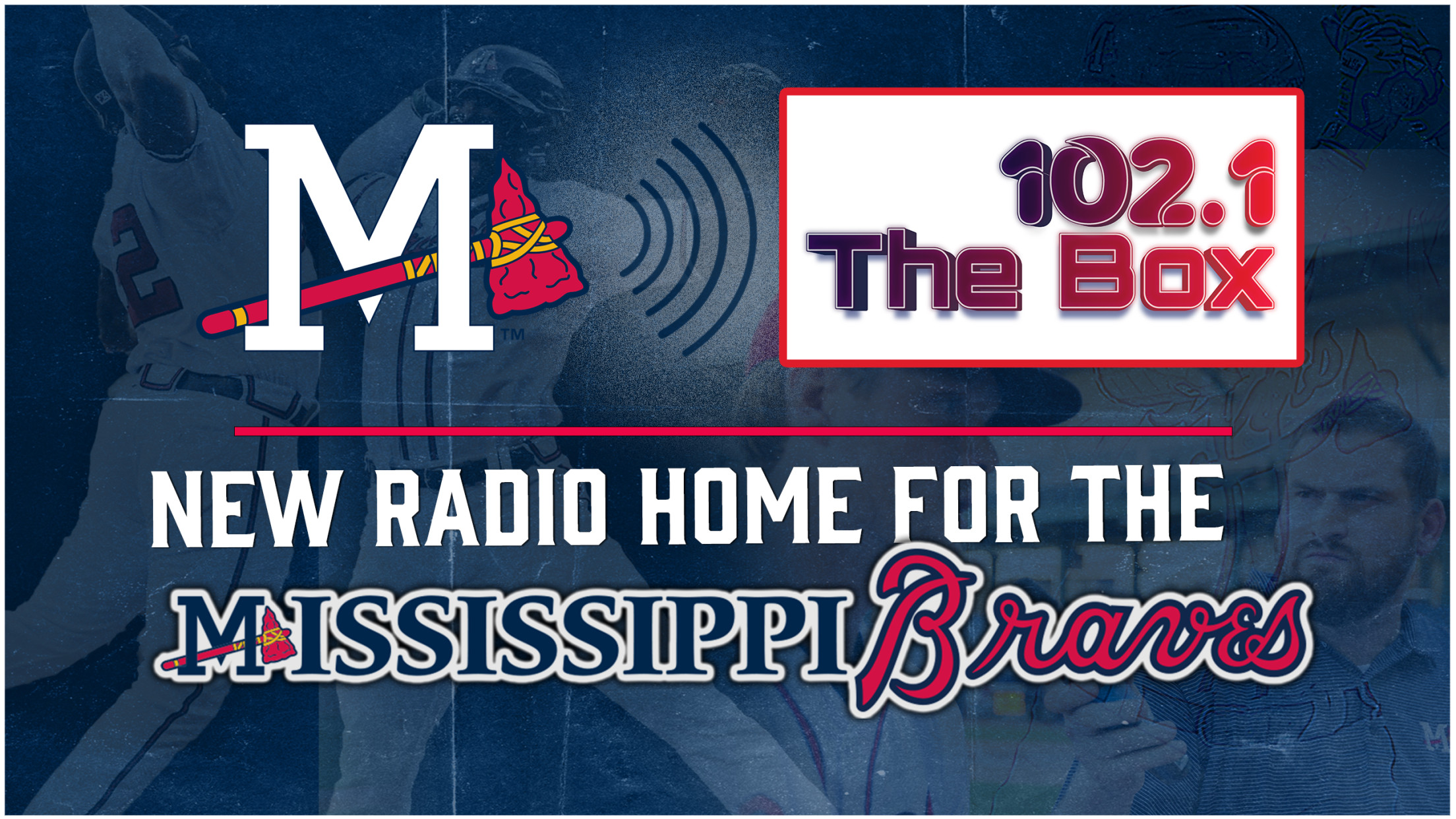 PEARL - The Mississippi Braves and New South Radio have announced a partnership that will see all 138 M-Braves broadcasts on WIIN 780 AM, 102.1 FM The Box, and mississippibraves.com during the 2023 season. "The Mississippi Braves are proud to announce this new partnership with New South Radio. We have
PEARL - The Mississippi Braves and New South Radio have announced a partnership that will see all 138 M-Braves broadcasts on WIIN 780 AM, 102.1 FM The Box, and mississippibraves.com during the 2023 season.
"The Mississippi Braves are proud to announce this new partnership with New South Radio. We have had a great relationship with their network of stations for many years," said Pete Laven, Vice President & General Manager of the Mississippi Braves. "We look forward to having Chris Harris and Jack Sadighian deliver the M-Braves action, both home and road, on WIIN 780 AM and 102.1 FM The Box throughout the 2023 season."
"Since the inaugural season in 2005, New South Radio has been a huge fan and loyal supporter of the Mississippi Braves," said New South Radio General Manager Kelly Crocker. "Now, we are excited to become their official broadcast partner and air every exciting game on our station, 102.1 The Box. We're looking forward to a great season of amazing baseball action! Go, Braves!"
The first Mississippi Braves radio broadcast will be on Friday, April 7, when the team opens the season at Trustmark Park against the Biloxi Shuckers at 6:35 pm.
Each broadcast begins 15 minutes before the start of each M-Braves game, with the pregame show hosted by play-by-play announcers Chris Harris and Jack Sadighian. The broadcast will conclude with a 15-minute post-game show that will recap each game and get fans prepared for the next game broadcast.
About the Broadcasters:
Harris enters his fifth season as the radio voice of the Mississippi Braves. Harris has broadcasted over 1,800 Minor League games and has twice been selected as Southern League Broadcaster of the Year. Before his time with the Braves, Harris was the Director of Broadcasting and Media Relations for the Biloxi Shuckers from 2015-2018 and Jackson (TN) Generals from 2009-2014. During the baseball offseason, he serves as a football and basketball play-by-play broadcaster for ULM on the ESPN family of networks. Harris also is a play-by-play contributor for the Southern Miss Sports Network.
Sadighian enters his second season as a broadcast and media relations assistant with the Mississippi Braves. Sadighian was a 2021 graduate of the University of Georgia in December. He recently served as a play-by-play broadcaster for Georgia softball on the SEC Network and Mercer basketball on ESPN+. In addition, Sadighian made stops in the Cape Cod Baseball League with the Wareham Gatemen in 2021 and California Collegiate League with the San Luis Obispo Blues in 2019. In Wareham, Sadighian appeared on NESN as a play-by-play broadcaster for the network's league coverage.
Tickets are on sale now for the 2023 season of Mississippi Braves baseball. The season begins with a three-game weekend series, April 7-9, against the Biloxi Shuckers at Trustmark Park.