Machin's Late Home Run Not Enough In 7-3 Loss To The Shuckers
Smokies Drop Their Eleventh Straight Home Game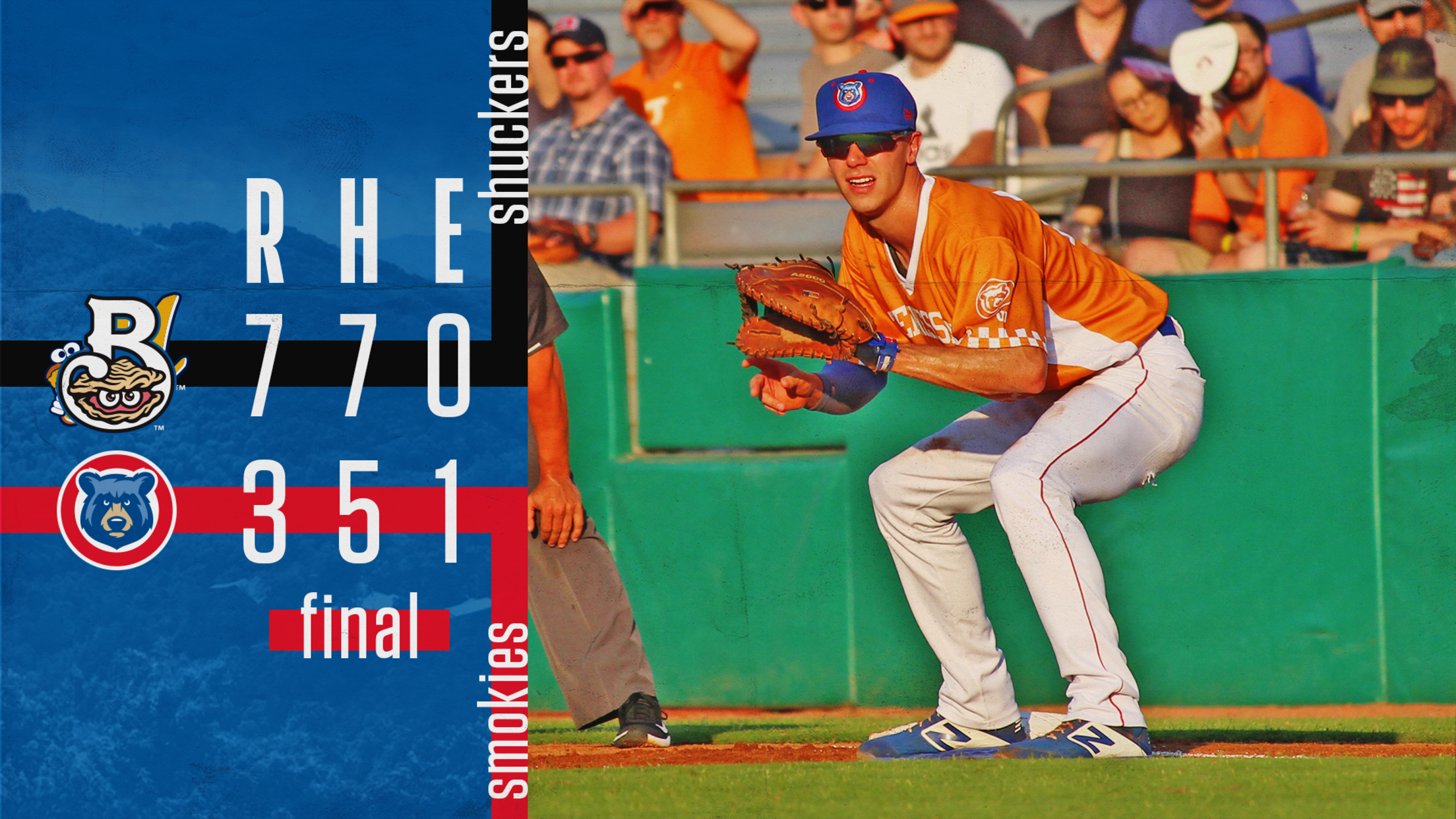 KODAK - A late game-tying home run by Tennessee Smokies (49-69, 16-33) shortstop Vimael Machin was not enough to escape a four run ninth inning from the Biloxi Shuckers (71-47, 30-18) in a 7-3 loss on Saturday night at Smokies stadium. The loss marks the Smokies eleventh straight loss at home.For
KODAK - A late game-tying home run by Tennessee Smokies (49-69, 16-33) shortstop Vimael Machin was not enough to escape a four run ninth inning from the Biloxi Shuckers (71-47, 30-18) in a 7-3 loss on Saturday night at Smokies stadium. The loss marks the Smokies eleventh straight loss at home.
For the fourth straight game this series, The Shuckers hit a home run. It was Bruce Caldwell's turn to get in on the launch party with a two-run shot in the second inning to score Jake Gatewood and give Biloxi an early 2-0 lead. The bomb to left field was the seventh for Caldwell this season.
The Smokies starter, RHP Erich Uelmen, was efficient in his debut at Smokies Stadium. After dishing out two runs in the second, he rallied to retire the next twelve Shuckers he faced. He allowed just three runs on four hits with six strikeouts in seven innings of work.
He gave up his third run of the ballgame in the seventh frame. It was Jake Gatewood who blasted his second home run of the series with a solo shot to left-center field. Biloxi has sent seven balls over the fence in four total games this series.
On the other side of the mound, RHP Alec Bettinger was just as solid. He allowed two runs on four hits and retired 17 Smokies in a row at one point. In two starts against the Smokies this season he is 1-0 with a 1.50 ERA.
The only trouble Bettinger ran into was in his seventh and final inning. He gave up three straight hits to start the inning, including an RBI-double from Charcer Burks to score Tyler Payne. He was replace by LHP Daniel Brown who let another run home on a groundout by Roberto Caro to cut the lead to 3-2.
LHP Manuel Rondon struck out the side in the eighth to keep it a one run game. Vimael Machin responded with a leadoff solo home run in the eighth inning to tie the ballgame. It was Machin's fourth home run of 2019.
In the ninth, Rondon saw his twelve inning scoreless streak come to an end. He walked the first two batters of the inning and watched them step on home plate off a two RBI-double by C.J Hinojosa. Another pair came across on a single by Dillon Thomas to cap a four run ninth inning for Biloxi and seal a 7-3.
The finale of the series between the Smokies and the Shuckers is set for Sunday evening. RHP Erick Leal (2-3, 6.37), will make his seventh start this season with the Smokies. On the other end, RHP Dylan File (8-1, 2.45) will get the ball for Biloxi. First pitch is set for 5:30 EDT. Fans can bring their furry friend to the ballpark on Sunday for Dog Day in select bleacher and berm seating.