Yamamoto rolling along with Salt River
Marlins' No. 16 prospect making up lost time from brilliant season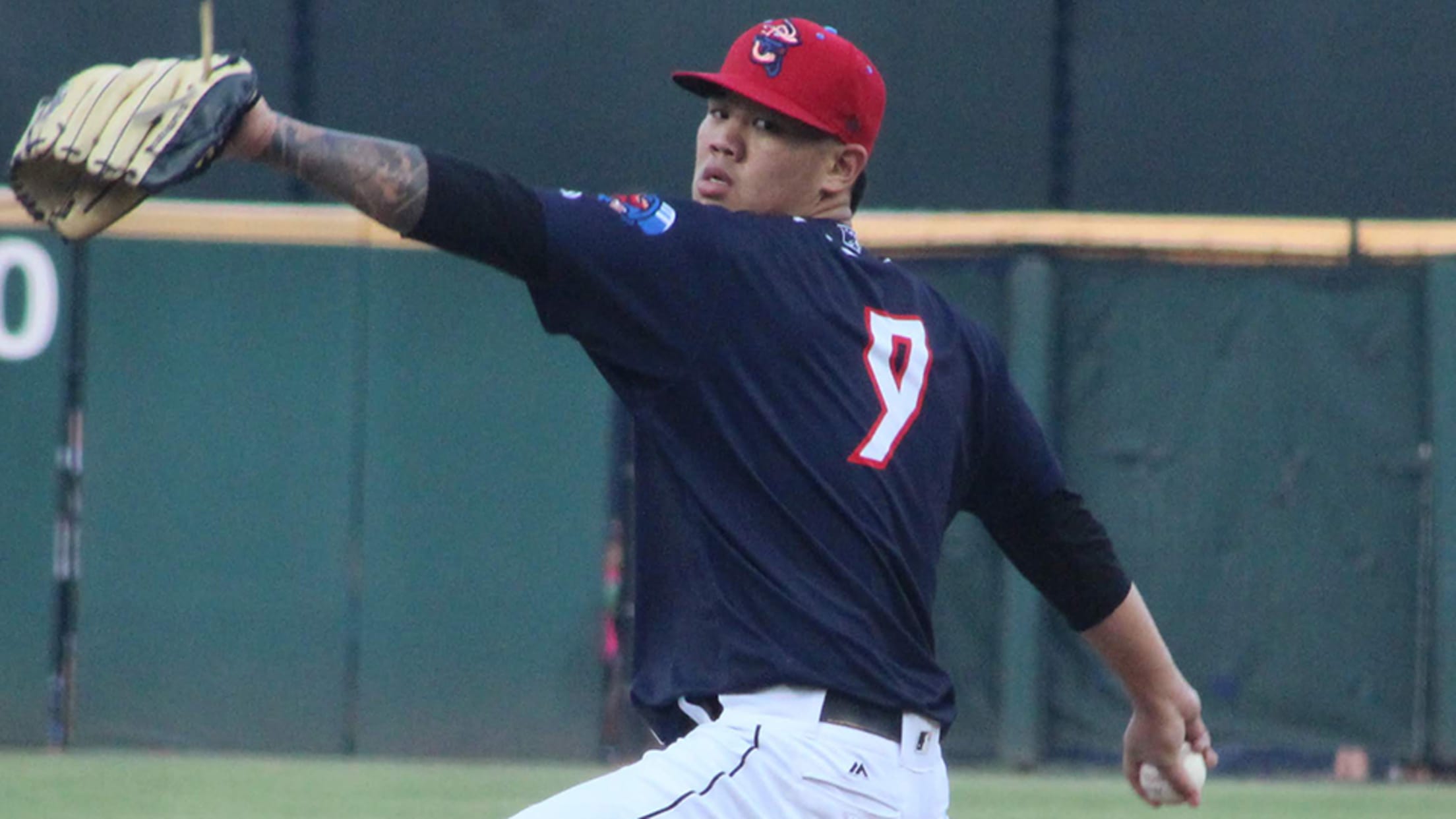 Jordan Yamamoto sported a 2.12 ERA with 23 strikeouts over 17 innings for Double-A Jacksonville. (Emma Napper/MiLB.com)
Part of what makes the Arizona Fall League unique is fortunate timing. Many midseason injuries require increased postseason workloads, and the AFL's place on the calendar allows a player who missed time during the summer the chance to show he's healthy while competing on the high-profile showcase circuit. Such is
Part of what makes the Arizona Fall League unique is fortunate timing. Many midseason injuries require increased postseason workloads, and the AFL's place on the calendar allows a player who missed time during the summer the chance to show he's healthy while competing on the high-profile showcase circuit. Such is the case with right-hander Jordan Yamamoto.
The Marlins' No. 16 prospect put together one of the most dominant regular season performances in the Minor Leagues, finishing with a 6-1 record, 1.83 ERA and .177 opponent's batting average. But as good as he was, the showing amounted to merely a flash of brilliance, as shoulder discomfort and two lengthy stints on the disabled list limited him to 68 2/3 innings across three levels.
"Over time this year, I've had a lot of ups and a lot of downs," he said. "All these downs really taught me who I am, and what I can give to this club."
Yamamoto stayed in extended spring camp to open the season and did not make his debut until getting into the Class A Advanced Jupiter rotation on May 27. Things went swimmingly with the Hammerheads, and he earned a July 4 promotion after posting a 1.55 ERA with 47 strikeouts in 40 2/3 innings over seven starts. But his first stint with Double-A Jacksonville lasted all of two appearances -- he hit the DL on July 18.
After a month on the shelf and three rehab starts in the Rookie-level Gulf Coast League, the 22-year-old returned to the Jumbo Shrimp with his best start of the season, coming a hit batsman away from pitching six perfect innings against Mississippi. The Aug. 30 outing signaled a triumphant return to form but, unfortunately, came just as the clock ran out on the 2018 season.
Ending on a high note was great, but letting the good times roll would have ideal. With Yamamoto's sights set on Triple-A New Orleans and, eventually, the Major Leagues, he hopes the AFL can provide him momentum for next season.
In two starts with the Salt River Rafters so far, Yamamoto seems to have picked up exactly where he left off, allowing one run while piling up 11 strikeouts and walking two over six innings.
"My thing [in the AFL] is just continuing what I did during the season," the Pearl City, Hawaii, native said. "Hopefully, it'll play in the long run -- just getting back, get my innings up and keeping my numbers down."
The 2014 12th-round pick of the Brewers credited much of his successful recovery to Marlins training and coaching staffs but said the time away tested his mental toughness. The rash of injuries put a strain on his confidence, and he needed to prove to himself that he can still play the game.
"[My confidence] got back up," he said, "and now I'm here."
Last offseason, Yamamoto learned an important lesson about life in baseball and the business of the sport. He landed with the Marlins as part of the blockbuster deal that sent National League MVP candidate Christian Yelich to Milwaukee. The trade also netted Miami current top prospect outfielder Monte Harrison, eighth-ranked infielder Isan Díaz and outfielder Lewis Brinson, who broke camp as the club's No. 1 prospect and played in 109 big league games this year.
"The Marlins wanted me more in this trade, and it's always nice," Yamamoto said. "Like I tell people, too: baseball can be taken away at any time. Play every out like it's your last, and that's the way I lived throughout my career."
The Yelich deal was one of many the Marlins made since beginning a rebuild last offseason. Of the team's Top 30 Prospects, 15 were acquired via trade. Four of its six AFL representatives originally came from other systems, too; in addition to Yamamoto and Harrison, Tommy Eveld and Bryson Brigman also made it to Salt River. Eveld came to Miami in the trade that sent reliever Brad Ziegler to Arizona, and Brigman was part of the return from Seattle for outfielder Cameron Maybin.
"It is good to have familiar faces where I'm playing now," Yamamoto said of the group, all of whom finished the season with Jacksonville. "But you learn to play with different players. The better you are at adapting to change, the better you are as a baseball player. … Everybody is together. Everybody just did their thing and did their part. We all just became closer as time went on."
After the trade, Yamamoto looked forward to meeting new people and making new memories. He didn't find the adjustment to the new organization difficult, particularly after he understood that he'd be working with kindred spirits.
"My thing is -- and I've spoken to the Marlins and our pitching coordinator [Chris Michalak] -- that I like to throw strikes," Yamamoto said, explaining that the team shared a similar goal of quick outs and quick innings. "They helped me with a few things here and there with my mechanics and fine-tuned some little things. But for the most part, the philosophies were really the same.
"Get ahead, throw strikes, get outs. Simple as that."
Although his heels are dug in to that approach, the trade and series of injures reminded Yamamoto to never get too comfortable in the game of baseball. Especially in an organization like the Marlins -- who have invested heavily in their future with prospects like Yamamoto himself -- he knows that things can change quickly.
"I just try and do my thing on the field and, hopefully, they like me enough to try and put me in the big leagues sometime soon," he said. "I think we all got used to it pretty quickly. We all bought into the system that they're trying to change. So that's where we're heading and that's what we're doing."
Gerard Gilberto is a contributor to MiLB.com. Follow and interact with him on Twitter, @GerardGilberto4.