Martin's clout gives Grizzlies a series split against Nuts
Robby Martin: 3-run HR (1st with Fresno)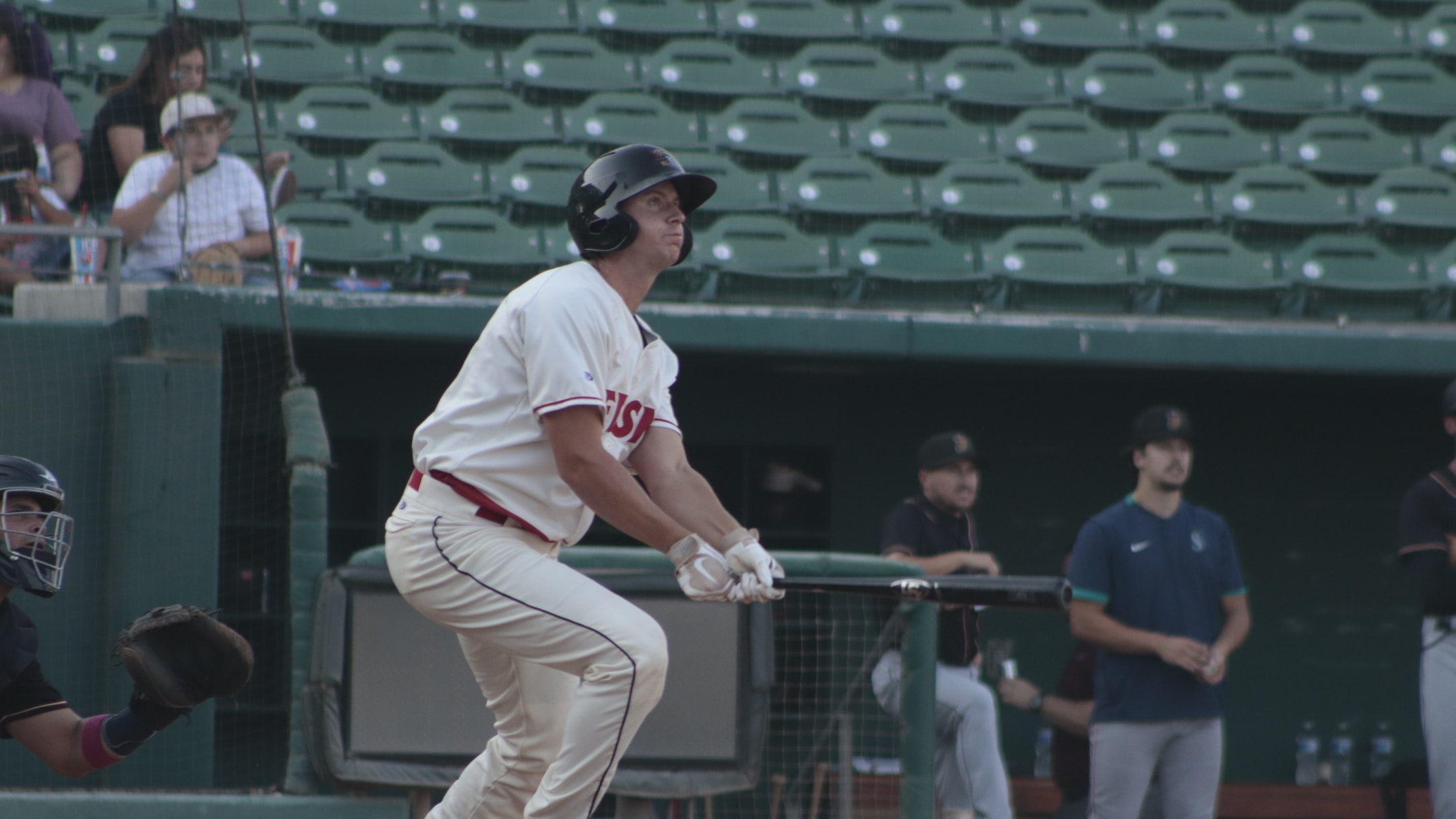 Fresno, CA (Sunday, August 29) – The Fresno Grizzlies (66-36) defeated the Modesto Nuts (56-46) 7-3 Sunday evening from Chukchansi Park. The Grizzlies and Nuts split both series against one another in Fresno, with one more set to go in Modesto. With the win, the Grizzlies improved to 46-7 when
Fresno, CA (Sunday, August 29) – The Fresno Grizzlies (66-36) defeated the Modesto Nuts (56-46) 7-3 Sunday evening from Chukchansi Park. The Grizzlies and Nuts split both series against one another in Fresno, with one more set to go in Modesto. With the win, the Grizzlies improved to 46-7 when allowing three runs or fewer, 34-20 at home and extended their first place lead to three games over the San Jose Giants.
Fresno jumped ahead 1-0 in the first after a Drew Romo RBI groundout. Romo celebrated his 20th birthday today. Modesto would gain control in the third after a monster solo shot by Alberto Rodriguez and a Grizzlies' error. In the fourth, Robby Martin pushed Fresno back on top, 4-3. Martin launched a three-run homer to right, his first longball with the Grizzlies. The advantage lengthened to 7-3 in the eighth after a couple of wild plays. Julio Carreras was credited with a swipe of home after a squeeze bunt went awry. Then, Eddy Diaz walked with the bases loaded and Romo reached on a Nuts' miscue.
Martin finished the contest 2-for-4, his second straight multi-hit affair and drove in a career-high three runs. Diaz expanded his hit streak to 11 games, tying his season-long. Zac Veen and Bryant Quijada combined to reach base seven times with five of them coming via walk. Carreras scored twice in the triumph.
Grizzlies' righty Mike Ruff lasted two and one-third innings in a no-decision effort. He permitted two earned runs on five hits and one strikeout. Anderson Pilar (6-0) relished the victory after three and two-thirds frames of scoreless ball. Pilar fanned five batters before exiting the game. Robinson Hernandez notched a hold after two dominant innings and Gavin Hollowell secured the win after a strong ninth. Jimmy Kingsbury (1-1) suffered the setback despite four decent frames. The squads will enjoy an off day tomorrow.
Top Performers: Fresno Grizzlies (Colorado Rockies)
• LF Robby Martin (2-4, HR, 3 RBI, R)
• 2B Eddy Diaz (1-4, 3B, RBI, R, BB)
• DH Bryant Quijada (1-1, R, 3 BB)
• Bullpen (6.2 IP, 4 H, 0 R, 0 ER, 2 BB, 7 K)
Top Performers: Modesto Nuts (Seattle Mariners)
• RF Alberto Rodriguez (3-4, HR, 2B, RBI, R, BB)
• CF Corey Rosier (2-5, R)
• 1B Eric Jones (2-4, BB)
On Deck:
Tuesday, August 31 @ Stockton Ports, Fresno RHP Anderson Amarista (5-4, 6.60) vs. Stockton TBA, 7:05 pm PT
ON THAT FRES-NOTE:
Bladimir Restituyo swiped two bases on Sunday, giving him 28 on the season. Restituyo, Zac Veen and Eddy Diaz all rank in the Low-A West Top 10 in stolen bases.