"Marvel's Defenders of the Diamond" - July 23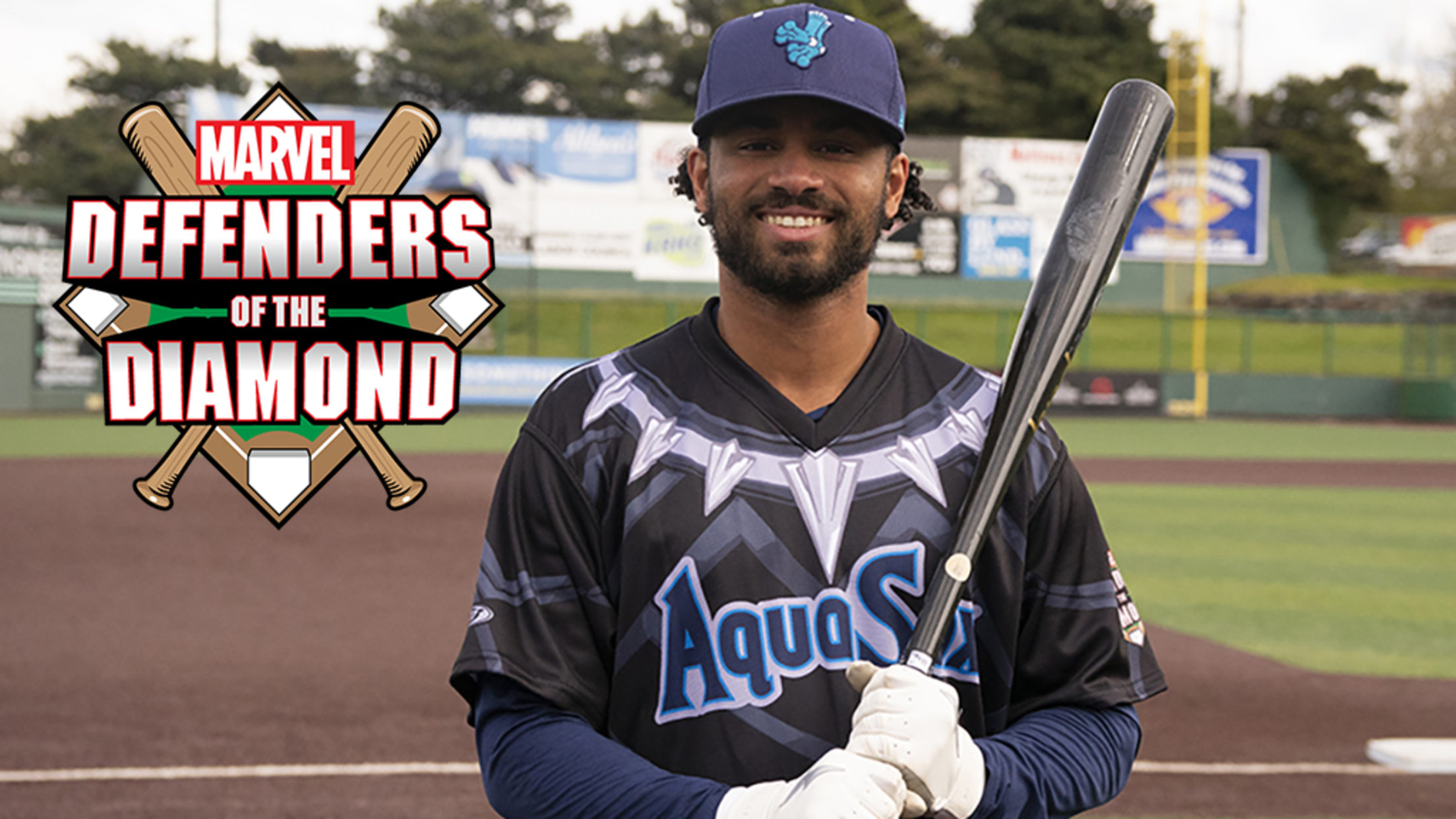 On Saturday, July 23rd, the AquaSox will participate in "Marvel's Defenders of the Diamond" campaign! Back in October, Minor League Baseball announced a three-year partnership with Marvel Entertainment. This allows minor league teams to host a Marvel Super Hero™ themed game as part of the "Marvel's Defenders of the Diamond"
On Saturday, July 23rd, the AquaSox will participate in "Marvel's Defenders of the Diamond" campaign!
Back in October, Minor League Baseball announced a three-year partnership with Marvel Entertainment. This allows minor league teams to host a Marvel Super Hero™ themed game as part of the "Marvel's Defenders of the Diamond" campaign.
The players will take the field that night wearing a limited-edition AquaSox Black Panther jersey. The jerseys will be auctioned off following the game with proceeds benefitting the AquaSox Community Fund brought to you by the Kendall Automotive Group.
We will feature a special appearance by Black Panther and encourage fans to come dressed as their favorite Marvel Super Hero™. But hey, the fun doesn't end there. Fans can aim for big prizes playing our post-game Launch-A-Ball game, and then stick around for another outstanding fireworks show, brought to you by Boeing.
Also on Saturday, fans will have the chance to make a difference in our community. Representatives from Clothes For Kids will be on hand accepting your donations at the main gates. Clothes For Kids provides school clothing to students in need throughout all of Snohomish County, and are especially looking for donations of new and gently-used clothing. Their school clothing starts at size 3T and goes up to plus-size teen. The most-needed items are: Hoodies and sweatshirts, athletic shoes, heavy winter coats, underwear and socks. For more information, please visit www.clothesforkids.org.
If you don't have your tickets for the "Marvel's Defenders of the Diamond" night, now is the time! CLICK HERE to get your Saturday night tickets now!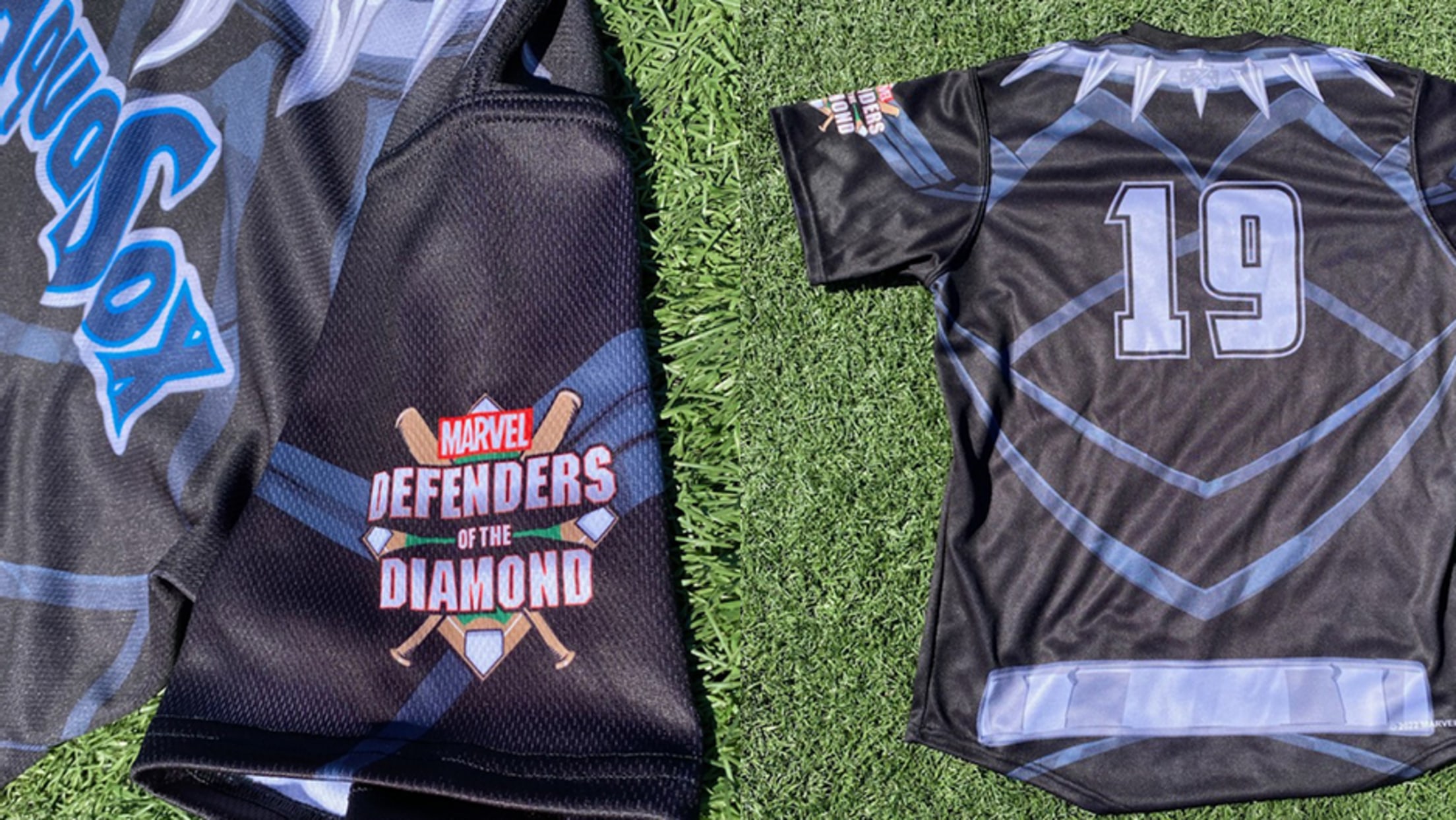 Bidding for these amazing "Marvel's Defenders of the Diamond" jerseys will start at $150.00 with each bid placed in $10.00 increments. Bidding will begin on Thursday at noon and will end at 7:00 p.m. on Sunday, July 24. Jersey's also have a "Buy It Now" price for those who don't want to wait.
Fans can place their bids for a player-worn "Marvel's Defenders of the Diamond" jersey by clicking CLICK HERE. Also, you can bid on jerseys via the AquaSox First Pitch App.
SIZING INFORMATION:
Size 44: # 1 (Gomez), #2 (Labrada), #3 (M. Miller), #4 (Marte), #5 (Farris), #7 (Johnson)
Size 46: #8 (Parker), #9 (Curvelo), #10 (Roberts), #11 (Joyce), #12 (Villarreal), #13 (Lavey), #14 (Barr), #15 (Salvatore), # 16 (Hill), #17 (Campbell), #18 (B. Miller), #19 (Welch), #21 (McLaughlin), #22 (Pall), #23 (Elliott)
Size 48: #25 (Thomas), #27 (McGuigan), #28 (Pierpont), #29 (Berroa), #30 (Tingelstad), #31 (Hunter), #32 (Alford), #33 (Bayless), #36 (Rinehart), #37 (Rodriguez), #38 (Willrodt), #39 (Mercedes), #40 (Flynn)
Size 50: #50 (Umbria)
All sales are final. Following the game, the jerseys will be cleaned and autographed. Winners will be contacted with delivery details.
Fans may visit HERE for the latest updates on the "Marvel's Defenders of the Diamond" series.
We will also have a limited number of jersey's available in our Frog Shop.