Ports' Milburn mows 'em down in one-hitter
Athletics right-hander allows just a double over nine innings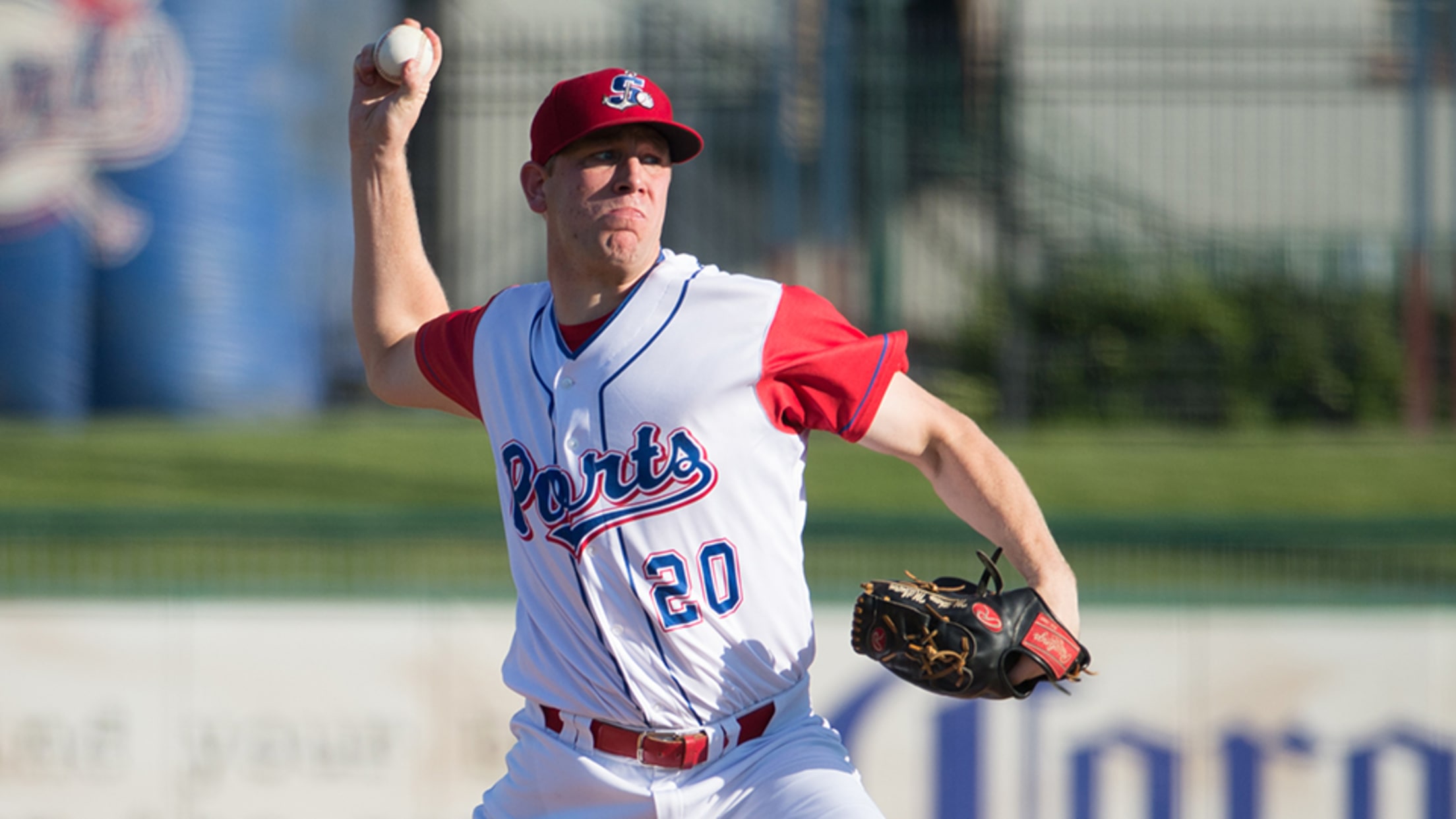 Matt Milburn has walked just 16 batters in 136 innings in the California League this season. (Meghan Camino)
In spring 2016, Matt Milburn expected to be pursuing his master's degree. On Thursday, he ended up with a Maddux.The right-handed Oakland prospect did not allow a runner until Beau Branton doubled with two outs in the sixth inning and was perfect the rest of the way as Class A
In spring 2016, Matt Milburn expected to be pursuing his master's degree. On Thursday, he ended up with a Maddux.
The right-handed Oakland prospect did not allow a runner until Beau Branton doubled with two outs in the sixth inning and was perfect the rest of the way as Class A Advanced Stockton blanked Modesto, 2-0, at Banner Island Ballpark.
Gameday box score
Milburn needed just 96 pitches for his complete-game shutout. Such outings in which a pitcher hurls less than 100 pitches are referred to as a "Maddux," an homage to the pitch-efficient Hall of Fame right-hander from the Braves and Cubs.
The 29th-round pick in 2016 remembered pitching a better game only once in his life.
"In high school, I did pitch a perfect game," Milburn said. "I was just trying to fill [up the strike zone] the first couple of times through the lineup. In the fifth, I realized I was doing a good job, and me and [catcher Santiago Chávez], we were on the same page all day."
The Wofford College alum is not known to be overpowering but has outstanding command, averaging about 1.5 walks per nine innings. He throws a sinking fastball that ranges 88 to 91 mph as well as a cutter in the mid-to-upper 80s.
Milburn (8-5) acknowledged that with a fastball that has less heat than most, you need to be more assertive on the mound.
"You definitely have to be in attack mode," he said. "I want to throw as many innings as possible, and when you throw strikes, that normally leads to good things."
He also throws a slider and has been emphasizing his changeup more at the behest of the organization.
"Gil Patterson, our pitching coordinator, told me I need to throw a changeup in order to be a starting pitcher," Milburn said. "It's definitely worked out this year, and I was toying around with a cutter, and that worked out especially with all the lefties in the lineup tonight."
Milburn set down 17 in a row until Branton's double to center field on the first pitch of the at-bat.
That was a mere bump in the road as the Dallas native got Kevin Santa to fly out to end the sixth, and then retired the final nine, five on ground balls. He threw 67 of 96 pitches for strikes.
Stockton got all the support Milburn needed in the third against Darren McCaughan (6-10) on a two-RBI double by Sandber Pimentel
That was enough to boost the 25-year-old, who has walked only 16 batters in 136 innings. With his 3.51 ERA and winning record, his Draft status is has been long forgotten.
"Absolutely, you have to believe that you have to belong," he said. "I'm just trying to go out there, day by day. That's how you've got to take this job, once you're in in that world. It's competitive."
So is academia. Following the senior season at Wofford in which he went 6-5 with a 4.47 ERA, Milburn prepared to pursue his master's degree at Wake Forest University in North Carolina. He wasn't sure pro ball was an option, but the A's selected him with the 862nd overall pick and he decided his academic career could wait.
"Funny thing, I'm still doing that [pursuing the degree]," Milburn said. "In fact, I just registered for classes last week."
Vince Lara-Cinisomo is a contributor to MiLB.com. Follow him on Twitter @vincelara.