Olson, Puk on the rise for Oakland
Power lefties -- at the plate, on the mound -- provide hope for A's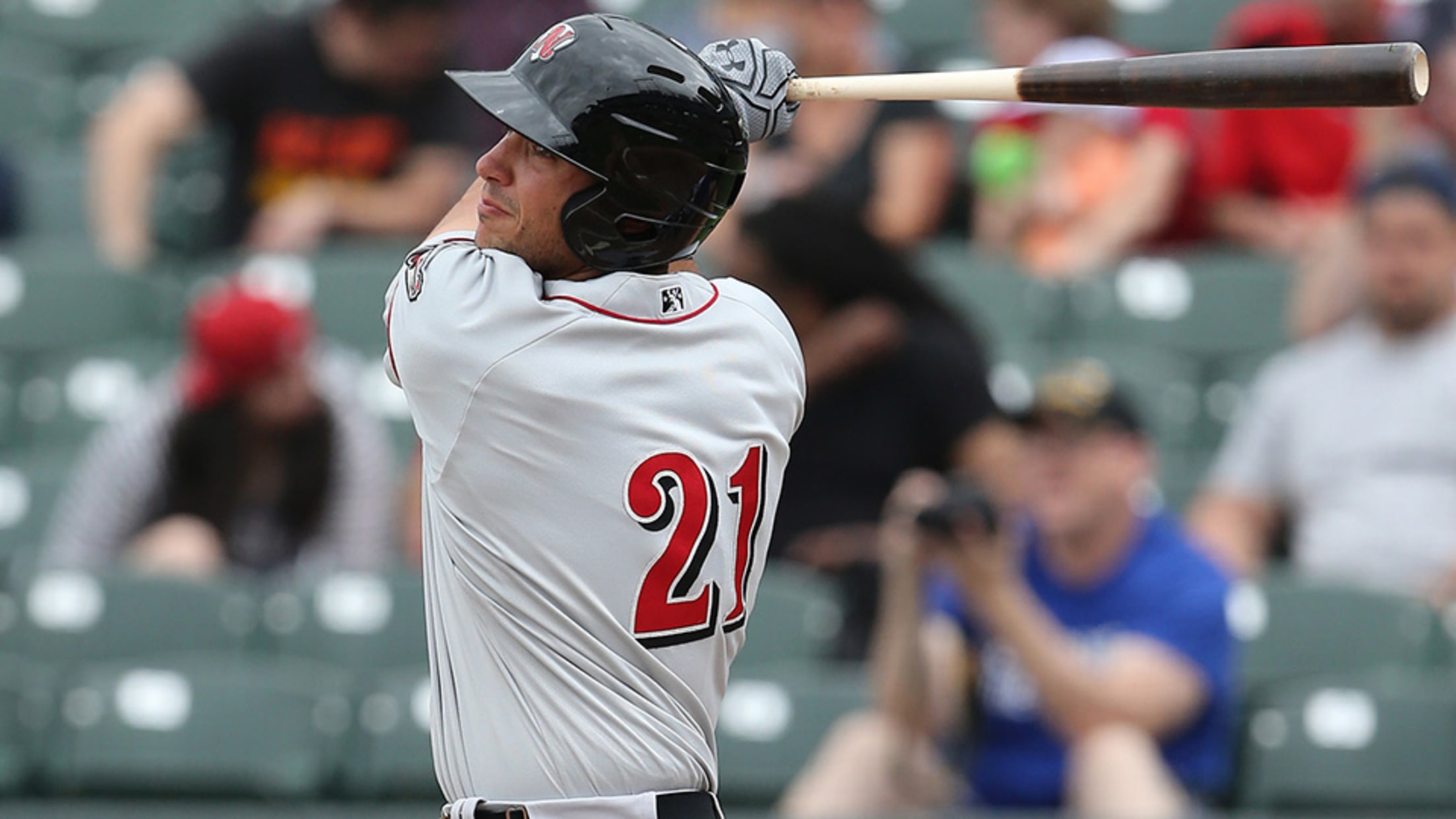 Matt Olson clubbed 23 homers for Triple-A Nashville before blasting 24 in 59 games with Oakland. (Jamie Harms/MiLB.com)
This offseason, MiLB.com is taking a look at the most outstanding campaigns by players in each system across Minor League Baseball and honoring the players -- regardless of age or prospect status -- who had the best seasons in their organization.Oakland improved its record for the second straight season, winning
This offseason, MiLB.com is taking a look at the most outstanding campaigns by players in each system across Minor League Baseball and honoring the players -- regardless of age or prospect status -- who had the best seasons in their organization.
Oakland improved its record for the second straight season, winning 75 games after going 69-93 in 2016. The A's made a couple big deadline moves, trading Sonny Gray to the Yankees for several prospects to bolster their farm system after shipping Sean Doolittle and Ryan Madson to the Nationals.
Athletics affiliates finished right at .500, going 379-379. Double-A Midland won its fourth straight Texas League title, despite a 67-71 regular-season record, while Class A Short Season Vermont lost to Hudson Valley in the New York-Penn League Finals. Class A Advanced Stockton was the lone full-season affiliate to finish over .500, although the Ports were swept by Modesto in the first round of the California League playoffs.
A's Organization All-Stars
Catcher -- Beau Taylor, Midland (21 games), Nashville (41 games):
After a down 2015 season, Taylor produced a .280/.383/.398 batting line with Midland in 2016 and boosted that to .309/.385/.485 in 21 games with the RockHounds before getting promoted to Triple-A Nashville. He continued to produce in 41 games with the Sounds, hitting .289/.374/.394 with three homers and 17 RBIs, and the 27-year-old should be knocking on the door to the Majors with continued improvement.
"I think Beau showed that he's ready with the bat this year," RockHounds manager Fran Riordan said. "He hit at the Double-A level and the Triple-A level, put together a really solid offensive season to go with good catching ability and put himself on the map within the organization. It was a big year for Beau."
Honorable mention -- Sean Murphy:
Murphy started the season by hitting .297/.343/.527 with nine homers and 26 RBIs in 45 games with Stockton. He struggled in 53 games after a promotion to Midland with a .209/.288/.309 slash line and four homers, but there's a lot to like about the 2016 third-round pick's future -- for starters, he threw out 15 of 46 runners, second-best in the organization.
"He looks the part of how do you draw up a catcher," Ports manager Rick Magnante said. "He's physical, athletic and agile enough to be an above-average receiver, his arm grades out seven-plus and for the most part it's going to play adequately. Serviceable bat with a chance at average power at the big league level. Great mind and makeup, tremendous character and all the intangibles are plus. He's a big leaguer -- if he hits, he plays every day; if he doesn't, he still has a career."
First baseman -- Matt Olson, Nashville (79 games), Oakland (59 games):
Everybody knows how good Olson was after the A's called him up for good on Aug. 8 -- his 20 homers the rest of the season ranked third in the Majors behind only
J.D. Martinez
and
Giancarlo Stanton
. That performance over 41 games did enough to prove his .272/.367/.568 batting line in 79 games with Nashville Sounds -- which included 23 homers and 60 RBIs -- was simply a building block for the 23-year-old rather than a Pacific Coast League special.
Second baseman -- Max Schrock, Midland (106 games): A .324 career hitter in the Minors, Schrock was one of the easiest choices on this list. He batted .321/.379/.422 in 106 games with the RockHounds, building off a similarly impressive .331/.373/449 lines across four levels in 2016. The 23-year-old has always been a difficult out -- he finished fourth in the Texas League in batting, third in on-base percentage and struck out 42 times -- but he also led all qualifiers with a .986 fielding percentage.
"Max was one of our most consistent players throughout the year," Riordan said. "He just hit from the time he got to Spring Training until the season ended. His hit tool obviously stands out, but what was just as impressive to me was the way he played second base, working before games to make himself a plus defender, and he showed out in the plays he was able to make and the balls he was able to get to. He really became a strong defender."
Third baseman -- Matt Chapman, Stockton (two games), Nashville (49 games), Oakland (84 games): Like Olson, Chapman posted an OPS over .900 in the Minors before making an impression down the stretch for the big league club with both his bat and his elite glove work. He packed a ton of production into 51 games on the farm, slugging .566 with 16 homers and 30 RBIs, before getting called up on June 15. Both he and Olson seem unlikely to return to the Minors anytime soon.
Honorable mention -- Sheldon Neuse: Acquired in a Trade Deadline deal with the Nationals, Neuse impressed in 40 games for Class A Advanced Stockton and Midland, hitting .380/.444/.567 with seven homers, 28 RBIs and 30 runs scored. His .979 fielding percentage ranked second among 18 A's Minor Leaguers with at least 48 total chances.
Shortstop -- Franklin Barreto, Nashville (111 games), Oakland (25 games): Considered Oakland's top prosect for the past few seasons, Barreto proved himself at the Triple-A level in 2017, batting .290/339/.456 with 15 homers, 54 RBIs and 15 stolen bases in 111 games. His Major League stint didn't go as well -- he hit .197/.250/.352 in 25 games -- and his defense needs work after committing a PCL-high 18 errors, but Barreto should get another shot at the Majors in 2018.
Outfielders -- Renato Núñez, Nashville (126 games), Oakland (eight games): A poor 2016 season caused Nunez to tumble down the prospect rankings, but a bounceback effort in 2017 boosted the 23-year-old's stock. His 32 homers tied for second in the Minor Leagues as he played more games in the outfield (48) than third base (44) for the first time in his career. And that's likely where his future with the A's lies, with Chapman and his high-level defensive ability projected to hold down the hot corner.
Brett Siddall, Stockton (117 games): A 2015 13th-round pick, Siddall jumped from Class A Beloit to Stockton, despite a mediocre 2016 season. His 2017 was anything but, as he batted .300/.365/.495 with 21 homers and 68 RBIs. And most of that production -- 14 homers, 50 RBIs -- came after the All-Star break, when he put up a .324/.390/.542 slash line.
"From a production standpoint, he had a very good second half, and it was like a tale of two seasons," Magnante said. "We had an abundance of outfielders when the season began, more than there were games for, and he got off to a slow start and so his opportunities weren't as great as they were in the second half when we had some player movement. How he accepted his lack of playing time and what he did every day to get better and improve was very impressive. Once he was able to hone in on pitches ahead or even in the count that he could drive, he showed some production. He worked hard on his defense and really had a very good season for us."
Seth Brown, Stockton (135 games): After a turbulent college journey that included a scholarship to Oregon State, where he never played a game, leaving baseball to work and returning to play at Lewis-Clark State, Brown was older than most California League prospects. That doesn't diminish an impressive campaign that saw the 2015 19th-round pick blast a league-leading 30 homers and plate a club-record 109 runs after hitting eight long balls and driving in 53 in the same circuit in 2016. He also improved his fielding percentage 31 points to .975 while trimming his errors from 11 to six.
"He got exploited [in 2016] and he came back this year with a purpose in mind, ready to accept the challenge and prove to people he was the player we saw his first year. And he more than did that," Magnante said. "If you consider a guy to have carried the club in the second half, it was Seth. He showed some versatility as well, which will enhance his opportunities going forward -- he played some first and, in a pinch, you can put him in center. But if it's makeup that's going to be the difference, then I give him the edge. I kind of think of him like Brandon Moss. Dead pull, can drive a baseball. If he stays selective like in the second half and really manages the strike zone, he'll cherry pick balls to hit."
Designated hitter -- Jermaine Curtis, Midland (56 games), Nashville (22 games): A 2008 fifth-round pick of the Cardinals, Curtis played in the Reds organization in 2015 and 2016 before signing with Oakland. He posted a .412 on-base percentage over 78 games for Midland and Nashville and hit .310 with 28 RBIs and 28 runs scored in 56 contests with the RockHounds.
"Jermaine obviously brings a lot of experience to the table. When he joined our Midland roster around midseason, he brought energy and was consistent the entire year as far a giving quality at-bats and doing a great job of getting on base and setting the table, especially down the stretch when we made our run," Riordan said. "Whenever we seemed to do something good offensively, he was in the middle of it. He always seemed to be there for us and his presence was a huge boost to our lineup."
Right-handed starting pitcher -- Heath Fillmyer, Midland (29 starts): Fillmyer led all A's Minor Leaguers with 149 2/3 innings pitched and tied for the lead with teammate Grant Holmes with 11 wins. The 23-year-old displayed solid control with 51 walks while striking out 115 strikeouts and improving his strikeout-to-walk ratio from 42-to-29 in 65 first-half innings to 73-to-22 over 84 2/3 frames in the second half.
"Heath was a workhorse for us this year. He didn't miss a start and did a great job with pitch development, especially his changeup, which became more of a weapon as the year went on," Riordan said. "He also did a better job pitching in the K zone and commanding the bottom of the K zone, and you see the results. Ground-ball rate and just his ability to go deep in to ballgames, we always knew we'd have a chance to win when he pitched."
Left-handed starting pitcher -- A.J. Puk, Stockton (14 games, 11 starts), Midland (13 starts): The sixth overall pick in the 2016 Draft has been as advertised, finishing third in the Minors with 184 strikeouts while walking 48 and posting a 4.03 ERA between Stockton and Midland. His strikeout rate dipped when he reached the Texas League, where opponents hit .256 against him after batting .196 in the Cal League, but the 6-foot-7 southpaw continued to hold his own on the mound.
"You can start with the prototype and profile and he fits all that as a big, physical lefty, a hard thrower with movement, three-pitch off-speed arsenal with a curve, change and slider all graded out above average," Magnante said. "Now it becomes touch, feel, command and experience. He either pitches in the rotation, a la Randy Johnson -- and I would say he's ahead of Johnson at this point; Johnson was wild, Puk is not. He has to be able to command better, but he's ahead of schedule in command -- or his stuff translates to the bullpen, where he's like Andrew Miller. Very good prospect who I enjoyed managing, a serious-minded kid on the mound. He competes and gets after it."
Honorable mention -- Dalton Sawyer: Sawyer was effective in 25 appearances, including 19 starts, for Beloit and Stockton and went 9-9 with a 3.58 ERA and 140-to-47 strikeout-to-walk ratio. The 23-year-old wasn't quite as a dominant as Puk but was effective outside of getting roughed up for 11 runs over 8 2/3 innings in two appearances with Nashville.


Relief pitcher -- Lou Trivino, Midland (23 games), Nashville (25 games): Outside of record and ERA, Trivino's numbers at Midland and Nashville were eerily similar. He struck out 34 and walked 10 over 33 1/3 innings with a 1.23 WHIP and .246 opponents' average before moving up to Triple-A, where he had 31 strikeouts, 11 walks, a 1.26 WHIP and .244 opponents' average in 35 innings. He also converted all four of his save opportunities with the Sounds.
"Lou is a big arm in the back end of the bullpen," Riordan said. "He's a guy who's still trying to learn to use his arsenal and max out his potential. You start with his fastball in the upper 90s, a plus breaking ball and plus changeup when everything is on. He just seemed to get better and better as the season went on, and he finished strong once he got to Triple-A. You're talking about a guy who can make a big impact on the Major League club in the near future."