Matuella dominates in longest pro outing
Rangers righty allows two hits over 5 2/3 innings for Crawdads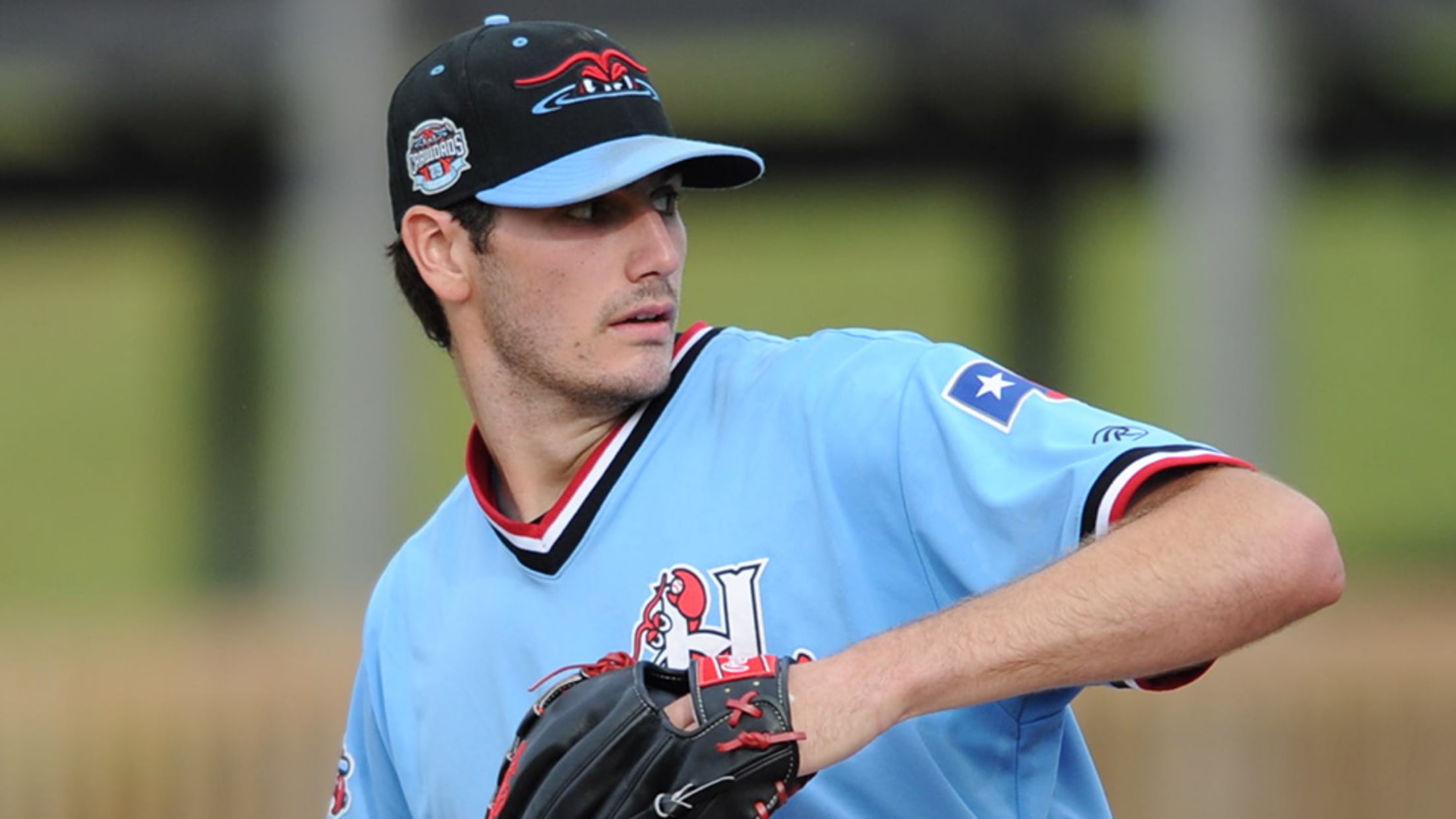 Michael Matuella underwent Tommy John surgery a couple months before the 2015 Draft. (Tracy Proffitt/Hickory Crawdads)
After Tommy John surgery two years ago and a setback last summer, Michael Matuella didn't doubt he would still be able to return to form.Texas' No. 21 prospect showed evidence of that again Friday. Matuella allowed two hits and a walk while striking out four over 5 2/3 innings in
After Tommy John surgery two years ago and a setback last summer, Michael Matuella didn't doubt he would still be able to return to form.
Texas' No. 21 prospect showed evidence of that again Friday. Matuella allowed two hits and a walk while striking out four over 5 2/3 innings in Class A Hickory's 14-0 rout of Lakewood at First Energy Park. It was the longest start of his 16 appearances as a professional.
"I haven't had any issues since coming back this year," the 2015 third-round pick said. "It's nice to know that I'm completely healed. The treatment and rehab did the trick. There was definitely a little bit of a mental hurdle early on."
Matuella (2-5) hit his predetermined pitch limit exactly with 85 pitches, 53 of them for strikes.
Gameday box score
"My pitching coach (Jose Jaimes) told me (Thursday), I got cleared to stretch it out a little bit more and that felt good," he said. "It was definitely one of the better ones. That's the most pitches I had thrown since my junior year (at Duke).
"It was nice to get extended out. It has been frustrating to not go out there (for longer) and not being able help save the bullpen."
Matuella underwent Tommy John surgery on April 1, 2015, a couple of months before the First-Year Player Draft. So his first professional appearance had to wait for a one-game trial for Class A Short Season Spokane in 2016. The 6-foot-6 right-hander allowed a hit and two walks, hitting a batter and fanning one over three innings in his debut.
His early stint was cut short due to lingering ligament issues, so Matuella had to wait until this season to get going at full throttle.
"After surgery, you just never know until you're in a game setting," he said. "It has been great all season long. Now it's just a matter of me getting more consistent pitch to pitch. I definitely feel I'm getting there. Everything with my timing is getting there."
The 23-year-old was restricted to about 60 pitches during a one-run, four-inning outing on June 18 that proved to be a real confidence booster, also against Lakewood. From there, Matuella knew he could get healthy and into the kind of groove he envisioned.
"I really didn't doubt it at all," he said. "It was more frustration after all the hard work I put in. I knew if I took care of business and followed the plan that everything would be fine."
Matuella has posted victories in two of his last three starts. In his latest one, he wound up going to the bullpen to keep his arm loose during Hickory's eight-run second inning. During that frame, Alex Kowalczyk bashed a grand slam and 2017 ninth-rounder Tanner Gardner teed off on his first professional homer.
• Get tickets to a Crawdads game»
"Any time the offense puts up eight runs, it's good to go out there and pitch with the lead and just attack the zone," he said.
Jairo Beras and Reiver Sanmartin completed the three-hitter for the Crawdads, who won for the fifth time in their last six games.
Bob Sutton is a contributor to MLB.com.