McMahon, Gant awarded for weekly play
'Topes' IF paces MiLB in several categories; Redbirds' RHP throws gem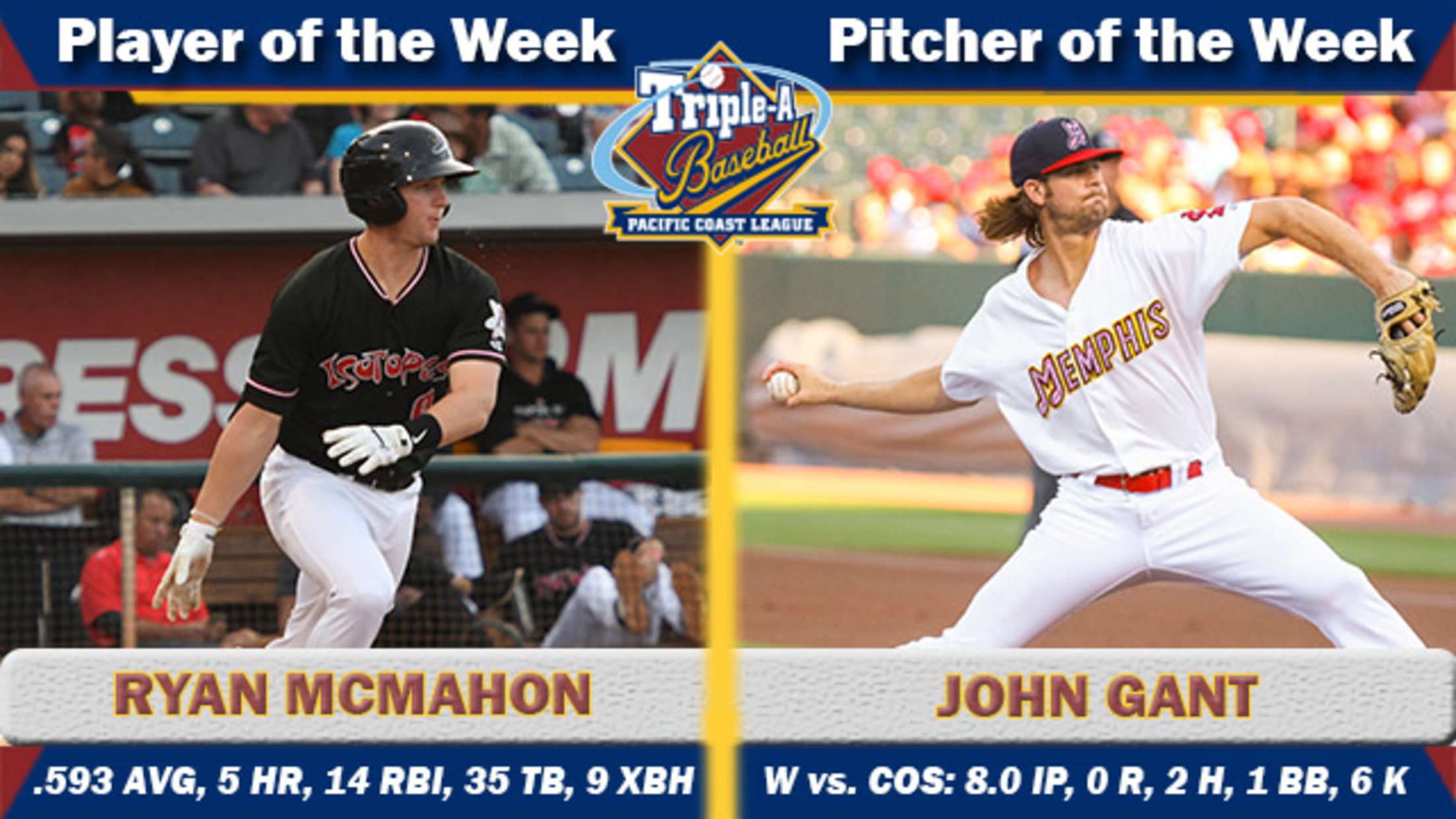 Photo credits: Tim March/Albuquerque Isotopes (left), Memphis Redbirds (right)
ROUND ROCK, Texas - The Pacific Coast League announced Monday that Albuquerque Isotopes' infielder RyanMcMahon and Memphis Redbirds' right-hander John Gant have been named the Player and Pitcher of the Week for the period of June 12-18. 
ROUND ROCK, Texas - The Pacific Coast League announced Monday that Albuquerque Isotopes' infielder RyanMcMahon and Memphis Redbirds' right-hander John Gant have been named the Player and Pitcher of the Week for the period of June 12-18.
McMahon, playing in his first month of Triple-A games, hit for average (.593) and power (1.296 slugging) over six games during the week. He posted the most hits (16) and total bases (35) while recording the highest slugging percentage and OPS (1.883) among affiliated professional players. He also hit five home runs, drove in 14 and tallied nine extra-base hits, each of those totals matching the top in the Minors.
The 22-year-old collected one or more hit in every contest, including a stretch of four consecutive multi-hit games. The start of that streak, June 14 against Fresno, he hit his first career Triple-A homer in a win. The fifth-year professional followed that up with his fifth career two-homer game, reaching base five times (four hits, one walk) and driving in four, in another win against the Grizzlies. McMahon managed to top both performances the next night with a five-hit, two-homer, seven-RBI effort; each of those totals matched the PCL's single-game season-high. He finished the string with three hits and two RBI in a series-opening win at Sacramento on June 17.
The California native has played in only 16 career games at Minor League Baseball's highest level after a promotion from Double-A Hartford on June 1. With the Isotopes, he has hit .448 (30-for-67) with a 1.286 OPS. McMahon entered the year as Colorado's No. 9 prospect, according to Baseball America, after getting selected by the Rockies in the second round of the 2013 First-Year Player Draft. He was named a mid- and postseason All-Star in each of 2014 and 2015 with Asheville and Modesto, respectively. This is his fourth career time he's been a Player of the Week, including his second this year (Eastern League, Hartford, 4/17-23).
In his lone outing of the week, Gant delivered only the PCL's fifth start this year of eight shutout innings. Against division-leading Colorado Springs on June 16, he retired 24-of-27 hitters, including setting down 13 in a row at one point. The only three baserunners he allowed came via two singles and a walk. Gant also had six strikeouts. The 24-year-old helped with his bat, too, driving in the game's only run with a second inning RBI single.
Gant is in his first year in the Cardinals organization after being acquired in a trade from Atlanta in December 2016. He has a 2.13 ERA (25.1 IP, 6 ER) in five starts with the Redbirds. The Georgia native was selected by the Mets in the 21st round of the 2011 First-Year Player Draft. He came up through their system before going to Atlanta in a four-player swap in July 2014. He made his MLB debut with Atlanta last year, going 1-4 with a 4.86 ERA (50.0 IP, 27 ER) in 20 appearances (seven starts). Gant's only other MLB experience came in a one-game stint with St. Louis this year. This is his fifth career Pitcher of the Week, having previously been named once in 2013 (Short-Season Brooklyn), twice in 2014 (Single-A Savannah) and once in 2015 (Single-A St. Lucie).