Herget, Wong highlight national title rematch
Redbirds look for revenge against Bulls in Triple-A championship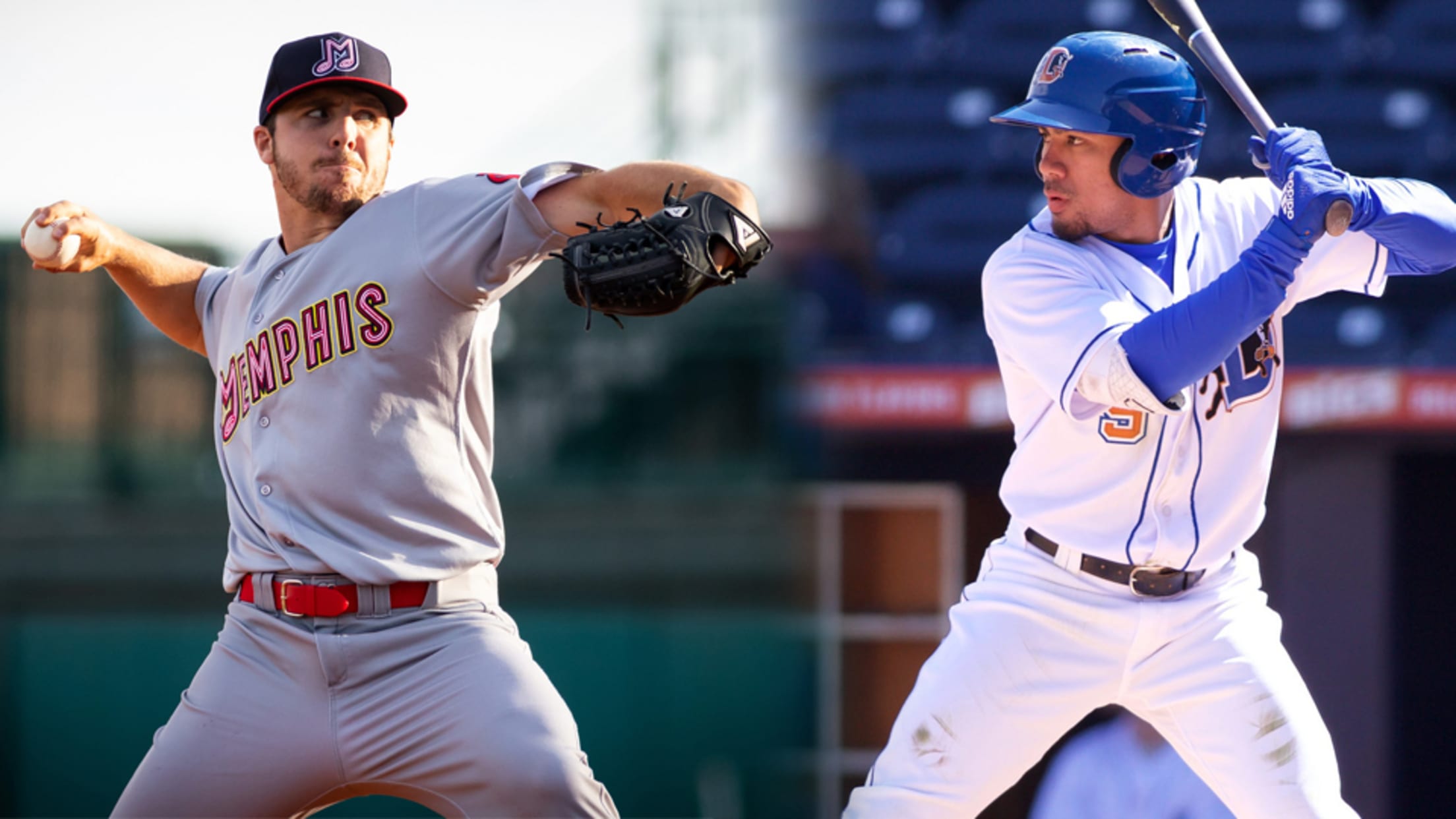 Memphis' Kevin Herget and Durham's Kean Wong are title game returnees. (Bobby Stevens/MiLB.com; Chris Robertson/KZONEimages)
COLUMBUS, Ohio -- Kevin Herget really wanted to pitch in last year's Triple-A title matchup, but the days didn't quite line up."I wasn't really available to throw," the Cardinals right-hander said. "I asked to throw, but they appeased me, threw me in the bullpen, but didn't throw me in the
COLUMBUS, Ohio -- Kevin Herget really wanted to pitch in last year's Triple-A title matchup, but the days didn't quite line up.
"I wasn't really available to throw," the Cardinals right-hander said. "I asked to throw, but they appeased me, threw me in the bullpen, but didn't throw me in the game."
Now Herget and the rest of his Redbirds squad have another opportunity. For the second straight year, Memphis and Durham will face off in the Triple-A National Championship Game. And this time, Herget gets the ball as his team looks to avenge last year's Bulls victory. First pitch is set for 7 p.m. ET on Tuesday in Columbus, Ohio, and will be broadcast on NBC Sports Network.
"It's exciting to come back and get our chance at a little redemption from the same team too, which is unique," Herget said. "It's been a fun ride, both years."
The 27-year-old posted 121 strikeouts to lead the Redbirds staff, which paced the hitter-friendly Pacific Coast League with a 3.54 ERA and a 1.23 WHIP while going 6-2 in the postseason en route to the crown.
One of the biggest obstacles for Herget and the Memphis staff will be Kean Wong, who racked up some hardware over the past year. The Rays infield prospect went 3-for-4 with a grand slam and a double to earn MVP honors at the 2017 title game. Then, in his first taste of Huntington Park, Wong went 3-for-4 with a pair of doubles in the Triple-A All-Star Game on July 11 en route to being named the International League's BUSH'S® All-Star MVP.
"It's a blessing to be able to get to this point two years in a row. It's a blessing, and hopefully, [we'll have] the same results," said the brother of the Cardinals' Kolten Wong. "I'm just trying to help the team win. I love winning. I'd rather go 0-or-4 and win than win the MVP and lose. I'm just going out there and trying to help the team win."
Wong is one of just two players from last year's Durham squad to return to the winner-take-all contest. The other is righty Chih-Wei Hu, who is expected to start. Many 2017 Bulls, like Jake Bauers and Willy Adames, are with Tampa Bay. Top prospectBrent Honeywell Jr. -- who worked in relief in last year's title bout -- underwent Tommy John surgery in February and won't return until next season. The Bulls also sent a couple of coaches and a trainer to the Rays.
Through the changes, Durham batters led the International League with 653 runs and a .419 slugging percentage, while the hurlers topped the circuit with a 1.23 WHIP and 1,267 strikeouts. The Bulls clinched their sixth Governors' Cup, going 6-3 in the playoffs.
"So with that turnover, it made it pretty difficult to manage through the season and get to this point. I know there's a lot of pressure on some of these [new] guys to try to repeat it," Durham manager Jared Sandberg said. "But it's about the people that are involved in this whole situation and have made this situation that much more rewarding and a little bit easier. There were no distractions. Everybody was just focused on baseball."
• Complete postseason coverage »
Sandberg's Memphis counterpart, Stubby Clapp, is a familiar foe. The event marks the third time the pair matches up in a championship game, with the first coming in the 2012 New York-Penn League Finals. Sandberg's teams have taken the first two meetings.
"It's fun to play against Jared," Clapp said. "You always know he's going to have a good team, so it's a lot of fun to think about that."
While the Redbirds have a handful of returning players, the skipper said the team's dynamic has shifted, especially with the promotions of sluggers Tyler O'Neill and Patrick Wisdom. Memphis fell to the middle of the pack for most offensive categories as the club became less specialized and more well-rounded.
"We've got more speed this year, maybe a little less pop in the lineup," Clapp said. "So they've got to play a full game of baseball and they do that well, so it's a lot of fun to watch. They hit, they run, they play defense and they pitch. It's fun to watch them play solid baseball."
Herget said one thing that hasn't changed is the winning mentality, with a championship remaining the team's goal. He shared his 2017 experience with many of the newer players, telling them to enjoy the unique contest while giving it all they have, since it's the final game of the Minor League season.
Although Alex Mejia was teammates with Herget most of last year, he was called up to St. Louis before the 2017 playoffs. The first baseman acknowledges being in the Majors is their main goal, but he's also enjoying being a part of this Triple-A championship run with his teammates.
"I think it's going to be a hard-fought game," Mejia said. "Obviously, that other team on the other side over there is good enough to reach this point, just as we are, and it's going to be a lot of fun."
Kelsie Heneghan is a contributor to MiLB.com. Follow her on Twitter @Kelsie_Heneghan.