Redbirds' Gant tosses eight shutout innings
Cardinals right hander allows two hits, drives in game's only run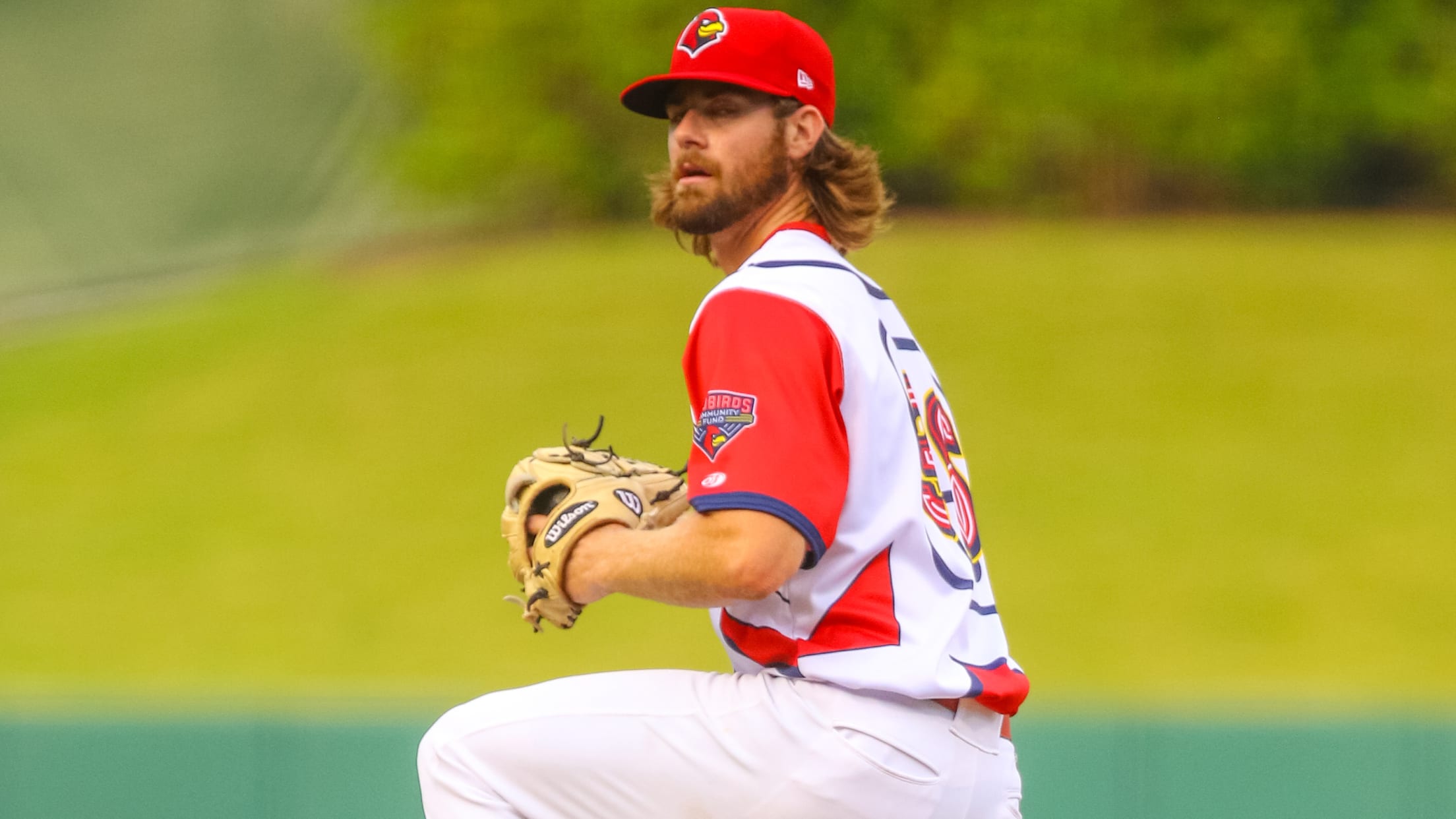 John Gant was acquired by the Cardinals in the trade that sent Jaime Garcia to the Braves in December. (Roger Cotton/Memphis Redbirds)
Although he was clamoring to get back on the mound after spending a month and a half of his first season in the Cardinals organization on the disabled list, John Gant is seeing the benefits of his extra time in Florida."I might have stayed down there longer than I wanted
Although he was clamoring to get back on the mound after spending a month and a half of his first season in the Cardinals organization on the disabled list, John Gant is seeing the benefits of his extra time in Florida.
"I might have stayed down there longer than I wanted to, but sometimes that time is necessary to get back on track, and I'm feeling better now," the 24-year-old said. "I was kind of just locating my pitches. I think that was the most important thing, just throwing quality strikes."
Gameday box score
Gant allowed two hits and a walk over eight scoreless innings and drove in game's the only run as Triple-A Memphis blanked Colorado Springs, 1-0, at AutoZone Park. The-right hander fanned six, recorded 11 outs in the air and threw 64 of 90 pitches for strikes.
"Everybody told me, 'Good job' or whatever, but I definitely wouldn't go as far as to say I did it all myself by any means," Gant said. "There was a lot of balls put in play tonight that outfielders tracked down and the infielders made all the plays and Carson Kelly, the catcher, he made all the calls. So it was a great team effort."
A 2011 21st-round pick by the Mets, Gant made his way to the Cardinals system as part of the trade that sent left-hander Jaime García to the Braves in December. A right groin strain sustained in Spring Training stalled his debut with his new organization until a 3 1/3-inning start against Albuquerque on May 17.
He's made three starts since but had not gone deeper than five innings. Gant made one relief appearance for the big club on June 6 and allowed two solo homers over 3 1/3 innings of relief before returning to Memphis.
The Georgia native cleared a small hurdle after his evening began with an almost 30-minute rain delay and an eight-pitch walk to Sky Sox leadoff man Kyle Wren. After the free pass, Gant settled in and retired 13 consecutive batters before Iván De Jesús Jr. reached on a bunt single with one out in the fifth.
"He's out there competing and trying to get on base and I'm competing, too," Gant said of De Jesus. "Everybody's competing out there, so it's no big thing."
In his seventh Minor League season, Gant is a .182 hitter. On Friday night, he provided the only offense when he took a hack at the first pitch from Sky Sox starter Angel Ventura and bounced a single up the middle to score Kelly, his batterymate and the Cardinals' second-ranked prospect, from second.
"I didn't know at that time that it was going to be like that, but it ended up helping out tremendously," Gant said. "I was just going up, trying to make good contact, and that's just how it turned out."
On the mound, he allowed just one more baserunner -- Brewers No. 10 prospectBrett Phillips singled in the seventh -- before striking out the side in the eighth.
"It felt great to go deeper into the game," Gant said. "I was getting a little juiced up right there in the eighth inning. It was fun to compete within a game like that."
Gant gave way to Josh Lucas, who worked around a leadoff walk in the ninth and recorded his third save.
Gerard Gilberto is a contributor to MiLB.com. Follow and interact with him on Twitter, @GerardGilberto4.