Redbirds roll to second straight PCL title
Co-MVP Arozarena homers twice, plates five in Memphis repeat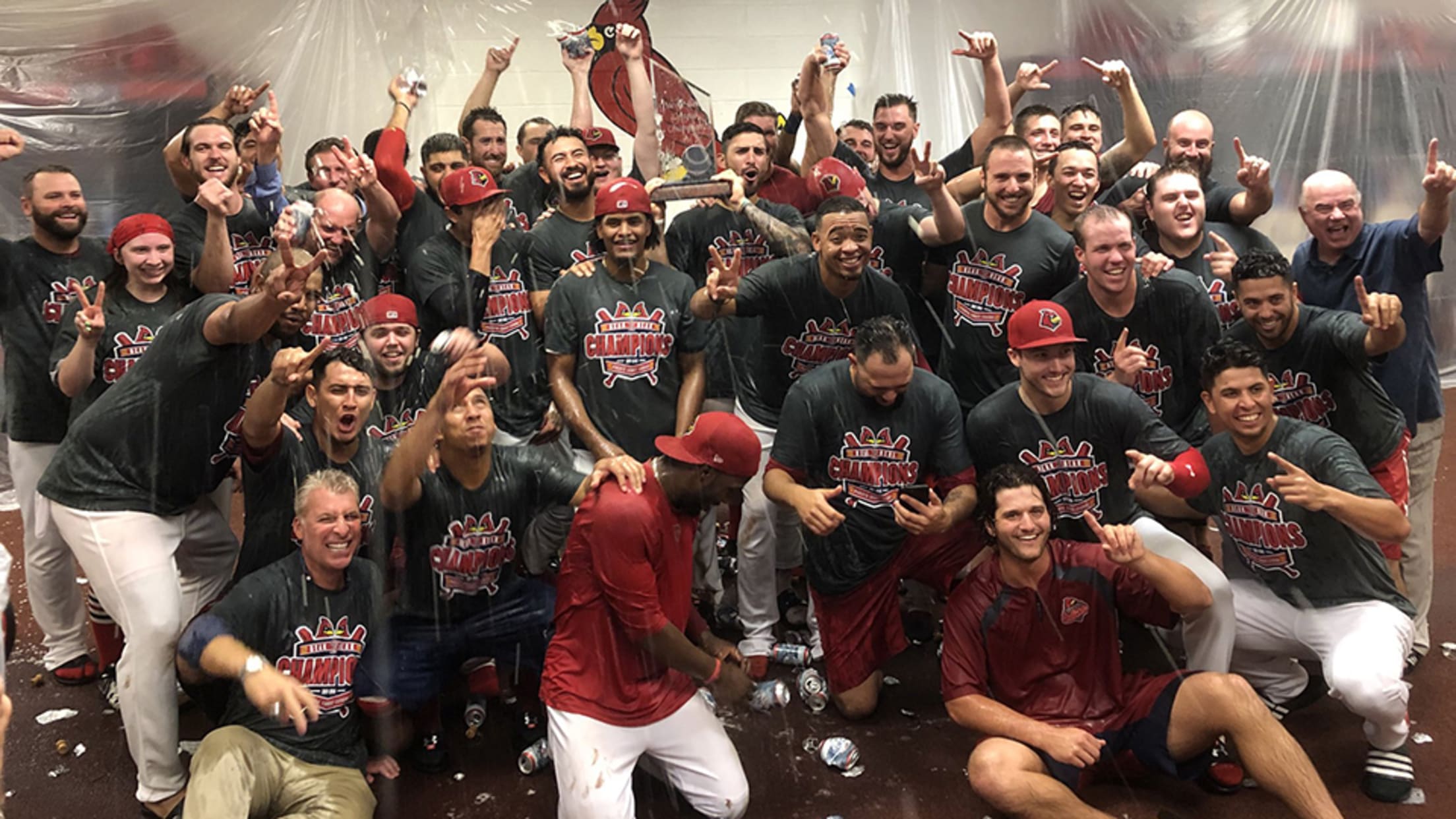 Memphis won its second straight PCL championship and the fourth in franchise history. (Memphis Redbirds)
For the Memphis Redbirds, it's "déjà vu all over again" -- in more ways than one.Cardinals No. 6 prospectRandy Arozarena homered twice and drove in all five runs and 18th-ranked Jake Woodford allowed three hits over 7 1/3 innings as Memphis beat Fresno, 5-0, on Saturday at AutoZone Park to
For the Memphis Redbirds, it's "déjà vu all over again" -- in more ways than one.
Cardinals No. 6 prospectRandy Arozarena homered twice and drove in all five runs and 18th-ranked Jake Woodford allowed three hits over 7 1/3 innings as Memphis beat Fresno, 5-0, on Saturday at AutoZone Park to win its second straight Pacific Coast League championship.
It's more of the same, sort of, for Memphis manager Stubby Clapp.
"Two totally different dynamics as far as last year's club and this year's goes," the 45-year-old said. "But on the same token, I've had two blessed years as far as staff and personnel go. Two totally different dynamics for team, but two blessed years as far as staff. I'm so proud of the guys. I told them to enjoy this championship because this is the one that we grinded for since the start of Spring Training."
After Woodford (1-0) pitched a scoreless first, Rangel Ravelo and Game 3 heroAlex Mejia reached on one-out singles in the bottom half. Arozarena followed with a three-run blast to left field for his first homer since Aug. 24 and his second dating to July 29. The 23-year-old added a two-run blast in the eighth for his second career multi-homer game. He went deep twice for Double-A Springfield on July 18 and slugged a personal-best 12 in 113 games across two levels in 2018.
Gameday box score
"I wouldn't say [the home run] was a big sigh of relief, but it did let us drop our shoulders a bit," Clapp said. "Fresno's lineup can be devastating if you don't pitch well, so we knew getting ahead early was big. But it was nice to see that from Randy. He had a tough year, bouncing up and down a few times. My hat's off to him for his persistence because it's not easy. He left for paternity leave right before the playoffs started but came back ready to play. He gave us a huge lift."
The extra runs proved unnecessary for Woodford, who held the Grizzlies' high-powered offense in check from his first pitch. The 21-year-old allowed singles to Jack Mayfield and Derek Fisher in the first and third innings and issued a two-out walk to No. 3 Astros prospectYordan Alvarez in the fourth. Woodford retired 11 straight batters until Alex De Goti singled with one out in the eighth on his 98th and final pitch.
The Tampa native allowed three hits and a walk with six strikeouts in his second-longest scoreless outing of the year. Woodford tossed eighth shutout frames for Springfield on May 24.
"The key for Jake came right before the end of the regular season," Clapp said. "He made a mental change as far as how he would attack hitters. It carried over into his first playoff appearance and I was looking forward to seeing him do it again tonight. He showed up and gave us a great outing. It was awesome."
Cardinals No. 22 prospect Giovanny Gallegos allowed one hit over the final 1 2/3 innings to secure Memphis' fourth PCL championship. Redbirds pitching yielded one run over the final 20 frames of the series after surrendering 14 across 18 innings in the first two contests.
• Complete postseason coverage »
Cardinals No. 15 prospect Edmundo Sosa singled twice, while Mejia doubled, singled and scored two runs. Despite going 0-for-4 on Saturday night, Tommy Edman concluded the playoffs with a .468 average, including a .500 mark in the Finals. The 23-year-old was named MVP along with Arozarena, whose five RBIs equaled the personal best he set on May 5 in the Texas League.
Astros No. 2 prospect Kyle Tucker doubled for the Grizzlies, who were held to four hits for the second straight night. Fresno starter Cy Sneed (0-1) was charged with three runs on seven hits while striking out two in three innings.
Memphis will square off with Durham in the Triple-A National Championship Game on Tuesday in Columbus, Ohio for the second consecutive year and third time overall. Durham, which beat Scranton/Wilkes-Barre for its second straight Governors' Cup on Saturday afternoon, defeated Memphis in 2009 and again last year.
"[Bulls manager Jared Sandberg] and I have some history," Clapp said. "We faced off in the [2012] New York-Penn League Finals and he got me then, too. But this isn't about any sort of revenge or anything. Jared's a great guy and he's got my total respect as a manager. We're going to go out there to have fun, compete and try to win.
"This one is for bragging rights."