Mets Prospect Primer: Rosario rising fast
Organization's position prospects beginning to catch up with pitchers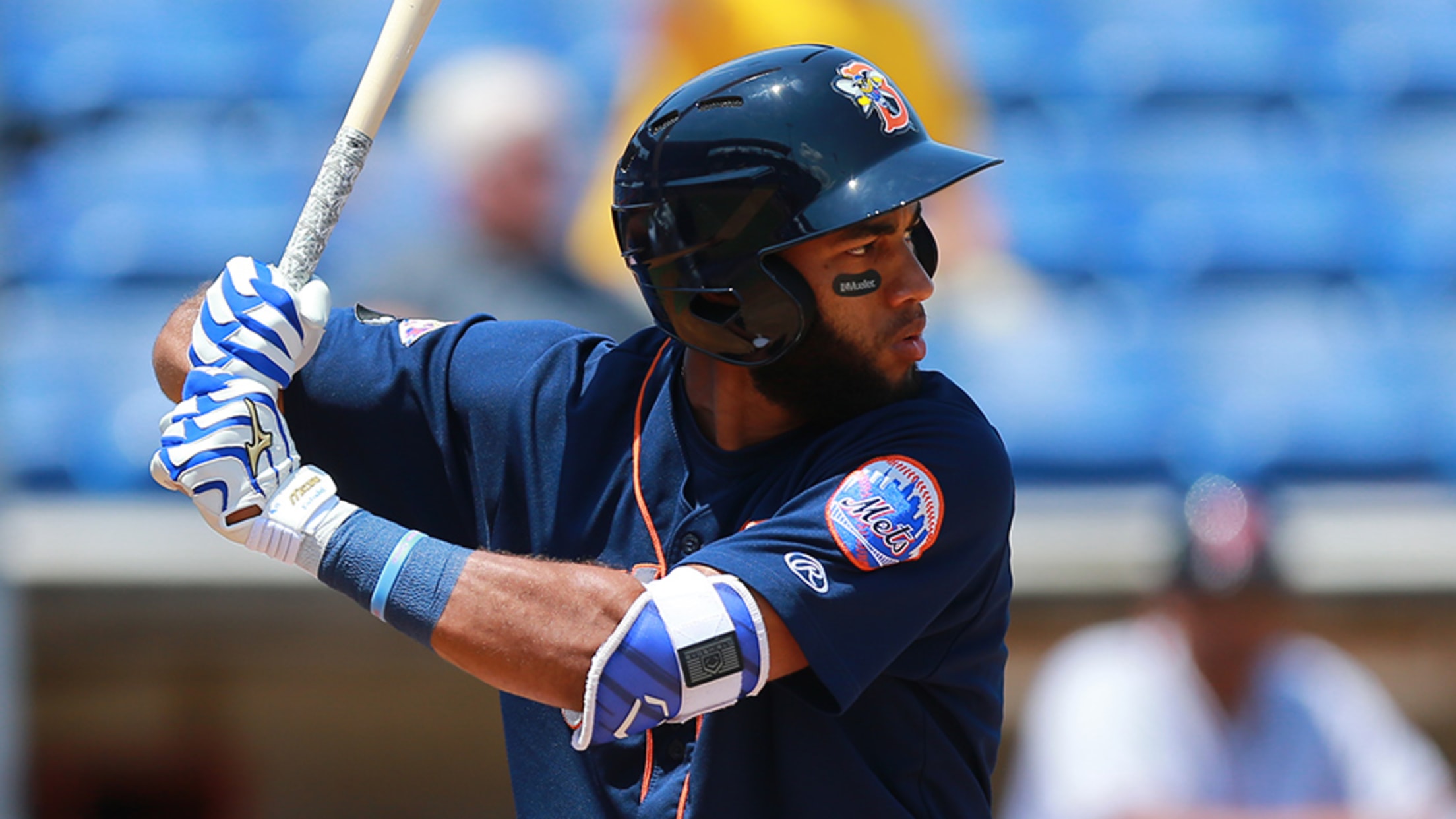 Amed Rosario hit .324 with 71 RBIs and 19 stolen bases across two Minor League levels in 2016. (Gordon Donovan/MiLB.com)
Some players are on the verge of stardom, others are entering a crucial phase of their development and still others are getting their first tastes of full-season ball. With the 2017 season approaching, MiLB.com takes a look at the most intriguing prospects from each MLB organization.Shining star: Amed Rosario, SS
Some players are on the verge of stardom, others are entering a crucial phase of their development and still others are getting their first tastes of full-season ball. With the 2017 season approaching, MiLB.com takes a look at the most intriguing prospects from each MLB organization.
Shining star: Amed Rosario, SS
Rosario may be slated for Double-A Binghamton to start the season, but it should be only a pit stop on his way to Citi Field. The Mets' top prospect went from talented youngster to a potential future star in 2016, blossoming into one of the Minor League's top players.
Baseball's No. 5 overall prospect, Rosario tore through the Class A Advanced Florida State League, hitting .309/.359/.442 in 66 games with St. Lucie before moving up to Binghamton. The promotion didn't faze the 21-year-old, who continued to rake at a .341/.392/.481 clip in 54 games with the B-Mets. Overall, Rosario slashed .324/.374/.459 with 42 extra-base hits, 71 RBIs and 19 stolen bases in 120 games. The Mets rewarded him with an invitation to Major League camp for the second straight year.
"Obviously, he's coming off a very, very good year," Mets field coordinator Kevin Morgan said. "We hope and anticipate that he'll continue to progress. He performed well in big league camp [this spring]. We just want him to continue to focus on the process, keep him progressing and moving forward."
In addition to his potent bat, Rosario has a strong arm, soft hands and excellent range at short, making him a franchise cornerstone. His build, talent and style of play is reminiscent of another former top Mets prospect, Jose Reyes.
Breakout prospect: Justin Dunn, RHP
The Mets still boast an embarrassment of pitching riches as a new wave of arms works its way to Queens. In Dunn, the Mets believe they've found another potential impact starter who has the ability to dominate along the way.
Drafted 19th overall out of Boston College last year, Dunn throws four pitches well, including a mid-90s fastball and an above-average slider. New York's No. 3 prospect made 11 appearances and eight starts with Class A Short Season Brooklyn last season, posting a 1.50 ERA with 35 strikeouts and only 10 walks in 30 innings. Though there are some concerns that the 21-year-old's 6-foot-2, 185-pound frame isn't large enough to hold up to the rigors of a full season of starts, the Mets don't foresee any such issues.
The organization hasn't said definitively where Dunn will begin 2017, but because he's regarded as a more advanced pitcher coming out of college, a start in the Florida State League with St. Lucie seems likely.
Major League-ready: Robert Gsellman, RHP
It's a bit of a stretch to include Gsellman on this list considering he tossed 44 2/3 Major League innings last year. But with a few innings still needed to void his status as a prospect, the 23-year-old finds himself in our Prospect Primer, and with good reason.
The Mets' No. 5 prospect actually pitched better in the bigs than he did in the Minors in 2016, with the proviso that his Triple-A numbers were inflated by the hitter-friendly Pacific Coast League. Gsellman posted a 3.99 ERA in 115 Minor League innings with Binghamton and Triple-A Las Vegas last season before earning his call to New York. Injuries to the Mets staff opened the door for the right-hander, who burst through and slammed it shut behind him.
Along with fellow rookie Seth Lugo, Gsellman dazzled down the stretch for the Mets, winning four games while sporting a 2.42 ERA and striking out nearly a batter per inning. The analytics (2.63 FIP) suggest he was no fluke either. Featuring a sinking fastball that sits in the mid-90s, a strong change as well as a curve and a slider, Gsellman has a full array of pitches to work with. Thanks to a strong showing this spring, the California native is the front-runner to be the fifth starter in the Mets' 2017 rotation.
Full-season debutant: Thomas Szapucki, LHP
Although he made just nine starts for Rookie-level Kingsport and Brooklyn, Szapucki made the most of them, and then some. The Mets' fourth-ranked prospect dominated the Appalachian and New York-Penn Leagues, posting a 1.38 ERA and a 0.88 WHIP while holding opponents to a .145 average. He struck out 86 batters in 52 innings for a strikeout rate of 14.9 per nine innings, which ranked third among all Minor Leaguers with at least 50 innings.
"He's similar to Dunn in a lot of ways," Morgan said. "We drafted him two years ago, and after getting a brief taste in 2015, he moved through short season last year. But with his first full-season effort upcoming, it's a completely different and new experience. He'll have to adjust to playing in a longer season, so the key will be trying to create a routine, stick with it and go from there."
As impressive as Szapucki's season was, it did come against hitters who can be undisciplined and easily overmatched. The 20-year-old will face a much tougher test in 2017 as he begins his first year at a full-season level. Unlike Dunn, who had the experience of three collegiate seasons, Szapucki has made only 12 appearances since being drafted out of high school in 2015. His dominance could mean a start with Dunn at St. Lucie, but the more likely scenario has him beginning with Class A Columbia in the South Atlantic League.
Back and healthy: Marcos Molina, RHP
While pitchers such as Dunn and Szapucki emerge as the up-and-coming arms for the Mets, Molina will use 2017 as a springboard to rejoin them. New York's No. 14 prospect dazzled at Brooklyn in 2014 and skipped a level the following year, moving up to St. Lucie. But elbow woes limited him to just 40 innings in 2015 and eventually Tommy John surgery, which caused him to miss all of last year.
Molina returned this fall, posting a 3.78 ERA with eight strikeouts in 16 2/3 innings in the Arizona Fall League. He showed low- to mid-90s life and the same cutting action on his fastball he had before surgery, easing concerns about his comeback. The 22-year-old's command and feel for his breaking pitches will take longer to re-emerge, but the organization is pleased with his progress and recovery.
"Pitching in Arizona during the fall was good for Marcos," Morgan said. "Just to go through the experience of the Arizona Fall League and giving him the reassurance that he's back and ready to go was key. He was with us earlier this spring and looked healthy out there, so we just want to get him back to where he was before the injury. We'll continue to evaluate him as he moves forward, but right now, the biggest thing is staying healthy."


Others to keep an eye on: First baseman Dominic Smith quieted critics who wanted to know when the 21-year-old would start showing a power stroke. The Mets' 2010 first-round pick hit .302/.367/.457 with a career-high 14 homers and 91 RBIs at Binghamton. He'll begin this year in the hitter-friendly environment of Las Vegas and could very well see Citi Field at some point later in the season. ... Wuilmer Becerra was on his way to a career year in 2016 until injuries slowed him down. Even so, the third prospect in the trade that netted the Mets Noah Syndergaard and Travis d'Arnaud hit over .300 for the second time in three seasons, batting a career-high .312 while driving in 34 runs in 65 games with St. Lucie. ... P.J. Conlon doesn't fit the mold of the Mets' flame-throwing prospects, but he put himself on the organization's radar with a superb 2016 campaign. The Northern Ireland-born southpaw won 12 games and posted a 1.65 ERA in 142 innings for Columbia and St. Lucie. ... Chosen 64th in last year's Draft, Peter Alonso debuted with a bang, hitting .321/.382/.587 with five homers and 21 RBIs in 30 games with Brooklyn.