Marlins' Lee highlights Players of the Week
Jacksonville outfielder makes strong first impression after trade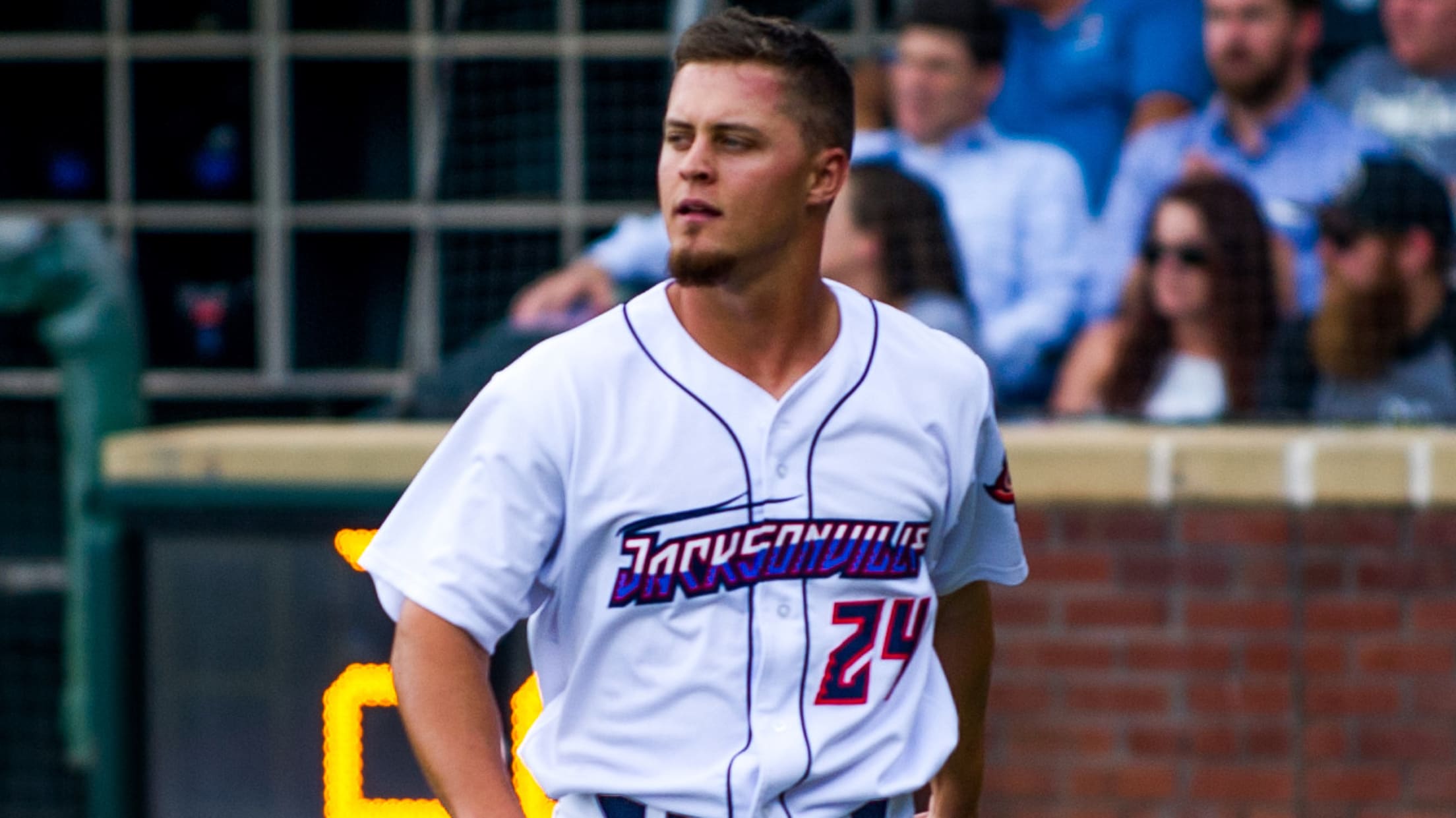 Braxton Lee leads the Southern League with 95 hits in 72 games between Montgomery and Jacksonville. (Roger C. Hoover)
Not even a change of address could slow down Braxton Lee.In the same week he was dealt from the Rays to the Marlins and moved from Double-A Montgomery to Jacksonville, Lee was named Southern League Offensive Player of the Week after going 12-for-21 (.571) with a homer, a triple, two
Not even a change of address could slow down Braxton Lee.
In the same week he was dealt from the Rays to the Marlins and moved from Double-A Montgomery to Jacksonville, Lee was named Southern League Offensive Player of the Week after going 12-for-21 (.571) with a homer, a triple, two doubles and six RBIs in six games -- one for the Biscuits and five for the Jumbo Shrimp.
"People keep asking if it's been a whirlwind, and yeah, I guess it kinda has," said the now-Miami prospect. "But the only thing that's really changed is that I'm wearing a new uniform and have new teammates and coaches. I haven't been able to meet the guys in the organization. There are some new faces, but a lot of these guys I've played against for the last two or three years. I kinda miss my old teammates, obviously, but performance-wise, this has helped because all I've been thinking is that I don't want to stink after everything that's gone down."
• View the Pitcher of the Week winners »
The 23-year-old outfielder started the week with a triple and a walk in a Monday matinee at home for Montgomery before he was ejected for arguing a call on a defensive play in the fourth inning. The hit moved him into the Southern League lead with a .321 average through 67 games.
However, that proved to be his last hit with the Biscuits. Later that day, he was called into manager Brady Williams' office and told he'd been traded -- along with Class A right-hander Ethan Clark -- to the Marlins for Major League shortstop Adeiny Hechavarría. With a league-wide off-day Tuesday, Lee packed up his car with all the belongings he brought to Montgomery and traveled five hours southeast to join up with Jacksonville, which was home for a five-game series against Mobile.
It didn't take him long to ingratiate himself with his new teammates. Batting leadoff, Lee got an infield single in his first at-bat as a Jumbo Shrimp and went 2-for-4 in his debut. In all, he's collected multiple hits in four of his five games with Jacksonville, including a four-hit game and a 2-for-4 performance in which he homered and doubled. The long ball was his third of the season and first since April 26. Thanks to this run, the left-handed hitter has tightened his grip on the league batting title with a .337 average -- Kevin Medrano ranks second at .322 -- and has moved into fourth with a .403 on-base percentage.
Lee, who is riding a 13-game hitting streak, noted how much familiarity has helped him with the transition so far.
"It's nice because you know you're going to see all the same pitching," he said. "We hadn't played Mobile yet [with Montgomery], so that was new. But the fact that they let me drive to Jacksonville, that felt a lot better than flying for sure. Plus, I really like the Jacksonville ballpark. I feel like it plays to my strengths really well, and I'm excited to play here a bunch."
This recent stretch might be the most notable of Lee's 2017 season, but the entire campaign has been impressive. The 2014 12th-rounder out of the University of Mississippi is repeating Double-A after hitting .209/.269/.256 with no homers and 15 extra-base hits in 110 games for Montgomery in 2016. Focused on improving those numbers this year, he set out over the offseason to adjust his mental approach, hoping it would translate to more hits.
"I started thinking about how things cancel out," he said. "You do need to work hard and get after it, but you don't need to work yourself to death. I was putting pressure on myself to do too much, and that piles on top of itself. So I tried to change that, and when I got here to Jacksonville, I tried to keep that going. Just go out there and play the same game the same way I've done since I was little."
Lee also mentioned some minor changes in his stance and that he's looking for more fastballs, rather than guessing on breaking stuff. He's making contact at a good clip with an 18.8 percent strikeout rate, but it's harder contact as his isolated slugging percentage has nearly doubled from .047 last season to .090 this campaign.
The Marlins took notice when they decided to deal Hechavarria, but even as Lee climbed the Southern League leaderboards, he admitted being caught off-guard by Miami's interest.
"'Me?' That's what I was thinking," he said. "'Out of everyone, they picked me?' It's kind of cool because it means Miami likes me, and that's definitely great. But out of all the outfielders the Rays have, all the guys at Triple-A, all the big league guys, I was still surprised they wanted me."
It's safe to say the center fielder has lived up to or exceeded whatever expectations the Marlins had for him when they acquired him Monday, and he's hoping he continues to show the organization and its fans a player who in his own words "has always been scrappy, runs the bases, plays good defense, tries to be a hard ballplayer."
That work continues with another game at home against Mobile on Monday night, and then Lee hits the road for the first time as a Jumbo Shrimp. First stop, as fate would have it: Montgomery on Tuesday.
"It's going to be different, but it'll be good to see the guys and the coaches and everyone again," he said. "I'll tell you this. I'm not excited to go into that visitors' locker room for the first time."
Here's the complete list of the Minor League Offensive Players of the Week for June 26 through July 2:
Sam Dykstra is a reporter for MiLB.com. Follow and interact with him on Twitter, @SamDykstraMiLB.