Marlins' Diaz reels in Player of the Week
Miami's No. 7 prospect batted .565/.667/.739 for Jumbo Shrimp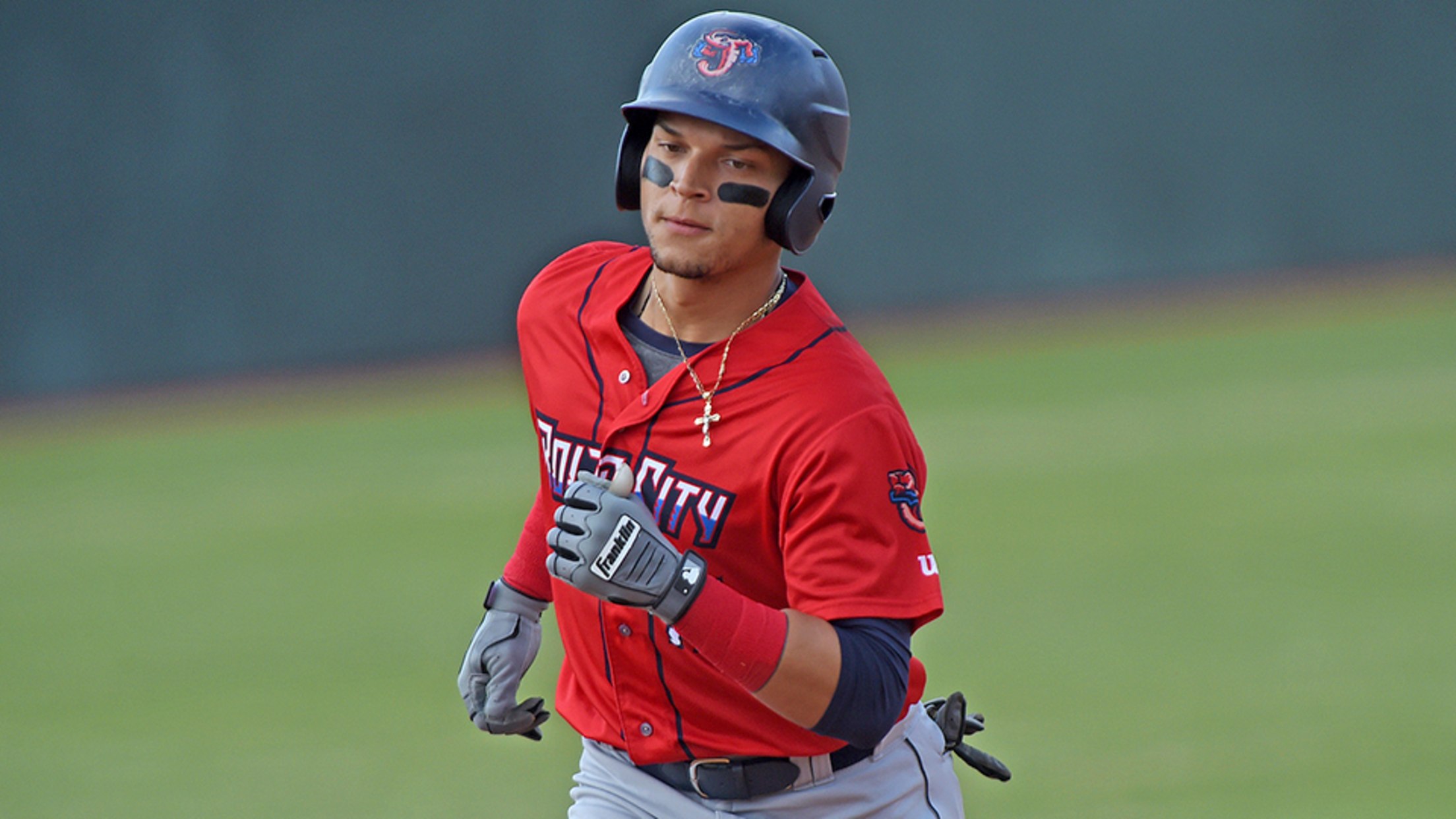 Isan Diaz's .365 on-base percentage on the season represents his highest mark in the category since 2015. (Brian McLeod/MiLB.com)
A little more than two weeks ago, Isan Díaz was just returning to the Double-A Jacksonville lineup after being plunked in the head on May 16. It hasn't taken him long to show he's moved on from that potentially scary situation.The Marlins' No. 7 prospect has been named the Southern League
A little more than two weeks ago, Isan Díaz was just returning to the Double-A Jacksonville lineup after being plunked in the head on May 16. It hasn't taken him long to show he's moved on from that potentially scary situation.
The Marlins' No. 7 prospect has been named the Southern League Offensive Player of the Week for June 3-10 after hitting .565/.667/.739 with four doubles, seven RBIs and three stolen bases over seven games for the Jumbo Shrimp. This is Diaz's first Player of the Week award as a member of the Marlins organization and his first since July 2016 when he won while playing in the Midwest League for the Brewers' Class A affiliate, the Wisconsin Timber Rattlers.
Diaz had at least one hit and reached base multiple times in each of his seven games last week. His .667 OBP was the highest among all qualified Minor Leaguers in that span, while his .565 average led all Double-A hitters. His best individual performance came last Tuesday when he went 3-for-3 with two doubles and a walk and scored both runs in Jacksonville's 2-1 win at Birmingham.
• View the Pitcher of the Week winners »
"He made up his mind, knowing that sometimes pitches get away from guys, to get back in there quickly, and he's had no issues since," said Jacksonville manager Randy Ready. "It takes courage and confidence to step up to the plate after going through that, and he's a pretty courageous young hitter. He's a really tough out right now because of it."
The 22-year-old second baseman didn't just need this latest impressive run to prove his health. Diaz came over to the Marlins from the Brewers back in January in the Christian Yelich deal that also brought along big-named prospects Lewis Brinson and Monte Harrison. The Marlins pushed Diaz, the 70th overall pick in 2014, to Double-A for the first time, only to see him flounder through the first two months of the season. He entered last week hitting just .194 with a .649 OPS through his first 44 games in the Southern League.
A left-handed hitter who is known for a surprising amount of power at 5-foot-10, Diaz needed to calibrate himself at the Minors' second-highest level.
"It takes time to get used to this type of level," Ready said. "He's got great strike-zone knowledge, though, and that's a good ingredient to start with. He had a little hitch in his swing, and we worked for a while on cleaning that up. Now that we have, he's a lot more direct to the ball and is able to get to pitches a whole let better. ... Hitters are stubborn, and it can take some time to make those types of adjustments. We like to be patient with them, and it's paying off."
Even after those early struggles, Diaz's .240/.365/.383 line on the season is still an improvement over the .222/.334/.376 he put up over 110 games at Class A Advanced Carolina in 2017. Diaz did hit 20 homers for Wisconsin back in 2016, though that part of his game hasn't quite translated at Double-A yet -- he has five homers in 51 games. Given the way he's starting to collect hits and walks of late, however, a power surge could be on the horizon.
"I think they're attacking him the same as they always have, but he's getting more direct to those pitches because of the cleaning up that he's done," Ready said. "Confidence can be fragile, but you can see him getting more and more confident with each game."
Below is the complete list of Minor League Offensive Player of the Week award winners for June 4-10:
Sam Dykstra is a reporter for MiLB.com. Follow and interact with him on Twitter, @SamDykstraMiLB.