Brinson ready to shine in homecoming
Strong spring vaults Marlins top prospect onto Opening Day roster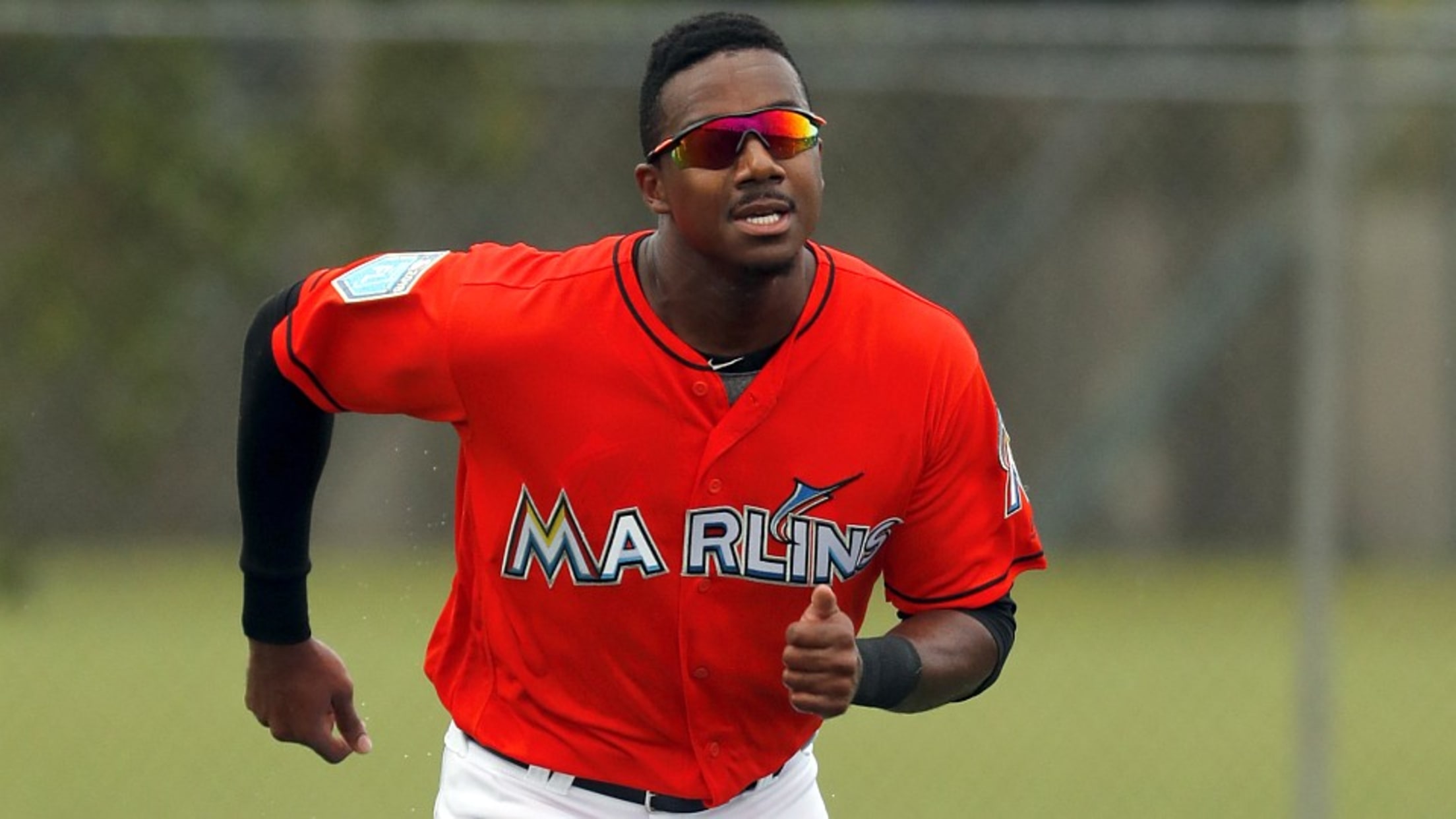 Lewis Brinson let the Marlins with 19 hits, including 10 for extra-bases, in the Grapefruit League. (Jeff Roberson/AP)
When the Marlins traded Christian Yelich to the Brewers in January, it was understood that the return would be a process measured in years, not months. They can mark the first check off that list with Sunday's news that top prospectLewis Brinson, the key piece in that deal, will be their
When the Marlins traded Christian Yelich to the Brewers in January, it was understood that the return would be a process measured in years, not months. They can mark the first check off that list with Sunday's news that top prospectLewis Brinson, the key piece in that deal, will be their Opening Day center fielder on Thursday against the Cubs.
Marlins manager Don Mattingly notified Brinson prior to the final Grapefruit League game that he would be leaving camp as a Major Leaguer for the first time.
"Donnie told me, 'Congrats, but the work doesn't stop here,'" Brinson told MLB.com. "He said, 'We're trying to win and win as many games as we can.'
"I take this opportunity and run with it. Very humbling. First Opening Day, and I'm very happy about that. Very excited to be playing on Thursday."
Even with the Marlins in full rebuilding mode and using several young players, MLB.com's No. 27 overall prospect earned his way onto the roster with a strong spring. Brinson batted .328/.365/.586 with 10 extra-base hits, nine RBIs and a .951 OPS in 23 games. He made his Major League debut last June after spending six years in the Minors and went 5-for-47 (.106) with two homers in 21 games for Milwaukee.
The 23-year-old spent most of last season with Triple-A Colorado Springs, where he batted .331/.400/.532 with 13 homers, 22 doubles, 66 runs scored and 48 RBIs in 76 games. Brinson, the Rangers' first-round pick in the 2012 Draft, was dealt to the Brewers in 2016 for All-Star catcher Jonathan Lucroy.
The trade to the Marlins gave Brinson an opportunity to play for the club he rooted for as youngster in nearby Coral Springs, Florida. It's a chance he doesn't plan on letting slip away.
"I'm happy with myself," he said. "To stay humble and not assume anything. I'd been through plenty of assuming deals and things went left for me. I've stayed focused this spring and worked on what I needed to work on. I'm thankful it worked in my favor. To play in my first Opening Day, I'm very humbled by it."