Gibbons' arm, Brodey's blasts carry Mets
Righty dominates, outfielder smacks two homers for St. Lucie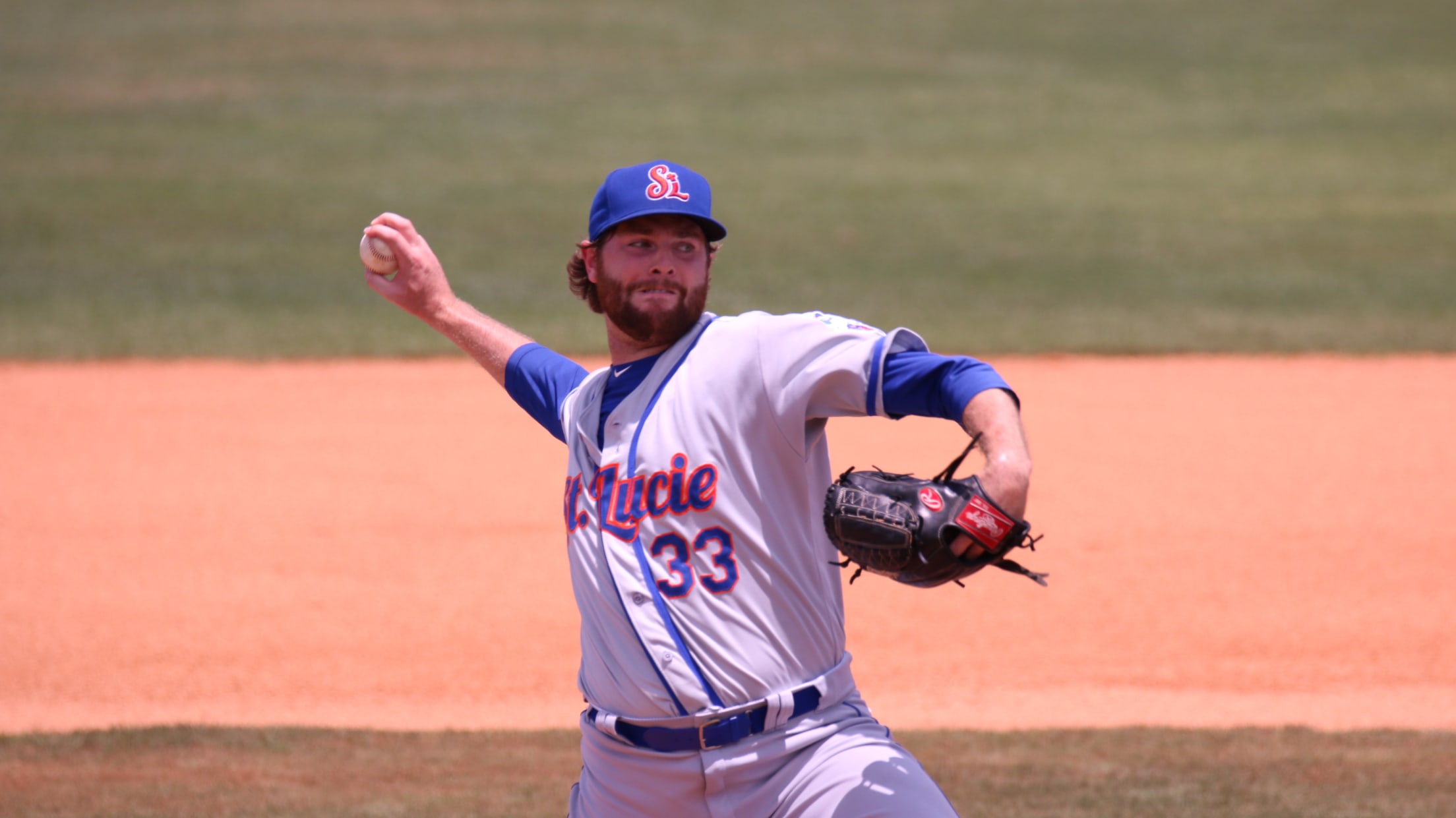 Michael Gibbons improved his Florida State League ERA to 4.09. (Joshua Tjiong/MiLB.com)
Michael Gibbons worked his way in and out of trouble Thursday. In the end, he went a career-long 7 2/3 innings and made a bid for history.The Mets right-hander ended up allowing one run on one hit and one walk as Class A Advanced St. Lucie downed Bradenton, 10-3, at
Michael Gibbons worked his way in and out of trouble Thursday. In the end, he went a career-long 7 2/3 innings and made a bid for history.
The Mets right-hander ended up allowing one run on one hit and one walk as Class A Advanced St. Lucie downed Bradenton, 10-3, at LECOM Park. Quinn Brodey powered the offense with two home runs and a career-high five RBIs.
Gameday box score
After sitting down the first six batters he faced, Gibbons walked Casey Hughston and plunked John Bormann. One out later, Jared Oliva knocked Hughston in with a sacrifice fly.
But avoiding a really big inning set the tone for the rest of Gibbons' outing.
"Our team put up a five-spot, and I wanted to put up a zero and ended up doing too much," he said. "I ended up hitting and walking a guy and one run scored, so then I really bared down. We got some good run support, so I just was focused on getting my guys out."
But then the 25-year-old found his groove. Gibbons induced 13 outs with just a fifth-inning throwing error by shortstop Luis Carpio that allowed Lucas Tancas to reach broke up the momentum. The Marauders didn't pick up a hit until Hughston beat out a tough infield single to third to break up the no-hit bid in the eighth, and Gibbons exited the game one out later.
The Wheaton product wasn't aware of the no-hit bid until the end of the sixth, but by then, he had all his pitches working.
"I was really able to get ahead on my fastball," he said. "Then I was just making my pitches when I had to and trusting my defense behind me."
The performance wasn't unprecedented for Gibbons, who threw six one-hit frames on June 28 against Jupiter. He allowed at least three runs in each of his prior outings since July 12 after returning from a strong spot start for Double-A Binghamton.
"Every game is a little different," he said. "You just try to make your pitches, trust your defense and keep the hitters off balance. I did a good job of that tonight."
Brodey, batting eighth, led the Mets' offensive attack with a two-run blast to center field in the second off a fastball. He followed up with a three-run line drive over the right-field fence against a changeup in the third.
"I've been working on stuff with coaches before the game," he said. "I've backed off the plate a little bit, tried to get the ball out in front and get an early swing and get my timing right, which is something I've been struggling with. It felt good tonight and it was good to get some positive results."
It was the 22-year-old's second two-homer game of the year. He blasted a pair on April 18 with Class A Columbia against Greenville.
Since being called up to the Florida State League on July 23, Brodey has been fighting to stay above .200. After going hitless for two contests, he picked up a base hit in the previous game that sparked his bat Thursday.
"You try not to think too hard about the results," said Brodey. "You show up every day and work on what you need to work on and put up competitive at-bats. But sometimes you need one of those hits to get going."
Jeremy Vasquez homered and drove in two runs on a 3-for-5 night while Dan Rizzie added two runs and an RBI for St. Lucie.
Marisa Ingemi is a contributor to MiLB.com. Follow her on Twitter @Marisa_Ingemi.