Midland Wins Pitcher's Duel, Takes Series
RockHounds win 2-1 with both runs scoring on a bloop hit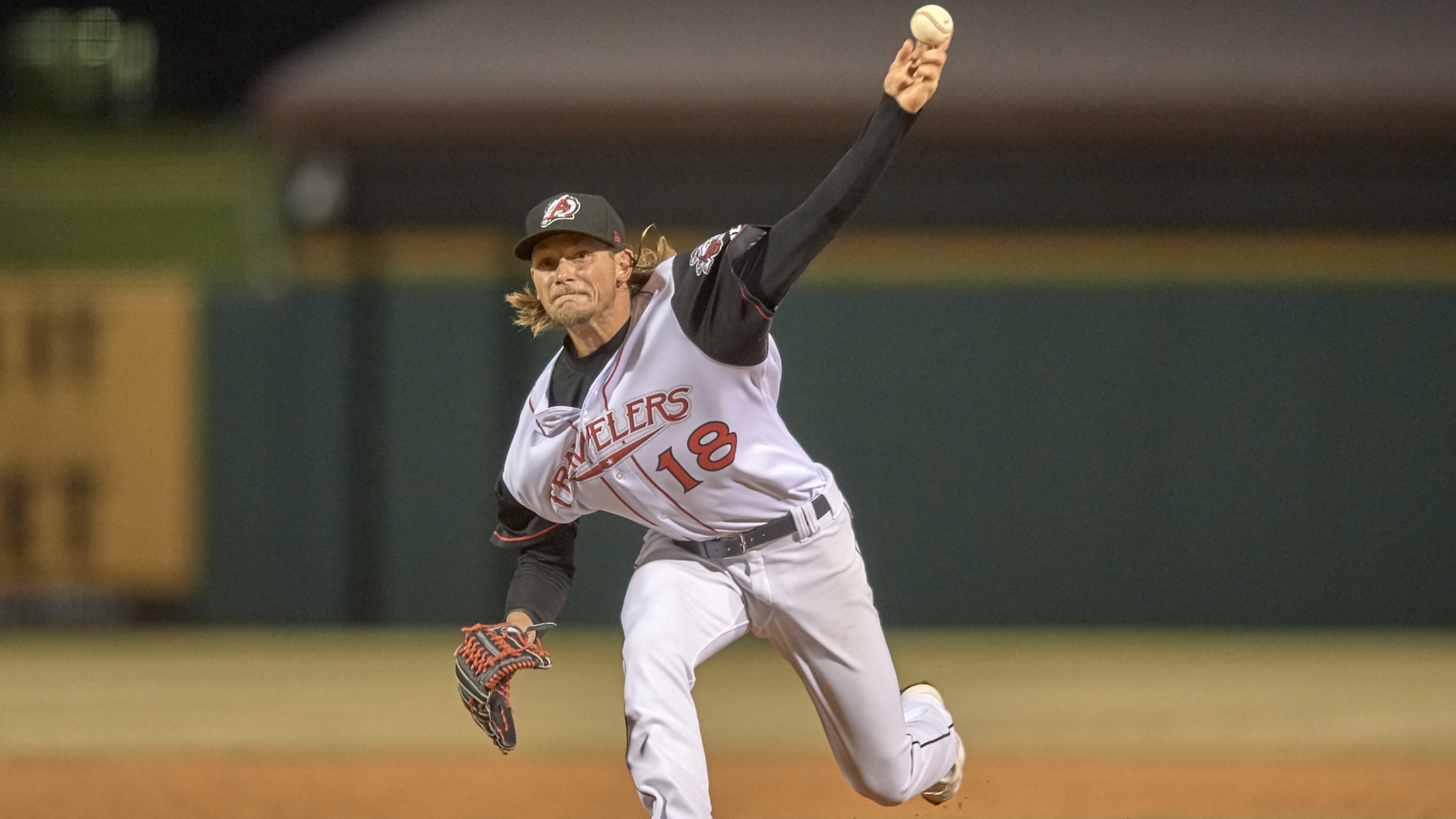 Anthony Misiewicz threw a season-high 6.2 innings on Thursday night. (Mark Wagner)
North Little Rock, AR-The Midland RockHounds (23-24) emerged victorious in a pitcher's duel Thursday night at Dickey-Stephens Park in a 2-1 win over the Arkansas Travelers (22-24). Midland claimed the series from the Travs, two games to one. Both starters were sensational, with Anthony Misiewicz authoring his best start of
North Little Rock, AR-The Midland RockHounds (23-24) emerged victorious in a pitcher's duel Thursday night at Dickey-Stephens Park in a 2-1 win over the Arkansas Travelers (22-24). Midland claimed the series from the Travs, two games to one. Both starters were sensational, with Anthony Misiewicz authoring his best start of the season and Logan Shore in his Double-A debut allowing just an unearned run. Cody Stull and Nolan Blackwood combined for 4.1 innings of scoreless baseball out of the RockHound bullpen. The Travs took the lead in the fifth but missed the chance to add on later in that inning and then stranded a combined four runners of the final three innings.
Moments That Mattered
* Logan Taylor roped an RBI double to score Chris Mariscal, who had reached on an error to put the Travs on top with one out in the fifth.
* Joe DeCarlo and Beau Amaral would walk later in the inning but the Travs failed to get a hit to extend the lead.
* Brett Vertigan hit a fly ball just fair down the left field line for a double to put runners at second and third with two out in the seventh. J.P. Sportman then hit a bloop into shallow right to score both runners and put the RockHounds in front.
Notable Travs Performances
* 3B Logan Taylor: 1-4, 2B, RBI
* Anthony Misiewicz: L, 6.2 IP, 7 H, 2 R, BB, 3 K
Up Next
The Travs look to bounce back on Friday night in the opener of a three game series against the Frisco RoughRiders. RH Max Povse (0-0, 6.00) makes his second start since coming down from Triple-A against RH Ariel Jurado (1-1, 2.57). The game has a special 6:00 start time with the first 1,000 fans receiving a Travs puzzle. Orbit, mascot of the Houston Astros, will perform throughout the night and fans can stay and watch the Downtown fireworks off the Main Street Bridge after the game. The game will also be broadcast on the Sports Animal 920, the First Pitch App, TuneIn radio and milb.tv.