Pawtucket's Shawaryn notches first shutout
Red Sox No. 9 prospect yields two hits, walk over seven innings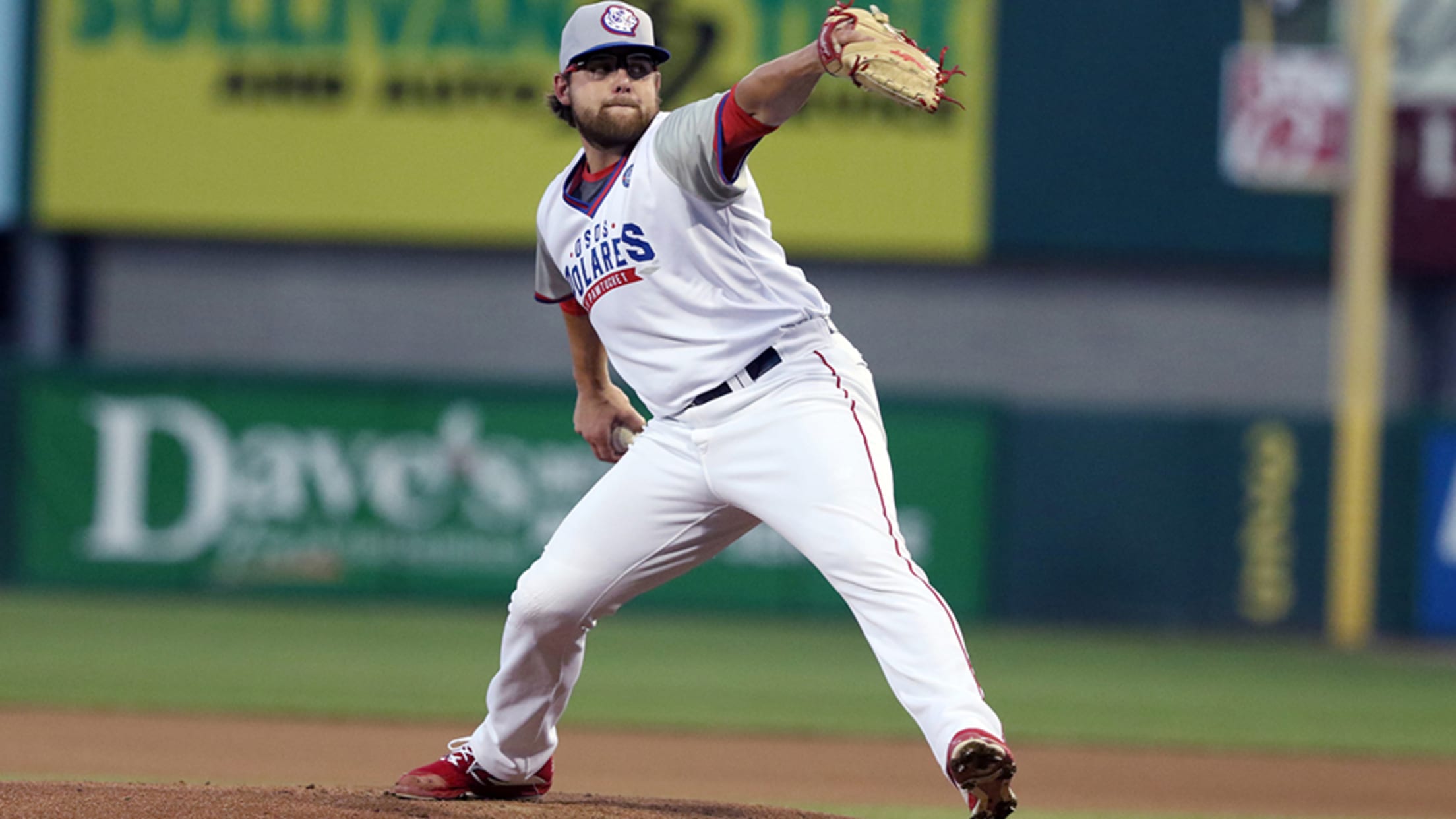 Mike Shawaryn sported a 3.28 ERA in the Eastern League prior to his promotion on Aug. 3. (Louriann Mardo-Zayatt)
An incredibly sturdy season brought Mike Shawaryn one step from the Majors. He had something of a shaky introduction to the Triple-A Red Sox, but the third time was the charm in the International League.Boston's ninth-ranked prospect allowed two hits and a walk over seven innings en route to his
An incredibly sturdy season brought Mike Shawaryn one step from the Majors. He had something of a shaky introduction to the Triple-A Red Sox, but the third time was the charm in the International League.
Boston's ninth-ranked prospect allowed two hits and a walk over seven innings en route to his first career shutout as Pawtucket downed Norfolk, 4-0, in the nightcap of Tuesday's doubleheader at McCoy Stadium. He struck out five and improved to 2-0 with a 2.95 ERA after allowing six runs over an 11 1/3-inning span in his first two starts on the circuit.
"As a pitcher, especially a starting pitcher, every time you go out, you want to go nine [innings] and go the distance," Shawaryn said. "The bullpen, the whole year, helps you out when you get in jams. So to be able to repay them and go the distance and give them the night off, it's always a good feeling."
The right-hander notched his first professional complete game with Double-A Portland on a rain-shortened night on April 25 after allowing three runs -- two earned -- on four hits with seven strikeouts over five innings in Hartford.
Shawaryn's final impression with the University of Maryland before being selected in the fifth round of the 2016 Draft was a nine-inning complete game in the Big Ten Tournament against Indiana, in which he struck out 16 and threw 125 pitches.
"Having those experiences in college ... you know what to kind of expect," he said. "You go out for that last inning, your adrenaline is pumping and stuff, and sometimes you need to tone it back down and just stay within yourself to be able to get through that inning or get through the last two.
"At the same time, you know it's getting close to the end of the game, so you can just kind of empty that fuel tank and just kind of let it eat and just go after the guys."
The 23-year-old completed seven innings five times this season, three of which were scoreless efforts. Shawaryn held Harrisburg without a run despite surrendering five hits and two walks in his penultimate outing with Portland on July 24 before his promotion on Aug. 3.
"Whenever you give your team a chance to put up runs and then you put up zeros, it's always a great feeling," he said.
Gameday box score
The Carneys Point, New Jersey, native moved on from the Eastern League with a 6-8 record and 3.28 ERA with 99 punchouts over 19 starts in 112 2/3 innings. Shawaryn said he's noticed the ballparks, crowds and opposing hitters have gotten more impressive as he's moved up the ladder, but he's developed his own system for handling the new pressure.
"I think the biggest thing is you just got to trust your stuff, trust what got you there," he said. "Obviously, we have a great pitching coach [Kevin Walker] and great catchers and a great pitching staff and we all share information and stuff. So when we sit down and put together a gameplan, you're able to go through it and stick to it and just stuck to the stuff that works."
On Tuesday, Shawaryn struck out three in the first inning around a one-out walk to Breyvic Valera. Luis Sardiñas lined a single to right field with one out in the second, then settled in to retire the next eight batters in order. Sardinas halted that streak with a leadoff hit to left in the fifth, but he was thrown out by catcher Mike Ohlman trying to swipe second. Shawaryn retired eight in a row to complete the shutout in 84 pitches, 56 for strikes.
The Red Sox scored two in the fifth and once in the sixth, leaving Shawaryn with lengthy delays in between innings. The 6-foot-2, 200-pound hurler said the insurance runs were worth the wait and no amount of time on the bench should sway his focus.
But there was something else that drew attention away from the actual game at McCoy Stadium as a squirrel entered the field of play in the third inning. Grounds crew and players chased the varmint from the on-deck circle around the perimeter of the diamond until it was corralled in the left-field bullpen.
"It almost touched home plate for a while, it almost was safe," Shawaryn said. "That's just kind of one of those funny moments in baseball."
Sam Travis collected a double and a two-run single during the nightcap after going 3-for-3 in the opener, a 4-1 loss for Pawtucket.
"It was awesome to have him in the lineup producing all of those hits. It kind of gets the offense going." Shawaryn said. "He's a great guy, great teammate. To be able to see a guy who kind of works his butt off like that and just kind of grinds throughout the game, when you see him have success, it's kind of contagious."
Rusney Castillo went 2-for-4 with a run-scoring single in Game 2 to improve to .323 on the season. Red Sox No. 10 prospect Josh Ockimey walked twice and recorded his first Triple-A stolen base.
Orioles No. 23 prospectDJ Stewart and 31-year-old Pedro Álvarez both homered off Pawtucket starter Chandler Shepherd to fuel Norfolk's offense in the opener.
Shepherd, the 22nd-ranked Red Sox prospect, yielded four runs on eight hits with seven strikeouts over 5 1/3 innings.
Gerard Gilberto is a contributor to MiLB.com. Follow and interact with him on Twitter, @GerardGilberto4.